You need only look at the trending topics on any Saturday from August to May to know that football is a big deal on social media.
Premier League clubs weren't slow to take advantage of this fact, so digital and social channels are now firmly part of the marketing mix for most teams.
To give some insight in this topic, I've rounded up a few interesting campaigns which show how Premier League teams are using digital to interact with fans.
For more on this theme, read our posts looking at Premier League clubs that use Twitter's Vine and the arduous task of buying football tickets online.
Sunderland
We're used to seeing statues of famous players outside football stadiums, or walking down roads named after the old club captain.
So to drum up season ticket sales for the 2014/15 season Sunderland created a campaign that portrayed fans as club legends.
At a match against Crystal Palace towards the end of last season the stadium's East Stand was renamed The Brian Graham Stand in honour of one fan that had renewed their season ticket.
A delighted Julia Ward has her very own road sign outside the SoL today after renewing her season card! #SAFCLegends pic.twitter.com/f6lheco5bF

— Sunderland AFC (@SunderlandAFC) March 15, 2014
Another fan had a road named after them and some season ticket holders received phone calls from players to tell them they are legends.
Other activity included print adverts of fans pictured as statues and social media posts featuring the names of fans that had renewed their season tickets.
This is a really clever campaign and one that generates excitement among fans about the upcoming season, when perhaps there isn't much to get excited about on the field.
Cheers @SAFCofficial suppose you'll be naming a stand after me now and a free season ticket for life? #SAFCLegends pic.twitter.com/9zyVG934OT

— Ross Gowland (@rgowland1991) March 31, 2014
Manchester United
Ben Davis has previously written an excellent article about Man United's social strategy, but it's worth highlighting one or two recent examples here.
The club now has its own social media hub that pulls together all the posts from its official accounts on Facebook, Twitter, Google+ and Instagram.
It's available in seven different languages including Spanish, Malaysian and Indonesian.
The site is built using responsive design so it's optimised for mobile, but I'd still be interested to see whether it attracts a great deal of traffic.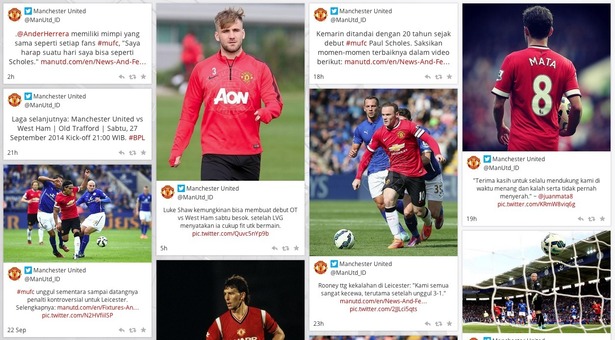 Another interesting campaign revolved around the hashtag #MUFrontRow and gave fans around the world the chance to appear on the digital boards at the side of the pitch during United's game against Liverpool in March.
The idea was that it allowed the club's international fans the chance to actually watch a game at Old Trafford, though in reality they were just appearing via a Google Hangout.
United's players were clearly inspired by the presence of their global fans, as they only lost 3-0 on the day.
Arsenal
Replica kits are an important revenue stream for Premier League teams, so clubs try to make a lot of noise when unveiling a new kit.
To promote its new kit deal with Puma before the start of this season Arsenal beamed an advert onto the River Thames using a water projection screen.
The video was broadcast online to Arsenal fans around the world, and from the window of the club's Carnaby Street store, where players Santi Cazorla, Mikel Arteta and Mathieu Flamini posed as live mannequins modelling the designs.
It's a great way to make a splash about a new kit launch…
Southampton FC
The Super Saints have had a lot of fun trialling new digital marketing and social initiatives.
Back in 2012 we spoke to them about the use of augmented reality in out-of-home adverts placed around the city.
Fans were able to use the Blippar app to access the club's mobile website, team shop and ticket office.
Users could also add their face to the Southampton team huddle and share the image using email, Facebook and Twitter.
At the beginning of this season Southampton hosted a treasure hunt around the city to give fans the chance to win a new shirt before they went on general sale.
Hundreds of footballs were hidden in different locations, details of which were then shared on Twitter, Snapchat and Facebook.
Fans who found one of the balls had to post a selfie using the hashtag #EarnYourStripes to be entered into a prize draw for one of the kits.
So there we go! Hundreds of #EarnYourStripes balls are hidden around the area. Check our @Snapchat Story for clues! pic.twitter.com/hmIsuh0MHy

— Southampton FC (@SouthamptonFC) July 12, 2014
Some of the players also posted pictures of themselves with the new kit using the hashtag.
I think this is a really innovative way of revealing the new kit while keeping the club connected to the local community.
Tottenham
Somehow I ended up supporting Spurs as a kid, so I'm proud to say that they have come up with one of the more bizarre digital campaigns.
'Tottenham Turfies' is an online game aimed at children that's set in a world beneath the clubs home pitch at White Hart Lane.
It allows people to create an avatar and play games to accumulate points.
There is also a newsfeed via the club's main website, and the ability to win, print, and then trade player trading cards.
Virtual trophies can be cashed in for things like places at fun days, soccer schools, tours of the stadium, and team merchandise.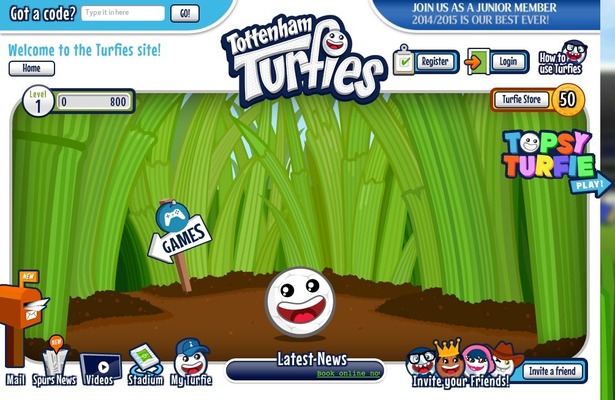 Mobile games and virtual goods are hugely popular with the youth of today, particularly in international markets, so this has the potential to be a really great way of engaging with young fans.
Personally I'm not a fan of online games so I'm not really in a position to judge, but it's great to see a Premier League club attempting to innovate in this space.
Manchester City
There's a lot of money swilling around up at the Etihad Stadium and it's good that some of it gets channelled into digital marketing.
It places huge emphasis on generating fan engagement through social channels, and was even one of the first Premier League teams to use Foursquare so fans could check-in at the stadium.
We've previously written about the club's excellent email creative and interviewed the digital team. One of the more interesting campaigns they told us about is #citystories, which was setup as an "an easy-to-digest history of the club."
It's basically a crowdsourced timeline that uses images and stories posted online by fans. The UX isn't great, but it's neat idea.