In this amazing world where exclusive designs and elements are fighting for supremacy, a lot of aspiring designers wants to be famous and become a design icon. When the love for art united with technology plus a spoonfuls of passion for design, a great designer guru can be born. What are the fashion and web design similarities?
Designing does not only limit itself to a specific industry. There are many specializations that fall under one umbrella. A fashion designer differs from a textile designer and both are aesthetically different from a web designer. Who wants to be a Versace? or a Vitaly Friedman?
But how does a fashion designer or a web designer similar to each other? As we all know both fields convey images of uniqueness, elegance, beauty and functionality.
In this article, know how these fields of designing come into one stage and perform a common behavior. Let's open the runway!
Image fron Flickr
Fashion Design and Web Design Processes
There are similarities in the process if you consider fashion design and web design back to back. From gathering initial inspiration to the creation of a garment and finally to delivery and charging. It is the same with web design, you start creating a website by gathering valuable information, processing it, giving it to your client and charging them accordingly. Here are some of the processes involve:
Information/Inspiration Gathering
This is where a fashion designer look for inspiration like the latest trends and what is the purpose of the garment to be made. In this case, the style and silhouette of a garment should go with functionality.
For web designers, this is the phase of researching where they look for themes, plugins and features which are trending.
Image from Flickr
This is crucial for both fashion designers and web designers. They need to have a good design that would stand out and draw a client's attention.
For a web designer , one will create one or more prototype designs of the website which is true also for fashion designers.
In fashion design, the process involves the cutting and sewing of the fabric to form a garment, top it with some embellishment, giving it a more overwhelming finesse.
In designing a website, the development process would include all of the individual graphic elements from the prototype and use them to create the actual, functional website.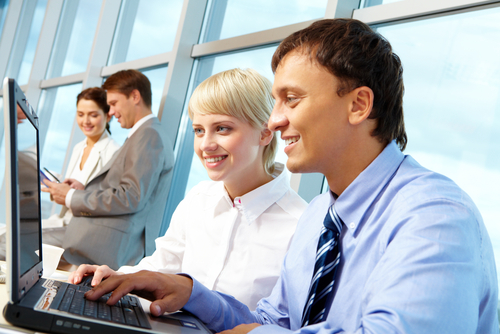 Image from Flickr
This is the judgement phase. A garment is fitted to a client to test comfort, functionality and elegance.
On the other hand, website are subject to final details and tested if it conforms complete forms or other scripts, as well last testing for last minute compatibility
Image from Flickr
Once a client approves the garment, it is payback time. Charging would vary for every designer. But generally payment scheme could be 50% down payment and 50% after delivery. In web design, it depends on the web designer-client disposition.
Fashion design and web design collide when blended together. They both grasp for perfection in terms of the latest technological trends by applying it and spreading it to the world. In fashion and web design, you are creating a unique character and visual styles that would fit your specific client.
Fashion design and web design can be treated as siblings. Both design fields serve one goal and that is to create and satisfy a client based on their unique and exceptional creation. Like some basic fabric being transformed into a garment fitted to your client's preference, a website also starts with a clean space filled with functional features.
Image from Flickr
"Design is a funny word. Some people think design means how it looks. But of course, if you dig deeper, it's really how it works." – Steve Jobs
Elements in Fashion and Web Design Go Hand in Hand
There four basic elements in fashion design that comes hand in hand with web design. These basic attributes are important in the design aesthetic of any garment or fashion accessory.
The same is true with designing a website. There is a big impact in creating flattering clothing or websites. It helps individuals how to choose the right kind of clothes or website that would fit their personality.
1. Color
Color is very important both in fashion and web design. It is very important to know what different color schemes that work well with the design. The choice of colors makes a impact on the look of a garment or website. Some colors might be appealing to you, but, for others, these are not.

Image from Flickr
2. Silhouette
In other types of design, shape and form are considered elements. But in fashion design, shape and form combine is the silhouette of a garment.
In web design, silhouette can give a better look to a website. With appropriate shapes and form, an elegant and responsive website can be created. These silhouettes changes over time.
3. Line
Lines are used very prominently in fashion design. The creation of a garment needs seam lines to hold fabric sections together. The weaving intersections of threads constitute the patterns of a fabric.
In web design, lines can be straight or curved. These are used in web design to serve as divisions that give separate functionality to the website. Moreover, these give a website classier and more elegant look.
Image from Flickr
4. Texture
Texture is another element of fashion design. Fabric or other materials like satin can give a variety of textures that affect the look of a garment. The weave and texture of a fabric have an impact on the way it drapes and greatly affects the way the garment looks when it is worn.
The same is true with web design, texture plays a very vital role in the total look of a website. The kind of content, themes, graphics, fonts and templates being added in the website give flavor in the total appearance of a website that would stand out from the rest.
Creating one of a kind designs does not only involve a great amount inspiration and idea. It is also about understanding the fundamentals of the subject.
"Design is a constant challenge to balance comfort with luxe, the practical with the desirable."- Donna Karan
Final Runway
Image from Flickr
For fashion designers or web designers who strive to make their creations stand out from the rest, the look is very important. Customizable elements are crucial. They are creative individuals that use their artistic juices which will bring a personal touch to any creation that will have.
With the innate creativity that a designer possesses, one truly can create an amazing craft that can draw someone's attention and comes out a winner!
What can you say? Feel free to share your idea.