Price comparison service MySmartPrice has launched a new price comparison service on WhatsApp. The feature is based on a non-official WhatsApp API available on GitHub developed by Max Kovaljov. Users simply need to add +91 9332222222 to their WhatsApp contact list. Then they can message the product name and MySmartPrice will reply back with a list of prices for the requested product and other similar products. Currently, this feature only supports price search for the electronics category. MySmartPrice co-founder Sitakanta Ray told Medianama that other categories will be added by the end of October this year.
Ray also said that in their experience a majority of users comparing prices on their site end up buying the product from an offline store, which prompted them to develop this feature. He added that accessing an app can be a time-taking procedure as mobile internet connections in India can be flaky at times. Whereas, comparing prices through WhatsApp messages is a simpler alternative.
The company had raised Rs 6 crore in funding from existing investors Accel and Helion in December 2013. At the time, the company had said that it would be focusing more on its mobile strategy.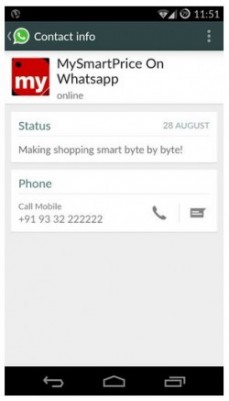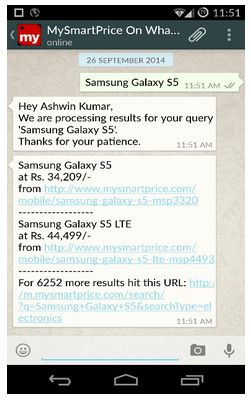 Earlier this year, Snapdeal had launched a similar feature that allowed users to search for products via WhatsApp. However, this feature doesn't seem to be active any longer. The service didn't make any sense for Snapdeal because the WhatsApp results weren't actionable and didn't really provide any added value to the user. However, in case of MySmartPrice such a service does make sense, because it simplifies the service it provides through its website and app.
Delhi and Kochi Police have also been using WhatsApp as an anti-corruption helpline and for reporting traffic violations, respectively. BBC had also used the service during the Lok Sabha elections earlier this year, to provide audio bulletins and other updates.
WhatsApp API: This further highlights the need for WhatsApp to release its official API, as integration with the instant messaging service will become easier. It's clear that brands are interested in using WhatsApp to communicate with its customers, especially now that WhatsApp claims to have close to 65 million monthly active users in India. In an interview with Medianama, WhatsApp Business Head Neeraj Arora had said that the company would support anything that added to the utility of the service, but not at the cost of spamming its users. He added that they are still figuring out how to open up the service to third-parties, while remaining true to their objective.