Listen, I like words. Typing words in a computer that then show up on other computers is how I make my living. But I'll be first to admit that words are not a zero-sum game. I'm glad TV shows and movies exist. I'm also glad we're so into emojis now. It saves me a lot of time. Plus, the thing about emojis and GIFs is that they convey emotions in a way that words just can't. A reaction GIF or a ridiculous GIF will almost always get a laugh, while my batting average with my own words is a lot less.
I don't need to sell you on using GIFs on the Internet as that's already been taken care of. What I can help you with, though, is to tell you about awesome Mac apps that make this whole process as easy as copy-paste. Stick around to the end of the article for a special Chrome extension bonus.
1. PopKey for Desktop
PopKey is probably one of the best GIF-based custom keyboards for iOS. It lets you quickly search for a GIF and paste in a link in a chat window or anywhere else.
PopKey for Mac basically does the same thing. Once you've downloaded it from the website (not available in the Mac App Store right now), it will open as a little menu bar utility. In fact, the drop-down from menu bar icon is basically the whole app.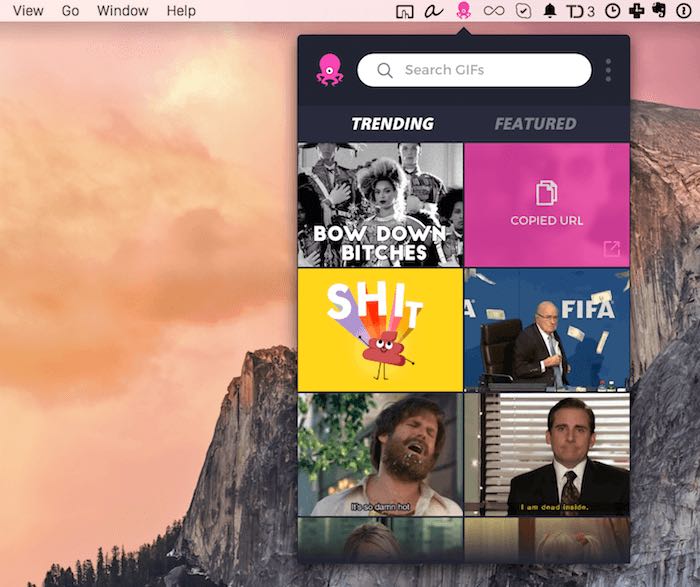 When you open it you'll see the trending GIFs. This is a good place to get a sense of what's going on in the world. I mean, if people are not talking about it via GIFs, did it even happen? Currently, I'm seeing Jared Leto's spectacular Joker on spot 2 and the hilarious prankster throwing fake money during a FIFA conference gag on spot 4. What a wonderful time to be alive.
Anyway, when you find a GIF you like, just mouse over to it and click. This will copy the link to the GIF. Now, you're free to share it anywhere. Places like Slack will automatically show a preview when you paste the link while Facebook Messenger and Twitter won't.
Still, you've successfully reacted to an absurd notion via not only a relevant but also a hilarious GIF. You, Sir, are winning at life.
2. GIFs for Mac
When I open the non self-consciously titled GIFs app, I'm greeted by a courteous reaction GIF featuring Leonardo DiCaprio. That's always a good way to start the day.
The app curates GIFs from popular subreddits like r/reactionGIFs, r/GIFs along with Tumblr blogs. That's great because I cannot for the life of me think of any other two places more obsessed with GIFs than these two websites.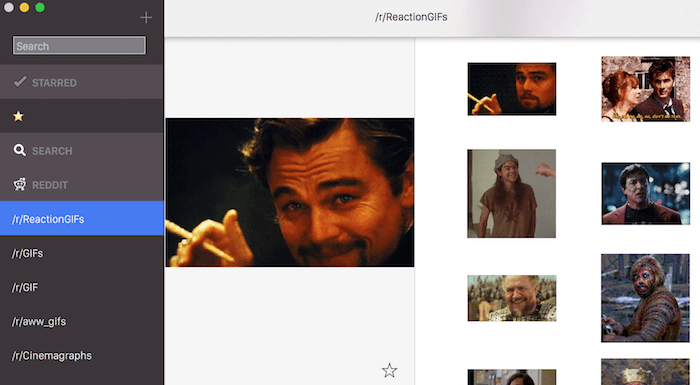 Unlike PopKey, GIFs is clearly geared for the "pro" GIF user, if such a thing even exists. The first pane shows the subreddits and Tumblr blogs along with the GIFs you've shared. The second pane shows a preview of the GIF you've selected, and the last pane is just a grid of the most popular GIFs in the particular section.
Of course there's a search feature powered by none other than GIPHY.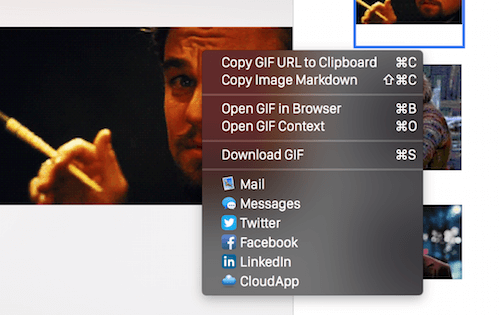 The reason I call GIFs a "pro" app is because of the options in the right-click menu. First of all, it gives me an option to quickly copy the GIF's title and link in Markdown!. It doesn't get much more pro than that. Plus, there are options to quickly save the GIF (The "Cmd+S" shortcut works here as well) and copy the link to the clipboard (a simple "Cmd+C" shortcut). Plus, there's an option to quickly open the GIF in the browser along with the source for the link (the Reddit thread or the Tumblr blog page).
Bonus: GIPHY for Chrome
PopKey is available for Windows as well, but the GIFs app is not. If you're a Windows user and somehow made it this far (props to you), here's a bonus item for you. Check out GIPHY Chrome extension that does almost the same thing as these Mac apps. You can see popular GIFs as well as search and quickly copy the link to a GIF.
Now that you have the tools, what do you plan on doing with them? Share some ideas or just some GIFs with us in the comments below.
The post Interesting Mac Apps to Quickly Search and Send GIFs appeared first on Make Tech Easier.