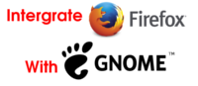 If you're a Gnome (Shell) user who happens to use Firefox, you may notice that the browser doesn't fully match Gnome 3. No Gnome-style notifications, no client-side decorations and a theme that doesn't really fit in at all. If you are not concerned about the appearance, then you can continue to use Firefox as it is without any problem. However, if you would like to fully integrate it to Gnome Shell, here are some extensions/themes that you can use to make it look like it truly belongs on the Gnome 3 desktop.
Extensions
Note: The following extensions will make your Firefox look better in Gnome, but do bear in mind that the more extensions you install, the more bloated it is.
GNotifier
GNotifier is great as it taps into the system's notification center. Basically, it forces Firefox to use the Gnome Shell notification system instead of creating its own. For example, if you download a file, you'll get a native "download completed" notification. If you ever get tired of Gnome and want to uninstall all of these extensions, consider keeping GNotifier; it can work with other desktop environments too.
Gnome Theme Tweak
Another way to adjust the user interface, to make it more Gnome-like, is to use Gnome Theme Tweak. This extension provides many helpful, customizable features. For example, having a white background for the new tab page, relief buttons on the navigation toolbar, enabling different styles for unfocused windows, showing tabs on top, Gnome 3.12 style tabs, etc.
Simple bookmarks menu
Simple bookmarks menu is an extension that aims to simplify the Firefox bookmark menu. This extension has some useful features, the most notable ones being "show all bookmarks, bookmark this page, unsorted bookmarks and open in all tabs." This is an important extension to help Firefox comply with the "keep it simple" Gnome design philosophy.
Hide Tab Bar With One Tab
Hide Tab Bar With One Tab is an important aesthetic extension. It hides the tab bar when (you guessed it) only one tab is open. This extension might not seem too important, but it does help move Firefox towards a more Gnome-like look. Not a required extension, but it is recommended.
Htitle
Htitle hides the title if the window is maximized. Since the window decoration is completely hidden from view, it allows Firefox to better integrate with the Gnome Shell. A must have extension for any Gnome user.
Note: Htitle isn't compatible with other desktop environments. It can and will create problems.
Gnome 3 Theme
Gnome 3 is a terrific theme, even if you choose not to use all of the extensions above. In my opinion, the Gnome 3 theme is well-designed. I highly recommended it as it works the best with the Gnome integration extensions listed.
Conclusion
With all the extensions installed, Firefox really feels like it belongs in Gnome. This is a huge thing because if you use a desktop with a very particular design philosophy, it's really jarring for a program that you use so much to look out of place. This is why I love Firefox extensions. A few bits of code can take what you knew and change it completely.
The post How to Fully Integrate Firefox into Gnome Shell appeared first on Make Tech Easier.