Everybody, even the most experienced content creators, get burnt out. When your livelihood depends on creating that content, or at the very least you have a website you need to keep updated, this can be a serious problem.
You might not know where to turn when your brain refuses to spark any new ideas. This is the proverbial problem of the writer's block, and yet it doesn't just affect writers. It impacts all creative professionals.
Creating a Powerful Content Brainstorming Dashboard
Below are two tools to begin using to store your ideas and spur your inspiration in case you get stuck:
Trello
Trello (free) boards are awesome for organizing your thoughts. They can be used for mind-mapping, idea storing, link bookmarking, etc.
Cyfe
Cyfe (freemium) is another way to automate idea flowing. Cyfe allows you to create multiple dashboards with multiple widgets in each to store and quickly access any information you may need. You can have a separate dashboard for content brainstorming to import results from:
Several Twitter search queries (which are useful for brainstorming, e.g. #qa, #expertinterview).
Several Google Plus search queries.
Several Google Alerts results.
So whenever you are looking for an idea, just click through to that dashboard and scroll until you are enlightened: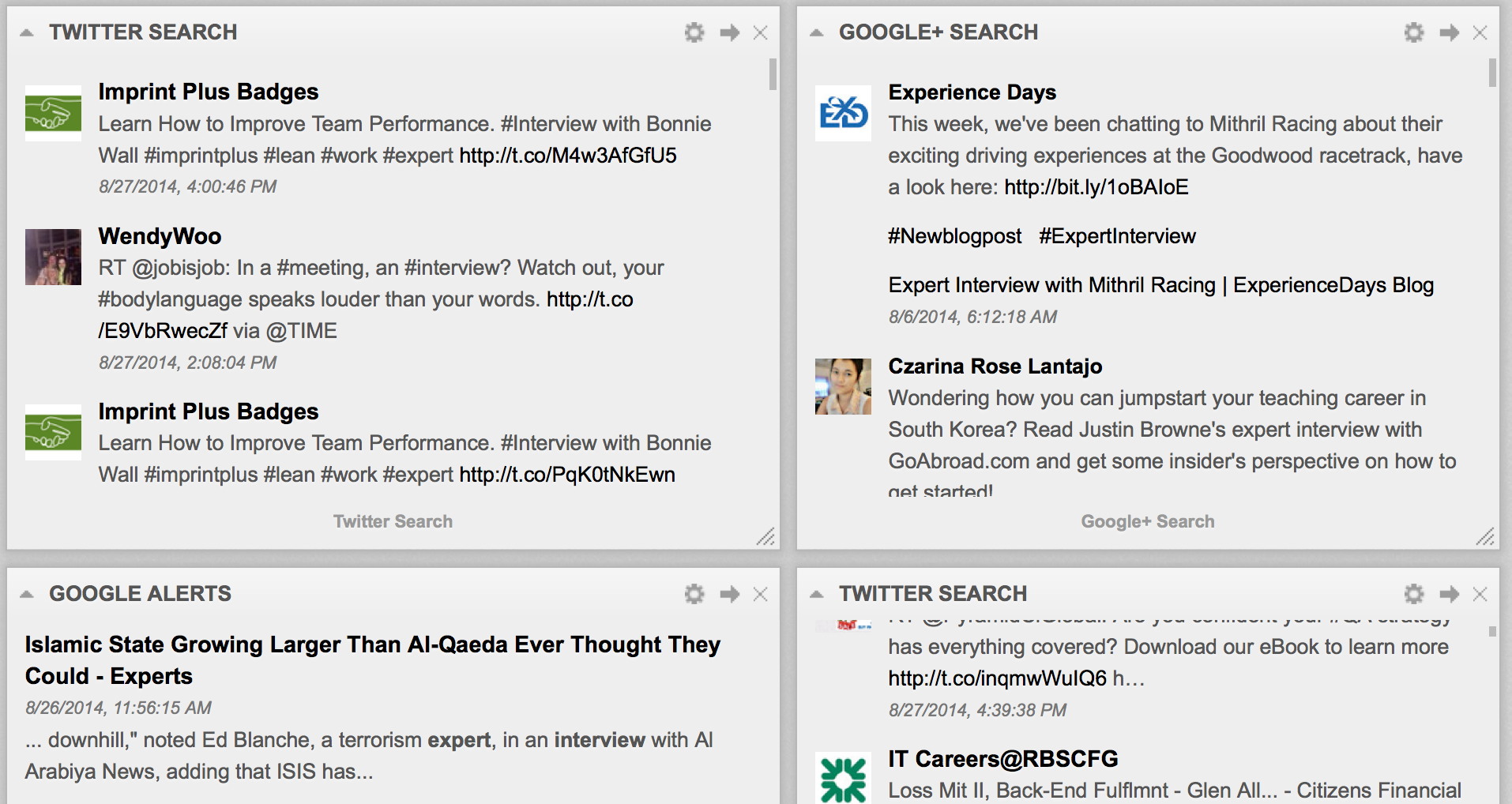 Ways to Develop Content Ideas
There are ways to force your mind into behaving, so try these ten ways of developing content ideas when you are stuck.
Get Away From The Problem
You might just need a break. For some of us (maybe even all of us), there is only so much that can be taken on before we have to take a couple of days to ourselves. Trying to force yourself to work on a project will just lead to frustration and further stress which then saps you of the energy to form ideas.
It is a vicious circle. So step away, take a couple of hours or a couple of days. If you really need to have an update, get someone to cover for you. Plenty of your followers may be happy to contribute an article. It might even give you some fresh concepts to work with when you get back.
Take Some Time To Daydream
Daydreaming is a great way to come up with ideas, and expand on them. It is also an activity we don't tend to engage in nearly enough as adults. It should be a regular part of our lives, especially when related to the process of coming up with content.
How can we create anything if we aren't taking the time to stretch our imaginations?
Check Out Blogs You Read
Other people's content is a gold mine for ideas. You don't want to copy them, obviously. But maybe they spoke about something you have your own ideas about and you would like to add your own take. Or you know a related topic that would be interesting to expand on.
Whatever the case, it can be a great starting point. You can even link to the original article and use it to start a dialogue with the other writer.
Look At Old Posts
Old posts are fantastic, as they give you a framework for what your audience is looking for from you. Not sure what will interest your readers? Just look back and see what they commented on or shared the most. Then use those to come up with other topics in the same vein that might catch their interest.
Update Former Content
Maybe a topic you have covered was good, but it could use some sprucing up. Updating old content is a great way to milk more out of still relevant, but changing, topics. Anything that might have occurred differently in the industry is a launching point for a new article. Or just give more examples and expand upon an old article, linking back to it. It has the additional benefit of directing people to an article they may not have read.
Conduct An Expert Interview
Interviews (and group interviews) have become ridiculously popular lately. Find someone interesting in your industry and approach them about perhaps having an interview, or even just answering a couple of questions. Use a tool like HARO to create a simple group interview quickly.
Repackage Your Content
Take an old post and turn it into an infographic or a series or slideshow. Repackaging content can both give you a new post, and also attract a new audience through another media form. Some people will even turn blog posts into podcasts or mini videos, so they can use a completely different platform.
Ask for help
You cannot do anything yourself. Sometimes you need help. Some of the best ideas can come thanks to friends' and follower feedback. Asking for help is also one of the best ways to discover your Twitter supporters and connectors… and maybe even hear back from your listeners.
Tell A Personal Story
Anecdotes are always appreciated and well received. Having worked your way to where you are now, you are sure to have more under your belt than you realize.
For example, did you ever do something that was really embarrassingly dumb in your professional life? How about a positive story where something worked out better than you had expected? Or an anecdote about someone you know, and their experience? These are all potential articles just waiting to happen.
Let Loose A Rant
Face it, you have some rage in you somewhere. Or at least some nagging annoyance you would love to be able to release. Your content is a good place for it. Rather than wasting your time trying to hold it back and work around it, let it out.
Consider writing a rant (though in a professional manner) that gets tongues wagging. Your readers will love a bit of gossip, and a chance to commiserate with you. After all, they could have faced the same thing, and hated it just as much.
Coming up with content ideas can be difficult, but it isn't impossible. Get around that burn out with these ten tips, and share your own methods below.
Ideas Photo via Shutterstock
The post How to Create a Content Brainstorming Dashboard to Keep Ideas Coming appeared first on Small Business Trends.