If you've ever searched for a web host, you know that finding a good one is no easy task. Beyond sorting through the sheer volume of providers available, it takes plenty of time and prowess to find the "catch" with too-good-to-be-true deals, not to mention compare apples and oranges across the various providers.
One of the most frustrating things currently is finding a good web host who will respect your purchase and actually allocate you the space you are paying for. Unfortunately, overselling has shifted from a practice used by just a few budget providers to an almost "given" practice – unless companies are willing to pay a premium price. At the core, overselling is a practice in which web hosts sell space to more clients than their servers truly allow – they know that most clients will not actually use all of the space and assets they are given, so to earn a few extra bucks, they sell that carefully calculated, likely not-to-be-used space to additional clients. That said, most of the time it doesn't cause issues, but fact of the matter is, you're more likely to experience slow site load times and have more server issues as a result.
That said, as difficult as it is to find a web host that does not overload its server, there are a few out there – and StableBox is one of those providers.
Note: I do not own a StableBox hosting account. This review is written based on my research and investigation from outside.
About StableBox and Hypernia Corporation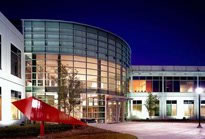 StableBox launched in early 2012 and offers a variety of hosting services, including hosting in a shared environment or the cloud in addition to domain registration services.
Though StableBox itself is relatively new to the hosting arena, it is owned and managed by the Hypernia Corporation, a Miami-based company that has been around since 2001. In addition to StableBox, Hypernia offers numerous web services, including game servers, voice servers, and enterprise-level cloud hosting via the SuperPod brand.
StableBox Hosting Plans
StableBox offers two types of hosting plans: shared hosting and hosting in the cloud. Both environments are powered by SSD caching and are monitored 24/7 by an in-house network operations center; this hands-on, localized take is a rare and great feature.
Shared Hosting
StableBox offers shared hosting solutions in four levels. For $29.95 per year, its entry-level Basic plan includes one FTP account, 10 email accounts, 10 GB of SSD cached storage, 100 GB of bandwidth, 24/7 support, offsite backups, and 10 subdomains. At the top of the scale is the Premium plan at $19.95 per month; this plan includes unlimited FTP and email accounts, 999 GB of SSD cached storage, 999,999 GB of bandwidth, 27/7 support, offsite backups, and unlimited subdomains.
The two mid-road plans ring in at $4.95 and $9.95 per month, respectively, with features enhanced from the Basic plan, but not as robust as Premium. A dedicated IP will cost $4 per month in addition to any plan, with the exception of Basic (it is not available with the Basic plan).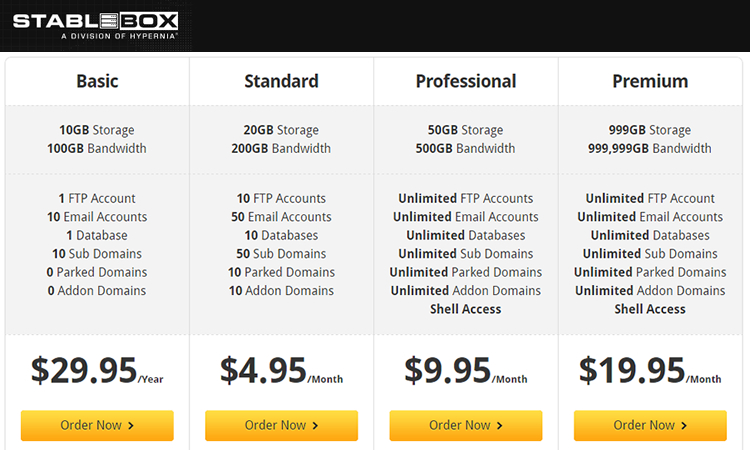 StableBox Shared Hosting Price
Cloud Hosting
StableBox's cloud hosting is available in six configurations, ranging from a 512 MB cloud to an 8 GB cloud. Pricing starts at just $4.95 per month for the 512 MB cloud, which includes one virtual CPU core, 10 GB disk space, 500 GB of bandwidth, and one IP address. The top-of-the-line cloud comes with 8 GB of dedicated RAM, four virtual CPU cores, 160 GB disk space, 8,000 GB of bandwidth, and one IP address. All plans are Linux supported and all but the entry level cloud hosting include free Microsoft Windows and support MSSQL and a cPanel/ WHM.
Q&A with Lane Eckley, StableBox Vice President of Operations
To learn more about StableBox Hosting, I did a short email interview with StableBox VP of Operations Mr Lane Eckley. The following is the record of our Q&A.
How does the SLA work for StableBox shared hosting clients?

Depending on the severity of the service outage & impact to the effected clients we will provide anywhere from a partial credit to the clients account all the up to multiple months free. We rarely have any non-planned service interruptions, but in the event we do we simply go account by account to ensure all clients receive the appropriate credit for the service impact.

Can we assume that StableBox is a no-overselling host? That's what I got from reading your TOS but I need to be sure.

Honestly, it will depend on your definition of overselling. Looking at a single host machine we do oversell its capabilities to a degree as most clients rarely ever use more than 10-30% of the resources allocated to them, however this doesn't mean our host machines are ever overloaded or clients will run into issues using the resources allocated to them. If we have a host machine that begins to use more resources (we never allow machines to go past 80% utilization during peak hours – CPU, RAM, NIC & HDD) we simply load balance the hosting accounts behind the scenes to ensure none of the machines ever become overloaded, or even close to it.

All host machines are monitored 24/7 by our automated monitoring and alert system which automatically notifies our NOC staff in the event a machine surpasses the 80% threshold for any reason. The monitoring system also monitor the hard drives, RAID arrays, resource usage (CPU, RAM, NIC, HDD, PPS, Bandwidth, etc.), system temps and much more to ensure that we keep everything running stable and smoothly.

Could you comment a little on the benefits of CloudLinux OS?

I LOVE CloudLinux as it allows us to maintain a very high level of stability & excellent performance on the host machine while ensuring one hosting client doesn't impact another due to poorly written code or otherwise. In short, CloudLinux allows us to place thresholds on the CPU, RAM & Disk I/O usage on a per cPanel account basis to ensure that one client doesn't consume all of the host machines resources which in turn impact all of the other clients on the same host machine.

Thresholds sound terrible for our clients as many other hosts in the industry have used this ability to lock down the resources on a per account basis so far that running a standard website is damn near impossible without having tremendous amount of issues, but I can assure all of our clients the thresholds in place are well above the needs of most all shared web hosting clients, even those running WordPress with a healthy amount of views each day.

As an example, we have a Minecraft related WordPress blog hosted on one of our machines that receives well over 100 thousand unique visitors a day, yet their website is runs smoothly & quickly.

We also provide the ability for clients to monitor their CPU usage, RAM usage, HDD I/O, HDD space and much more directly via their cPanel control panel allowing each client to monitor their usage in realtime and via historical graphs to assist in troubleshooting any issues they may run into.
StableBox Web Hosting – My Opinion
We always advise reading user reviews online before purchasing hosting services – and while I can find plenty of positive feedback online about the Hypernia game servers, I have found it nearly impossible to find credible reviews about StableBox… good or bad. That said, that may simply because StableBox is so new to the hosting arena. As such, the following findings are based on my own research and opinions – please know that I have not actually tried or used StableBox previously.

The Good
There are plenty of "ups" to StableBox hosting services, including checkmarks in several of the essential hosting services.
99.9% Service Level Agreement
The biggest advantage, in my opinion, is that StableBox backs its service with a 99.9% uptime SLA – if your service quality drops below that mark, you have the right to terminate your subscription and you will receive a full refund (as per TOS 10.10).
No Overloading Hosting
One of the key ups is that StableBox does not overload its space which (as mentioned, StableBox does not allow machines to go past 80% utilization), in itself, eliminates the majority of problems experienced as a result of rushed servers. Additionally, since StableBox shared hosting is backed by the CloudLinux operating system, your hosting neighbors' activities and usage will not affect your website's performance.
Affordable
Another good factor is that StableBox has the most affordable, cached RAID-powered hosting. It doesn't overwhelm users with tons of useless features (who really needs a 1,000 MySQL database capacity, anyway?) which means that you aren't paying for useless features and that, as a whole, the system is much easier to understand and navigate.
15 Years of Experience in Hosting Industry
Finally, although StableBox itself is a newcomer to the hosting space, it is managed by Hypernia, a reputable, proven company with nearly 15 years of industry experience. Hypernia's game server division is a great success and has endless amounts of positive customer feedback – assuming this as an indication of what we can expect from StableBox, I look forward to seeing great things. StableBox's Basic Plan is a steal at $29.95 for the year and a great option for people starting out looking for an affordable, reliable host.

Brands under management of Hypernia – Hypernia Game and Voice Servers, StableBox, and SuperPod.

The Not-So-Good about StableBox
Lack of Customer Support Documents
This is where I usually play devil's advocate and find at least a few areas in which the host is lacking… however, I really can't find any visible flaws, granted, I'm looking from the outside in and have not actually tested StableBox hands-on. That said, if I had to find something to complain about or that is less than perfect, I might note that there is room for improvement in the knowledge base.
StableBox could better serve current and potential clients by providing better documentation and tutorials to show capabilities, functionality, and best practices.
Like I said, if I have to find something…
StableBox Promo Code: WHSR352014
To enjoy life-time 35% discount on your cPanel hosting package, use promo code "WHSR352014".
Order StableBox now: http://www.stablebox.com
Verdict: A Trustworthy Web Host
All in all, though no host is perfect, StableBox seems to be about as close as it gets – there's great promise and I hope this company continues in the great direction it set out on. The price is right, the features fair, and the no overselling and uptime guarantees have star power. Whether you're an experienced webmaster or just starting out, StableBox is definitely worth consideration.