There's a lot of things that goes on in our daily lives that can lead to a lot of stress and leave us agitated. It could be anything from working with certain clients on a particular project to a looming deadline. There are plenty of solutions but what about when you're busy at your computer and have limited time to spare? This is where the Internet can help you out.
There are several websites that are designed to help you achieve a sense of inner peace. They do this through the use of captivating images and soothing sounds, among other things. If you feel like you could use some quick but efficient relaxation, here's our list of 10 websites to help you calm down those nerves. Hopefully, they'll work as well for you as they did for me.
Recommended Reading: 15 Calming Color Palette & Tile Wallpapers
1. Calm
Calm can help you achieve what the name itself suggests. You can choose between "guided calm" or "timer" to get there. The length of the session varies from 2 – 20 minutes. For the guided calm option, a voice will guide you on how to relax your tense body and mind. If you rather do a quick session without narration, just click the "timer" button.
The background music gets an added effect from the nature scenes depicted, such as a flowing misty riverside or sunlight streaming through moving clouds. Calm also offers a free iOS app with limited features. [Visit website]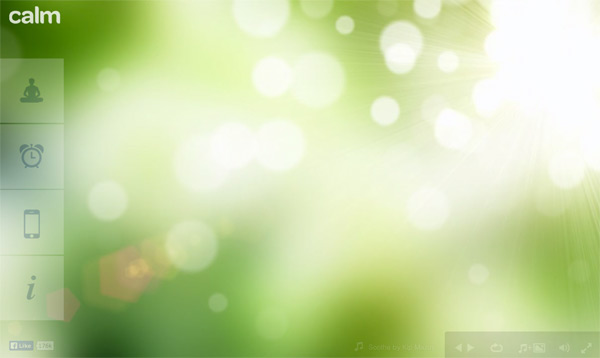 2. Do Nothing For 2 Minutes
The title says it all. You will do nothing except listen to the waves for exactly 2 minutes. This website acts as a bit of challenge to see if you can restrain yourself from doing nothing at all. The best part of this website is that, if you do touch your keyboard or mouse, a fail message will pop up and the clock will reset again. I failed several times too before finally completing it.
It's a simple idea but sometimes a quick 2 minutes break is all you need to reset yourself. Do nothing for 2 minutes is also available as an app (iOS). [Visit website]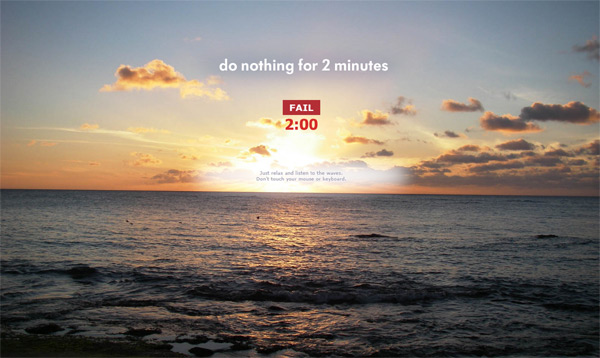 3. Get Relaxed
If doing nothing for 2 minutes doesn't really appeal to you, how about trying GetRelaxed? All you need to do is just sit back and yes, relax, while watching some beautiful images through a slideshow (it changes every 3 seconds). Add some soundscapes to choose from and you're set.
There are 15 different tracks to choose from. Each of them lasts between 2 to 4 minutes. Getting back to nature may just be easier than you think. [Visit website]
4. LoungeV Studio
For those who are not content with still images, you could try watching some videos instead. LoungeV Studio offers relaxing HD quality nature videos, which you can enjoy for free. The website plays tranquil videos of beaches, waterfalls, underwater scenery and much more under various titles.
If you rather not get your dose of relaxation via the site, you can buy the full version of the videos or DVDs. What better way to refresh yourself than by watching the beauty of Mother Nature at work. [Visit website]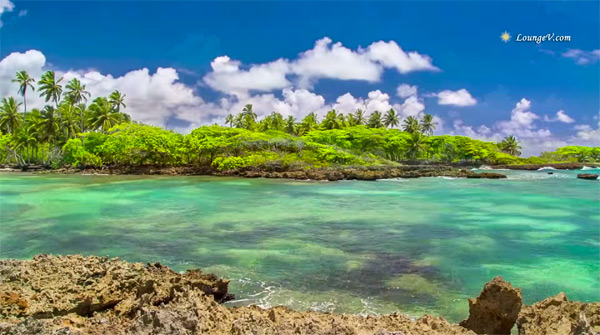 5. A Soft Murmur
A user-friendly website that lets you create your own mix of ambient noises. Your special mix can include the sound of rain, a singing bowl or my favourite, the comforting sound of a fireplace. You can have all 10 different ambient noises playing simultaneously or just pick a few that suits your needs.
The sounds will help you to focus on the tasks at hand. If you want to, you can also share your mix with your loved ones or friends on Facebook, Twitter or Google+. [Visit website]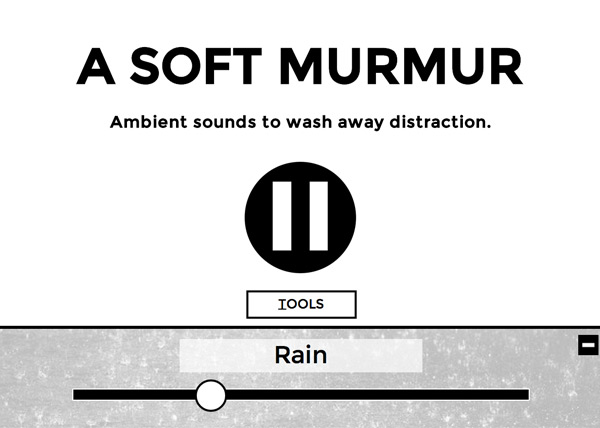 6. Nature Sounds For Me
Here's another great one for the nature lovers that like to mix things up. Nature Sounds For Me offers a mixer tool that lets you control the audio level and pan (which determines whether you hear the sound from the left or right channel of your stereo source). This makes it easy for you to choose between the low steady sound of crickets or loud buzzing bees, just to name a few. You can choose up to 4 different nature sounds to be played simultaneously and save your mix for your future use.
There's also an iOS app for your convenience. [Visit website]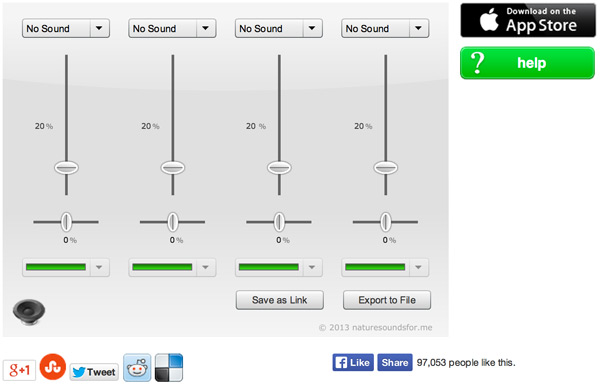 7. Noisli
This website produces background noises such as coffee shop chatter, the low sound of a blowing fan, white noise, and more. The volume of the sounds are adjustable to suit whatever mood that you're in. The web page also changes its color according to the mood of the sound that you have chosen.
If you're keen to multitask, it also includes a Text Editor function, so you can write without the usual distractions. Plus your work can even be saved. Noisli also offers an app (iOS) so you can keep calm wherever you are. [Visit website]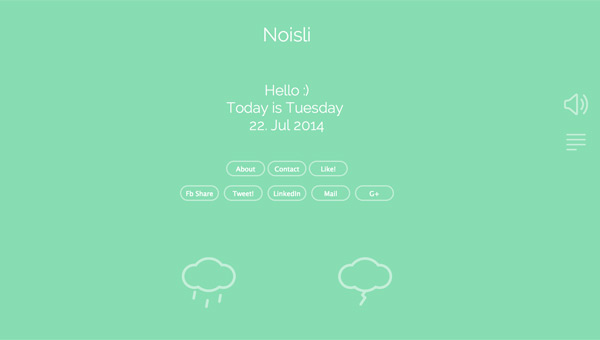 8. Soundrown
Using the "relax.focus.escape" tag line, it really does what it offers. It helps your body and mind relax with 10 ambient noises that range from a moving train, children playing in the playground and even the sound of a fountain. The clips last for 30 minutes, which is more than enough for you to "escape" from work and regain your focus. You can play two sounds or more at the same time. This and the sleek design of the website will surely keep me coming back. [Visit website]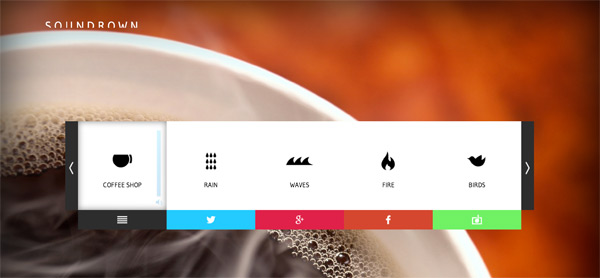 9. The Thoughts Room
Need to vent but you don't want the whole world to see it? Or maybe you just need a quiet place to write down your thoughts? The Thoughts Room is the perfect website for you. You can write anything into the status bar and then watch the words disappear before your eyes. It is as simple as that and the website plays calming music while you type your thoughts.
If you're more comfortable using your native language, the website page has 37 different languages for you to choose from. The app for the website is available on iOS and Android. [Visit website]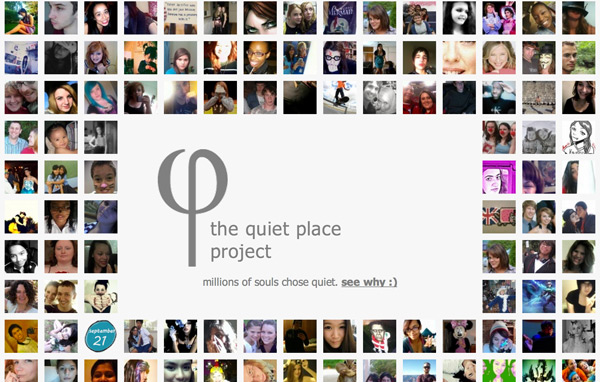 10. Raining.fm
Sometimes, all we need is a little bit of rain to help soothe us. Raining.fm offers different variations on what the rain sounds like that helps you unwind. It's so well done that you would hardly notice that the sound is actually looped. There are also extra features such as an image slideshow, a quick break reminder, and a timer to stop the sound altogether.
The reminder will help notify you when it's time to go for a quick break and stretch your legs. There's also a Raining.fm app available for both iOS and Android devices. [Visit website]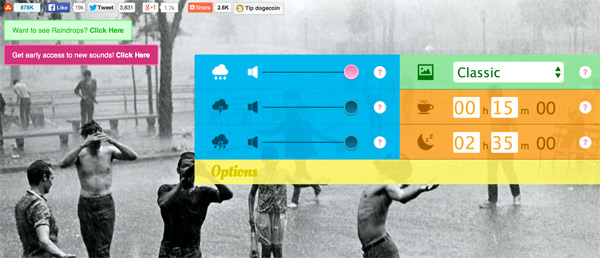 Editor's note: This post is written by Gina Mark for Hongkiat.com. She likes to read, is interested in indie bands and loves to eat and travel.