Google adsense finally start a Wire Transfer Payment System in India.
After a long time , google adsense upgrade new Wire Transfer Payment Account System.
Many Adsense Account Publisher awaiting for this update and now happy for that news.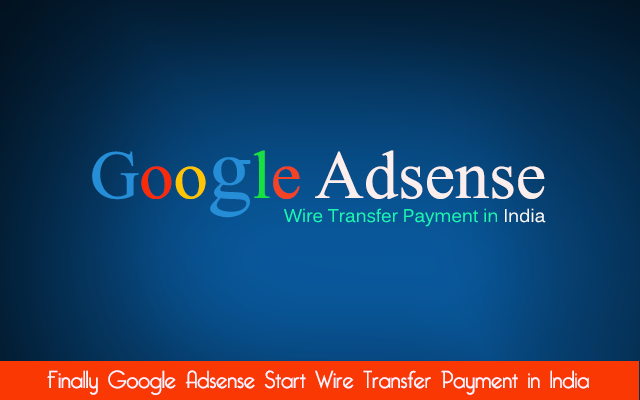 Wire Transfer Payment in India
Before Google Adsense introduced EFT System in India and got news from google forums.
Now accept new term and conditions of google adsense payment system and fill the new payment form for wire transfer.
What is Wire Transfer?
Wire transfer or credit transfer is a method of electronic funds transfer from one person or institution (entity) to another. A wire transfer can be made from one bank account to another bank account or through a transfer of cash at a cash office.
Different wire transfer systems and operators provide a variety of options relative to the immediacy and finality of settlement and the cost, value, and volume of transactions. Central bank wire transfer systems, such as the Federal Reserve's FedWire system in the United States are more likely to be real time gross settlement (RTGS) systems. RTGS systems provide the quickest availability of funds because they provide immediate "real-time" and final "irrevocable" settlement by posting the gross (complete) entry against electronic accounts of the wire transfer system operator. Other systems such as CHIPS provide net settlement on a periodic basis. More immediate settlement systems tend to process higher monetary value time-critical transactions, have higher transaction costs, and a smaller volume of payments. A faster settlement process allows less time for currency fluctuations while money is in transit.
Here are some updates, that Google Adsense has made in Adsense payment.
Payment History:
Your payment history page is now updated with some changes. Now you will get three option there.
1- Current Balance
2- Settings
3- Previous Payments
Why my current balance showing $0 in upgraded Payment System?
Note that all payments made or the payments which has recently been stopped by either you or AdSense team, as the case may be, would not be shown in the upgraded payment system. Therefore, to see the history of all payments made earlier, you need to go on payments tab and scroll down to the end of payment history page. Now, click on see your previous payments text link button as appears in this screenshot.
See below image….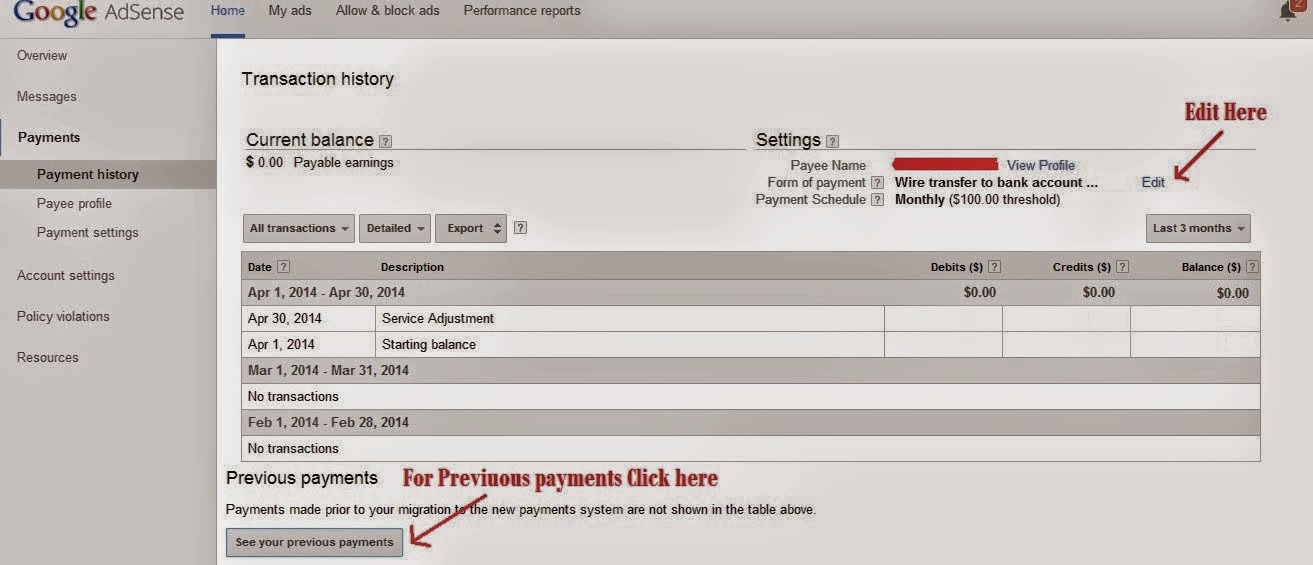 Payee Profile:
On your payee profile page, you can edit all your profile details like, your billing id, your tax details, your Address etc.
How to Upgrade AdSense Account for EFT Payment
To avail EFT payment option, you have to follow these steps:
Step-1:
Login to your Google AdSense account.
Step-2:
Click gear icon appears in the top right corner and then select Payments from the drop-down list.
Step-3:
Now, click Payment settings from on the left sidebar menu.
Step-4:
You will see Self-hold option in the last, just click on edit self-hold and select the check box that says Hold payments and finally apply it.
AdSense-Payment-Settings
As long as the self-hold is present on your account, Google AdSense India will upgrade your account to EFT payments system within a few days (the next 24 hours or so) of setting this hold.
Thus, applying a self-hold now will mean that you will not receive any cheque payments in future rather your earnings will be credited directly into your bank account through EFT mode.
Step-5:
When your AdSense account will be upgraded to EFT (New) payment system for AdSense earning payment you will see a message on your AdSense account screen as given below:
"Your account has been upgraded to a new payments system"
Now click on the View payments link shown at the right top corner or follow Step-2 mentioned above.
Accept New Term and condition for Google Adsense and after upgrade new payment system available in your Google Adsense Account.
On your Payment setting page you can choose your form of payments which is available, if you are from India then you will get only wire transfer option to get payments in India. You can also configure your minimum payment threshold, but it could not be minimum of $100.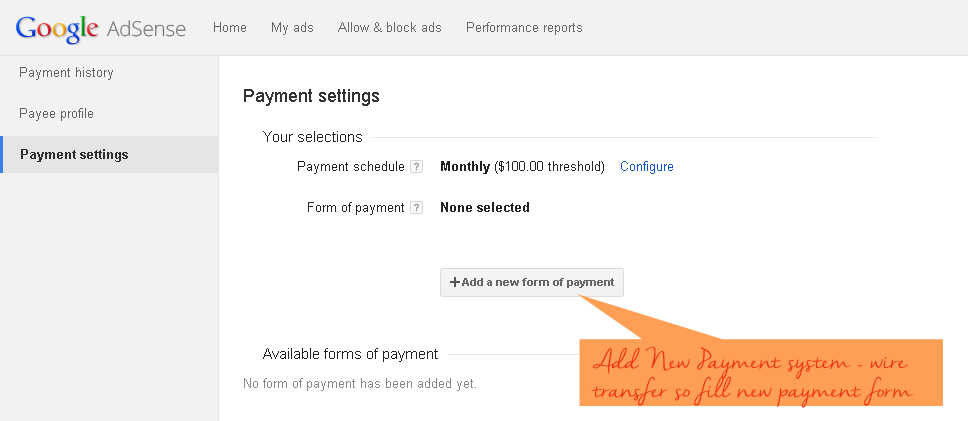 How to Add a New Form of Payment
If you have received an Email from Google Adsense, saying that, your account has been upgraded to EFT (Electronic Fund Transfer) wire transfer payment, then its time to go to your Adsense account and add a new form of payment. To add a new form of payment just go to payment setting page and then, you will have to enter the following details there.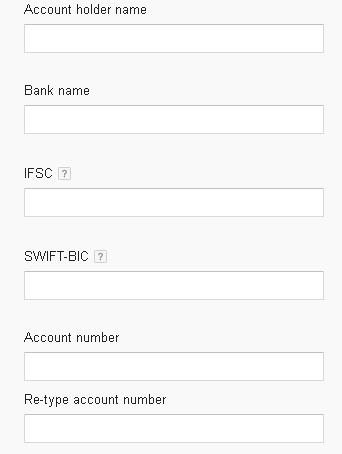 1- Payee Name ( Your Name)
2- Bank account number
3- Bank Name
4- SWIFT Code (It should be on your bank passbook if not, then you can ask your bank for this code)
5- IFSC Code (You can also find this code on your passbook if not then ask your bank for this code)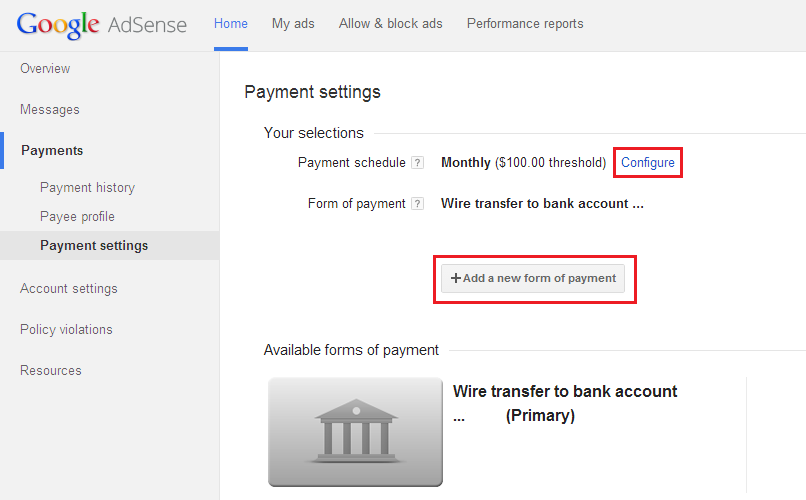 Save all setting of google adsense and upgrade to your new wire transfer payment system.
Contact to you bank for more details about wire transfer and got bank details to fill this information.
Please fill all information carefully and enjoy your new wire transfer payment system.
Hopefully,
You fill all information correctly and got your payment securely in your bank account.
Any problem face to fill payment form then reply back to below comment system and share this article on social network.