Last month in my round-up of how seven ecommerce brands use highly persuasive copywriting I covered one of my all time favourite examples.
Moosejaw is a US-based retailer and ecommerce store specialising in outdoor recreation apparel and equipment.
What separates Moosejaw from its competitors is its consistently hilarious and quirky tone of voice that runs through all of its website copy, advertising and customer service channels.
I talked to Moosejaw's CEO Eoin Comerford and customer service director Chad Caudhill about the importance of brand tone of voice, how it effects the company culture, its perception in the wider ecommerce world and the benefits of being an engaging, off-the-wall brand with bucket load of acerbic charm.
Here are a few examples of the copy that drew me to Moosejaw in the first place…
The carousel on the homepage currently contains the following attention grabbing statement. I immediately feel right at home here.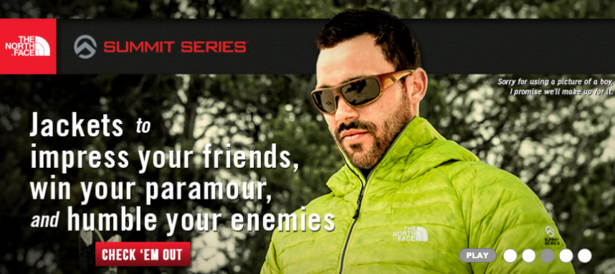 There's also this inspired piece of stupidity. Which subtly downplays the fact that this is an inspired way of laying out information and navigation clearly.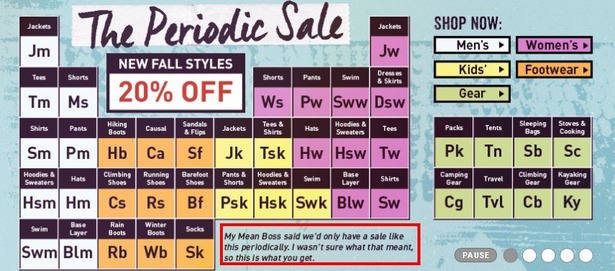 Everywhere you look on the homepage there's a chucklesome piece of navigation or product ad, that immediately makes you want to find out more.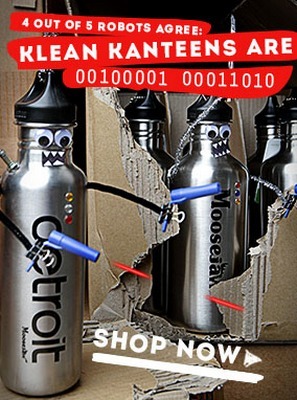 It doesn't just stop at the homepage. The product pages have brilliant little touches.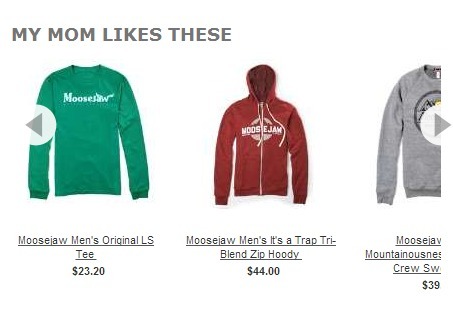 And here's some highlights from my chat with Comerford…
How was the decision made when it came to adopting your particular tone of voice?
For Moosejaw the decision on a brand tone of voice didn't even have to be made. It was inherent from the first day of the company.
Our founder Robert Wolf is a naturally quirky, funny guy. In 1992 Moosejaw operated a single retail unit. He had to engage with customers personally to keep the business running.
Three years later in 1995 the Moosejaw website was founded, and the personality of the founder spread to the site. That level of brand consistency is part of the mantra.
That's something engrained in what we are. Every touch-point is part of the branding – the packaging, the website, our emails, even the back of the delivery truck which says, "the driver carries $50 and is fully naked." It's a quirky, engaging, off-beat brand voice.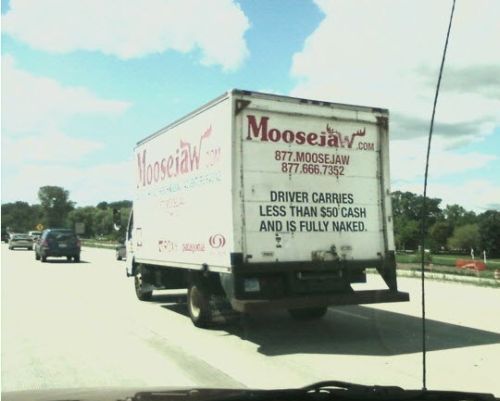 How do you maintain a coherent tone across so many different teams?
The key thing is that it does start at the top. As a CEO one of my primary objectives is consistency – it's our most critical aspect. As Robert stepped out of the business, we established a set of core values that stemmed from one vision.
The vision was to aim to be the most fun outdoor seller on the planet. Not the biggest, or the most profitable.
Our core values are as follows:
Be notable, do things people will tell people will tell 10 friends about.
Be engaging – not just broadcasting. We have a friendly tone. Within customer services, we don't talk about average call length or similar cold metrics. In some cases, the longer we talk to people on the phone, the better. Which leads us to the next value…
Make our customers love us. This is about not letting a customer get off the phone until they love us.
Only do what's cool. We have an acid test for this. It's called 'The hottie in the coffee shop test' – if we wouldn't wear it in a coffee shop to impress a hottie in a coffee shop then we don't sell it. If we wouldn't use a piece of gear, or pretend that we used a piece of gear, we don't sell it.
This also affects our hiring policy. Within our stores, we'll hire someone who is engaging and fun ahead of someone with actual retail experience. Same is true in customer service.
Our culture is not for everyone admittedly. There's music, ping-pong, animals running around an open plan office. The point is that we as company need to have fun to project fun.
Do you test your copy?
Sometimes on the site, but more so on email subject lines to see what works. You can't offer madness all of the time.
If you're too obtuse, there is too much confusion. When the founder started doing this, there was no plan. We knew we would offend some people and we were totally fine by that.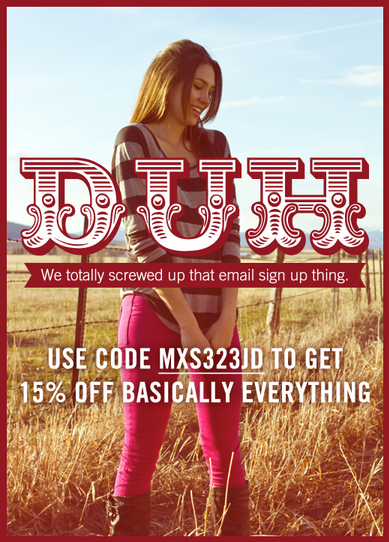 Do you find that your tone of voice limits your audience?
Yes, but that's fine. In order to create a brand people love, some people are going to hate it. Some think our voice is over the top. They'd rather someone who is serious about climbing gear.
To be a strong brand, you have to have your own evangelists. There are lots of companies that sell the same brands as you, even at the same price, but it's through our tone that we've been able to differentiate.
We've had customers who pay more at Moosejaw for the same product just because they wanted to buy it from us.
In my previous article I mentioned your live chat service, which is a great mixture of self-effacement and flattery. Why did you decide to install live chat?
We're early adopters of tech, we were one of the first ecommerce stores to use responsive design, and the the second we heard about live chat, we wanted to be involved.
We launched the service 10 years ago using the LivePerson platform. We wanted to be able to respond immediately to customers, as emails just weren't cutting it.
It's a better experience overall as we can give a response immediately. We have five people to 25 people on live chat, compared to 20 to 80 staff on telephone. However our live chat agents can handle up to four chats at a time.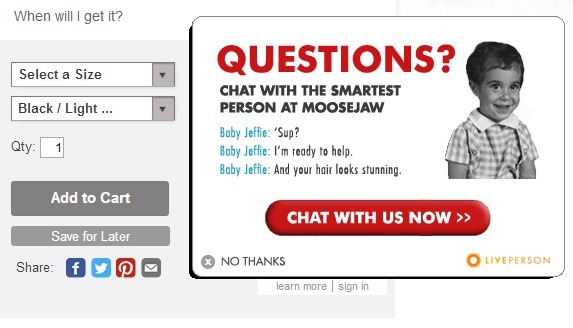 The brand tone of voice is carried over to live chat, as we make sure we hire the right people and we also don't track conversion. We are purely there for support. The goal is to be there to help.
As for mobile, 40% of our traffic comes from mobile devices and provides 30% of our revenue, so we also offer a separate mobile specific live chat service.
For more on the blog about copywriting, check out these five evocative examples of ecommerce copywriting.
Our Festival of Marketing event in November is a two day celebration of the modern marketing industry, featuring speakers from brands including LEGO, Tesco, Barclays, FT.com and more.