Every bloggers want to make professional blog design so each design parts of blog is most important. Labels makes easy navigation for users.
Today, I'm discussed about
How to Design Professional Blogger Label Style for your blog.
When you're add bogger labels , It's very ugly and different size and fonts so your blog design looks not good.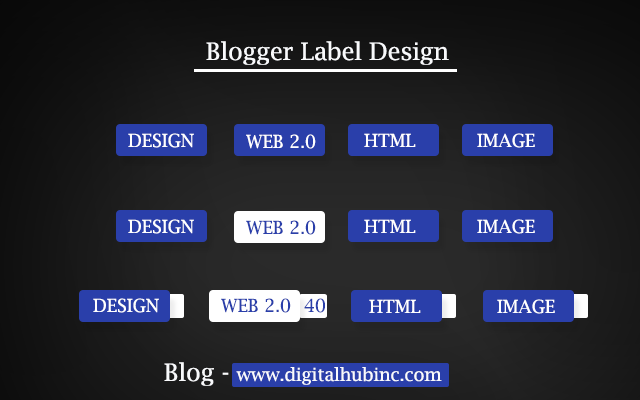 Blogger Label Style
Here , I'm giving a different style blogger labels and tutorial for you.
You want to see full demo of blogger labels then click on DEMO Option.
Customizing blogger labels:
Open your blogger dashboard.
Select your blog.
Select Template option.
Click Edit HTML option.

In the template code find

]]></b:skin>

Now copy the code of any one design from the below given 5 designs.
Paste the copied code just above

]]></b:skin>

and save the template
Enjoy your new customized blogger labels.
Blogger Label Style 1 [ DEMO ]

.label-size {
     padding: 4px 8px;

}

span.label-size a {
  z-index:2;
display: inline-block;
   padding: 0px 10px;
   height: 29px;
   line-height:29px;
   border-radius: 5px;
   font-weight:bold;
   font-size:12px;
   text-decoration:none;
 position: relative;
 -webkit-transition: all 0.3s;
 -moz-transition: all 0.3s;
 transition: all 0.3s;
  text-decoration:none;

}


/* Button 1 */
span.label-size a{
border: 1px solid #07103e;
  background-color: #2a3faa;
  color: #fff;
  background-image: linear-gradient(top, #2a3faa 0%, #2a3faa 100%);
  background-image: -o-linear-gradient(top, #2a3faa 0%, #2a3faa 100%);
  background-image: -moz-linear-gradient(top, #2a3faa 0%, #2a3faa 100%);
  background-image: -webkit-linear-gradient(top, #2a3faa 0%, #2a3faa 100%);
  background-image: -ms-linear-gradient(top, #2a3faa 0%, #2a3faa 100%);
}

/* Button 1a */
span.label-size a:hover,
span.label-size a:active {
 color: #2a3faa;
 background: #fff;
}

span.label-size span {
   padding: 4px 10px;
  border-radius:2px;
  background:#fff;
  color: #0e83cd;
   text-decoration:none;
 position: relative;
    font-weight:bold;
   font-size:16px;
 -webkit-transition: all 0.3s;
 -moz-transition: all 0.3s;
 transition: all 0.3s;
  text-decoration:none;

}


span.label-size span.label-count {
  opacity:1;   z-index:1;        
  -ms-transform: translatex(-40px); /* IE 9 */
-webkit-transform: translatex(-40px); /* Chrome, Safari, Opera */
transform: translatex(-40px);
  background:#fff;
  color: #0e83cd;

}

span.label-size span.label-count:hover ,
span.label-size:hover span.label-count
{

  opacity:1;z-index:1;
    -ms-transform: translatex(-10px); /* IE 9 */
-webkit-transform: translatex(-10px); /* Chrome, Safari, Opera */
transform: translatex(-10px);
  background:#fff;
  color: #0e83cd;
}

span.label-size span.label-count {
z-index:1;
 cursor: pointer;
 padding: 0px 6px;
 display: inline-block;
 margin: 5px 3px;
 text-transform: uppercase;
 letter-spacing: 1px;
 font-weight: 400;
 outline: none;
 position: relative;
 -webkit-transition: all 0.3s;
 -moz-transition: all 0.3s;
 transition: all 0.3s;
  text-decoration:none;


}


.label-size {
    position:relative;

  display:inline-block;
}


Blogger Label Style 2 [ DEMO ]

.label-size{
   display: inline-block;
   padding: 0px 10px;
   height: 29px;
   line-height:29px;
   border-radius: 5px;
   font-weight:bold;
   font-size:12px;
   text-decoration:none;
}

.label-size a{
     text-decoration:none;
     color:#fff;
   text-transform: uppercase;

}

.label-size{
  border: 1px solid #07103e;
  background-color: #2a3faa;
  color: #fff;
  background-image: linear-gradient(top, #2a3faa 0%, #2a3faa 100%);
  background-image: -o-linear-gradient(top, #2a3faa 0%, #2a3faa 100%);
  background-image: -moz-linear-gradient(top, #2a3faa 0%, #2a3faa 100%);
  background-image: -webkit-linear-gradient(top, #2a3faa 0%, #2a3faa 100%);
  background-image: -ms-linear-gradient(top, #2a3faa 0%, #2a3faa 100%);
}

.label-size:hover{
  background-color: #3e53c0;
  background-image: linear-gradient(top, #3e53c0 0%, #2a43be 100%);
  background-image: -o-linear-gradient(top, #3e53c0 0%, #2a43be 100%);
  background-image: -moz-linear-gradient(top, #3e53c0 0%, #2a43be 100%);
  background-image: -webkit-linear-gradient(top, #3e53c0 0%, #2a43be 100%);
  background-image: -ms-linear-gradient(top, #3e53c0 0%, #2a43be 100%);
}

.label-size:active{
   background-image: linear-gradient(top, #07103e 0%, #07103e 100%);
  background-image: -o-linear-gradient(top, #07103e 0%, #07103e 100%);
  background-image: -moz-linear-gradient(top, #07103e 0%, #07103e 100%);
  background-image: -webkit-linear-gradient(top, #07103e 0%, #07103e 100%);
  background-image: -ms-linear-gradient(top, #07103e 0%, #07103e 100%);
}

.label-size{
  display:inline-block;
  position:relative;
  z-index:5;
  margin-right: 20px;
  margin-bottom: 10px;
}
.label-size span {

  color:#3ced45;
}
.label-size span.label-count{
  padding:2px 5px;
  color:#2a3faa;

  border-radius: 5px;
  background-color: #fff;
  margin-left: 10px;

}

#Label1 {height:210px !important;}

Blogger Label Style 3 [ DEMO ]

span.label-size a ,.label-size span{
  z-index:2;
 border: none;
 font-family: inherit;
 font-size: inherit;
 color: inherit;
 background: none;
 cursor: pointer;
 padding: 5px 8px;
 display: inline-block;
 margin: 5px 3px;
 text-transform: uppercase;
 letter-spacing: 1px;
 font-weight: 400;
 outline: none;
 position: relative;
 -webkit-transition: all 0.3s;
 -moz-transition: all 0.3s;
 transition: all 0.3s;
  text-decoration:none;

}

span.label-size a:after {
 content: '';
 position: absolute;
 z-index: -1;
 -webkit-transition: all 0.3s;
 -moz-transition: all 0.3s;
 transition: all 0.3s;
}

/* Button 1 */
span.label-size a{
 border: 2px solid #fff;
 color: #fff;
  background: #0e83cd;
 box-shadow: 0 1px 3px #999;
}

/* Button 1a */
span.label-size a:hover,
span.label-size a:active {
 color: #0e83cd;
 background: #fff;
}

span.label-size span {
  background:#fff;
  color: #0e83cd;
}


span.label-size span.label-count {
  opacity:1;   z-index:1;        
  -ms-transform: translatex(-40px); /* IE 9 */
-webkit-transform: translatex(-40px); /* Chrome, Safari, Opera */
transform: translatex(-40px);
  background:#fff;
  color: #0e83cd;

}

span.label-size span.label-count:hover ,
span.label-size:hover span.label-count
{

  opacity:1;z-index:1;
    -ms-transform: translatex(-10px); /* IE 9 */
-webkit-transform: translatex(-10px); /* Chrome, Safari, Opera */
transform: translatex(-10px);
  background:#fff;
  color: #0e83cd;
}

span.label-size span.label-count {
z-index:1;
 cursor: pointer;
 padding: 5px 8px;
 display: inline-block;
 margin: 5px 3px;
 text-transform: uppercase;
 letter-spacing: 1px;
 font-weight: 400;
 outline: none;
 position: relative;
 -webkit-transition: all 0.3s;
 -moz-transition: all 0.3s;
 transition: all 0.3s;
  text-decoration:none;


}


.label-size {
    position:relative;

  display:inline-block;
}

Labels with Number of Posts : Tabbed Categories [ DEMO ]



MyThemeShop like Tabbed menu option to customise your blogger labels categories-

.label-size{
    z-index:2;
opacity:1;
   display: inline-block;
   padding: 0px 10px;
   height: 29px;
   line-height:29px;
   border-radius: 5px;
   font-weight:bold;
   font-size:12px;
   text-decoration:none;
}

.label-size a{
     text-decoration:none;
     color:#fff;
   text-transform: uppercase;

}

.label-size{
  border: 1px solid #07103e;
  background-color: #2a3faa;
  color: #fff;
  background-image: linear-gradient(top, #2a3faa 0%, #2a3faa 100%);
  background-image: -o-linear-gradient(top, #2a3faa 0%, #2a3faa 100%);
  background-image: -moz-linear-gradient(top, #2a3faa 0%, #2a3faa 100%);
  background-image: -webkit-linear-gradient(top, #2a3faa 0%, #2a3faa 100%);
  background-image: -ms-linear-gradient(top, #2a3faa 0%, #2a3faa 100%);
}

.label-size:hover{

  background-color: #3e53c0;
  background-image: linear-gradient(top, #3e53c0 0%, #2a43be 100%);
  background-image: -o-linear-gradient(top, #3e53c0 0%, #2a43be 100%);
  background-image: -moz-linear-gradient(top, #3e53c0 0%, #2a43be 100%);
  background-image: -webkit-linear-gradient(top, #3e53c0 0%, #2a43be 100%);
  background-image: -ms-linear-gradient(top, #3e53c0 0%, #2a43be 100%);
}

.label-size:active{
   background-image: linear-gradient(top, #07103e 0%, #07103e 100%);
  background-image: -o-linear-gradient(top, #07103e 0%, #07103e 100%);
  background-image: -moz-linear-gradient(top, #07103e 0%, #07103e 100%);
  background-image: -webkit-linear-gradient(top, #07103e 0%, #07103e 100%);
  background-image: -ms-linear-gradient(top, #07103e 0%, #07103e 100%);
}

.label-size{
  display:inline-block;
  position:relative;
  z-index:5;
  margin-right: 20px;
  margin-bottom: 10px;
}
.label-size span {   z-index:1;
opacity:0;
  color:#2a3faa;
}
.label-size span.label-count{
     z-index:1;
opacity:1;

}

.label-size:hover span.label-count{

 padding:2px 5px;
  color:#2a3faa;
  border-radius: 50px;
  background-color: #fff;
  margin-left: 10px;

}

#Label1 {height:210px !important;}

Labels with Number of Posts : Tabbed Categories 1 [ DEMO ]

.label-size{
  background:#0e83cd;
  margin:8px 4px;
  padding:8px 4px;
 -webkit-transition: all 0.3s;
 -moz-transition: all 0.3s;
 transition: all 0.3s;
  text-decoration:none;
  border: 1px solid #e9e9e9;
  border-radius: 3px;
}

.label-size:hover{
  background:#fff;
  margin:8px 4px;
  padding:8px 4px;
 -webkit-transition: all 0.3s;
 -moz-transition: all 0.3s;
 transition: all 0.3s;
  text-decoration:none;
  border: 1px solid #e9e9e9;
  border-radius: 3px;
  background: -webkit-gradient(linear,0 0,0 bottom,from(#3fd599),to(#25b37a));
background: -webkit-linear-gradient(#fff,#f1f1f1);
background: -moz-linear-gradient(#fff,#f1f1f1);
background: -ms-linear-gradient(#fff,#f1f1f1);
background: -o-linear-gradient(#fff,#f1f1f1);
background: linear-gradient(#fff,#f1f1f1);
}

.label-size a{
text-decoration:none;
color:#fff;
}
.label-size:hover a{
text-decoration:none;
color:#0e83cd;
}
.label-size span{
text-decoration:none;
color:lightgreen;  
}
.label-size:hover span{
text-decoration:none;
color:red;
}
span.label-size span.label-count {
    background:#000;
  color:#fff;
 cursor: pointer;
 padding: 4px 8px;
 display: inline-block;
 margin: 4px 8px;
 text-transform: uppercase;
 letter-spacing: 1px;
 font-weight: 400;
 outline: none;
 position: relative;
 -webkit-transition: all 0.3s;
 -moz-transition: all 0.3s;
 transition: all 0.3s;
  text-decoration:none;
  border: 1px solid #e9e9e9;
  border-radius: 3px;

}
  span.label-size:hover span.label-count {
    background:#333;
  color:#fff;

}

  span.label-size span.label-count:hover {
    background:#000;
  color:#999;

}

How to Remove Number of Post Small Brackets from Labels :
Before :
After: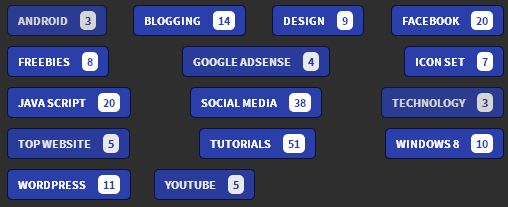 Blgger Labels XML Code:
<b:widget id='Label2′ locked='false' title='Tags' type='Label'>
<b:includable id='main'>
<b:if cond='data:title'>
<h2><data:title/></h2>
</b:if>
<div expr:class='&quot;widget-content &quot; + data:display + &quot;-label-widget-content&quot;'>
<b:if cond='data:display == &quot;list&quot;'>
<ul>
<b:loop values='data:labels' var='label'>
<li>
<b:if cond='data:blog.url == data:label.url'>
<span expr:dir='data:blog.languageDirection'><data:label.name/></span>
<b:else/>
<a expr:dir='data:blog.languageDirection' expr:href='data:label.url'><data:label.name/></a>
</b:if>
<b:if cond='data:showFreqNumbers'>
<span dir='ltr'><data:label.count/></span>
</b:if>
</li>
</b:loop>
</ul>
<b:else/>
<b:loop values='data:labels' var='label'>
<span expr:class='&quot;label-size label-size-&quot; + data:label.cssSize'>
<b:if cond='data:blog.url == data:label.url'>
<span expr:dir='data:blog.languageDirection'><data:label.name/></span>
<b:else/>
<a expr:dir='data:blog.languageDirection' expr:href='data:label.url'><data:label.name/></a>
</b:if>
<b:if cond='data:showFreqNumbers'>
<span class='label-count' dir='ltr'><data:label.count/></span>
</b:if>
</span>
</b:loop>
</b:if>
<b:include name='quickedit'/>
</div>
</b:includable>
</b:widget>