There are plenty of different smartphones on the market these days and they come loaded with all sorts of features. From an elegant and beautiful design to a good quality camera for that fame-worthy selfie, all these features matter when you're considering a new phone. But perhaps the most important feature of all is a long battery life. Recently, an IDC survey revealed that 56% of Android buyers, 49% of iPhone buyers and 53% of Windows Phone buyers said that battery life was an important reason for them while selecting a particular device.
Keeping this in mind, sometimes we can't necessarily increase the battery life at the physical level so easily. However, we can lengthen the battery life by using apps which can minimize the power consumed by our smartphones.
In this post, we discuss 12 Android based apps that can help in conserving the battery life of your Android device.
Recommended Reading: 20 Essential Apps For Your Android Phone
1. DU Battery Saver
DU Battery Saver is a free app that can be used to increase the battery life of your device by up to 50%. It provides pre-set power management modes such as Long Standby, General Mode and Sleep Mode. You can also set a customized mode of your own defined settings for the smartphone. If that's not enough, you can upgrade the app as well to increase battery life to up to 70%. For further details about DU Battery Saver, visit the official website of DU Apps here. [Get it here]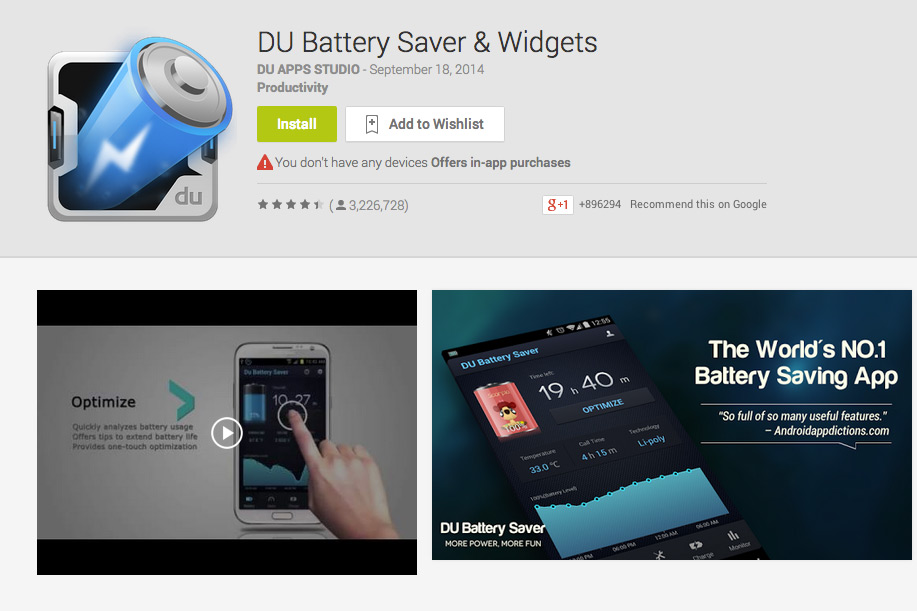 2. Battery Save Booster
Battery Save Booster is a battery saving app which provides an easy way to increase the battery life of your Android based device with only one click. It does this by managing background processes and the Internet connection in an efficient manner. It even provides you with a notification about the battery level. [Get it here]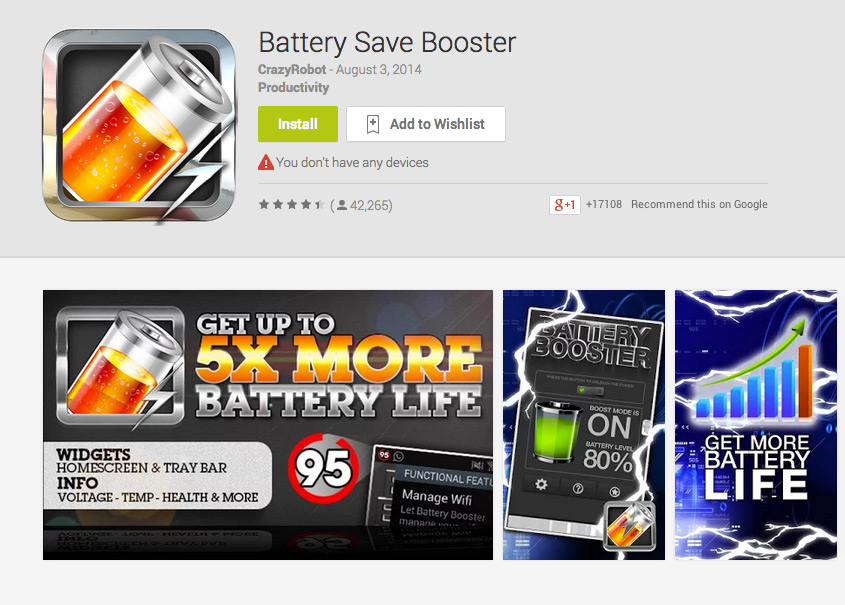 3. 2 Battery – Battery Saver
2 Battery has some handy features that can help you save your battery. It does this by employing a smart algorithm to turn the Internet connection on/off. It can also reduce the screen brightness by using a built-in screen filter and even turns off the screen automatically when you put the phone into the pocket or on the table. You can also try the PRO version of 2 Battery for 24 hours and even get a refund if you're not satisfied. [Get it here]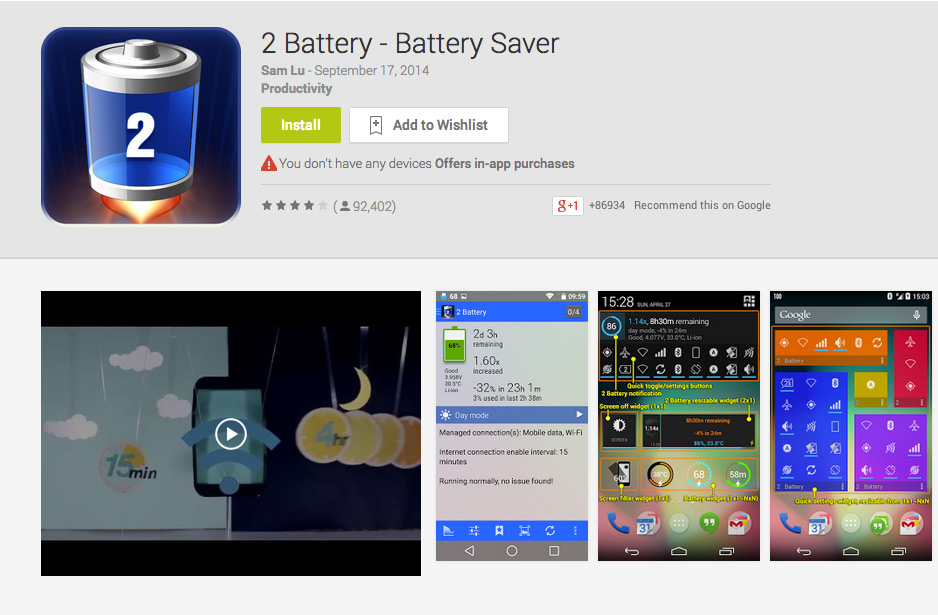 4. COMODO Battery Saver
The COMODO Battery Saver extends your battery life by allowing you to switch your device to power saving mode and by letting you disable power hungry applications easily with a single tap. COMODO Battery Saver also provides you with details on which application(s) uses the most power of battery. The app can even alert you when the battery is fully charged. [Get it here]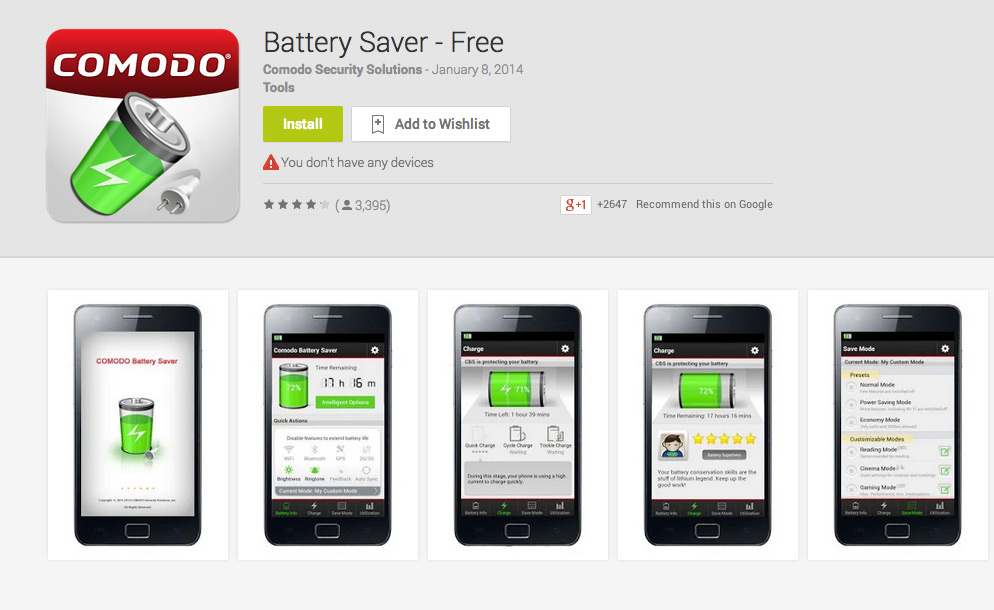 5. Snapdragon Battery Guru
Snapdragon Battery Guru is a battery life extender which automatically learns how you use your smartphone and adjust the smartphone settings on the basis of learning. After a 2-4 days introduction period, Snapdragon Battery Guru learns the behavior of the user and then notifies them that it is ready to increase the battery life of device. For further details, you can visit the official website here. [Get it here]
6. JuiceDefender – Battery Saver
JuiceDefender – Battery Saver is a free and easy-to-use app designed to extend the battery life of your Android device. By using JuiceDefender – Battery Saver, you can easily control power consumption by managing 3G/4G connectivity, WiFi and CPU speed. It has 5 preset power saving profiles and you can also define a customized profile as well. [Get it here]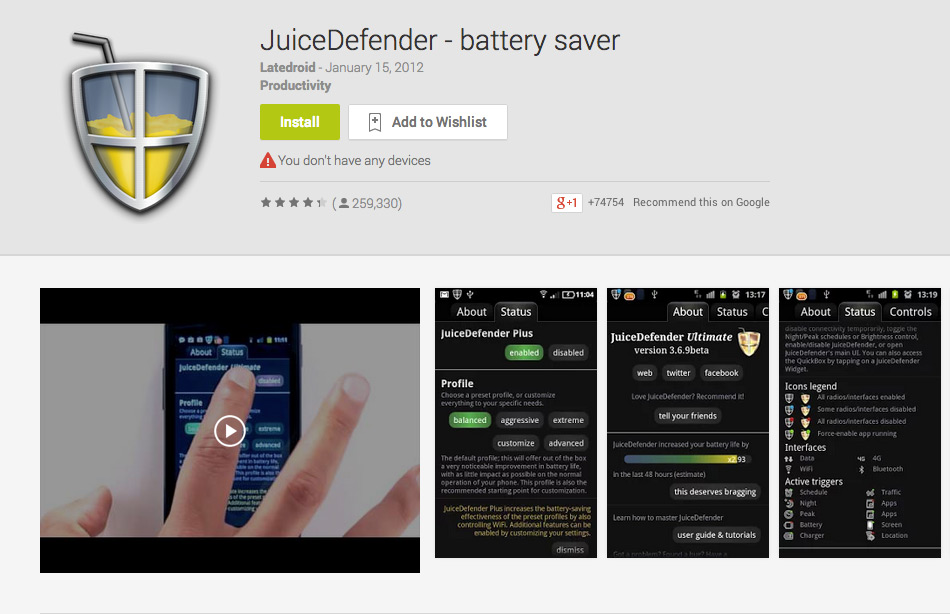 7. One Touch Battery Saver
As the name suggests, by using One Touch Battery Saver, you can enable Power Saving Mode with a single touch. The Power Saving Mode deactivates your WiFi, GPS location system, Bluetooth, vibration, background light and activates Silent Mode to increase the battery life. [Get it here]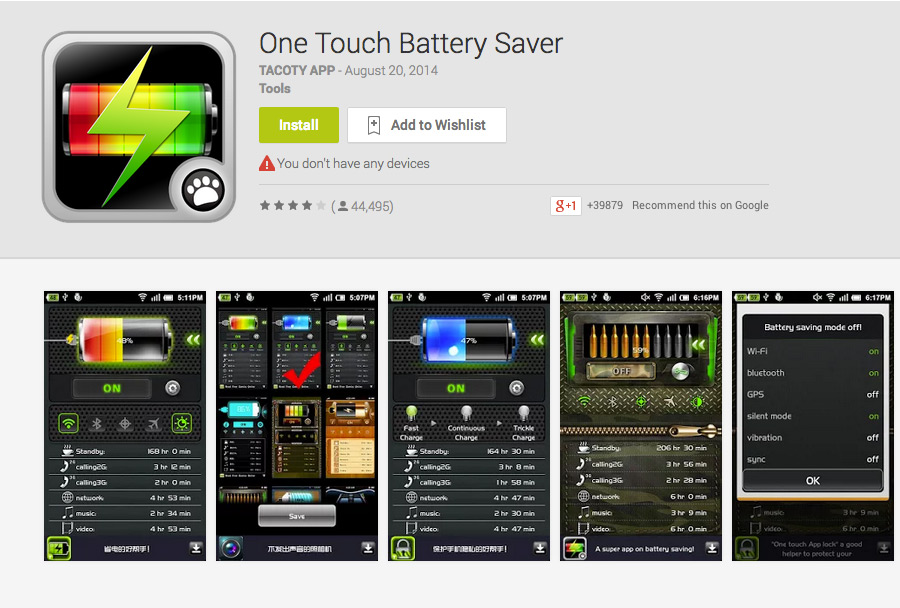 8. Deep Sleep Battery Saver
Deep Sleep Battery Saver introduces a unique concept of Deep Sleep Mode. This app constantly puts your phone in a Deep Sleep Mode, where 3G and WiFi are turned off and background apps are stopped. It allows the device to wake up constantly at predefined intervals to download emails and other things that need to be updated. There are 5 predefined modes and you can also define customized mode. [Get it here]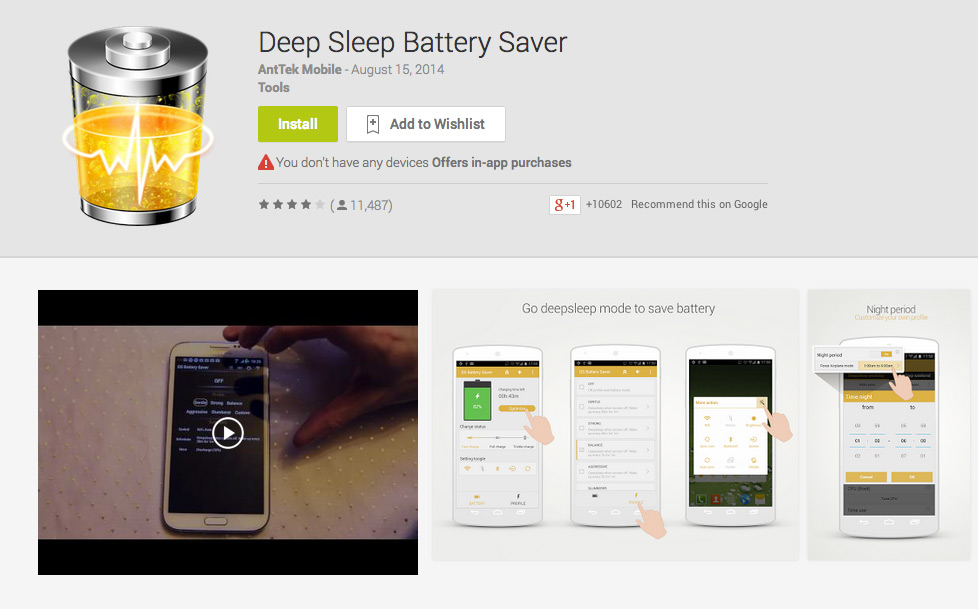 9. Easy Batter Saver
Easy Batter Saver is a power saving app which extends battery life (up to 50%) by managing the phone's network connectivity, screen timeout, screen brightness and considerable sleeping schedule. Easy Batter Saver has 4 preset modes and an advanced customized mode. [Get it here]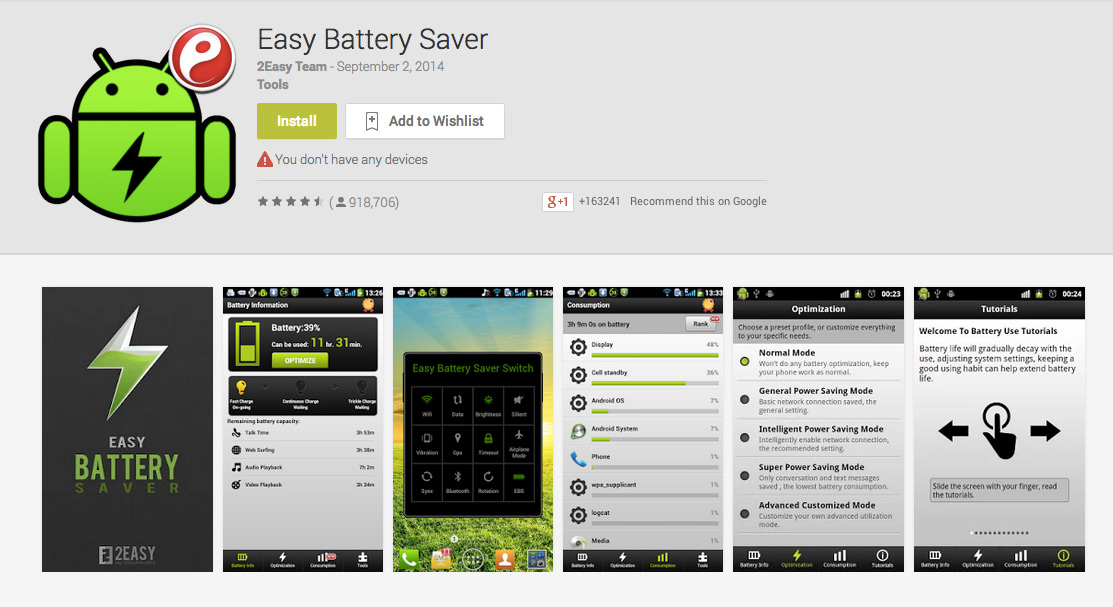 10. Bataria – Battery Saver
Bataria – Battery Saver is a battery saving as well as a task managing app. It activates a Power Save Mode that turns off all power hungry resources such as Background Data Sync., WiFi, Bluetooth and Display Brightness to extend battery life. [Get it here]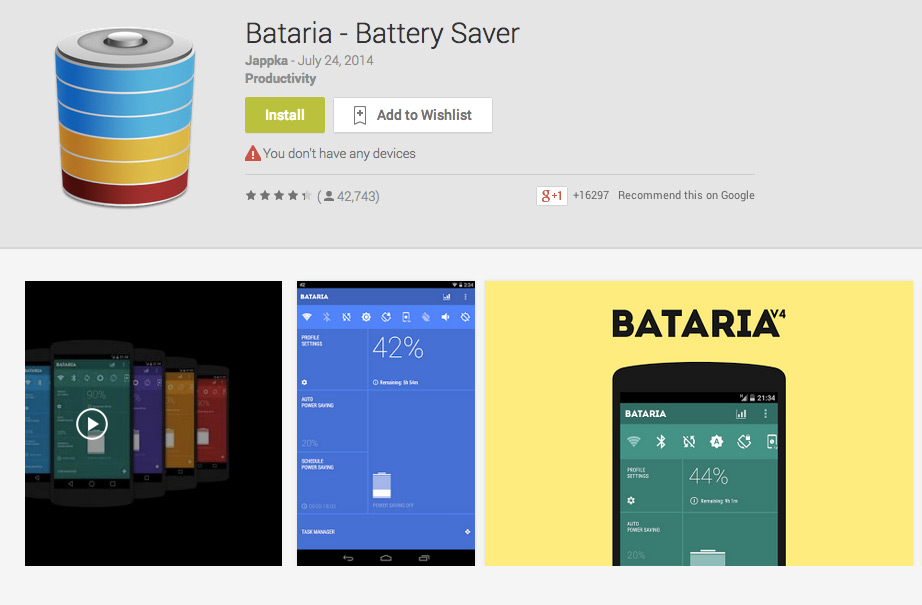 11. Battery Saver – Extra Power
Battery Saver – Extra Power is a free app which can boost your battery life. It has a range of battery saving modes to extend the battery life as per your desires and also displays the battery statistics as well. [Get it here]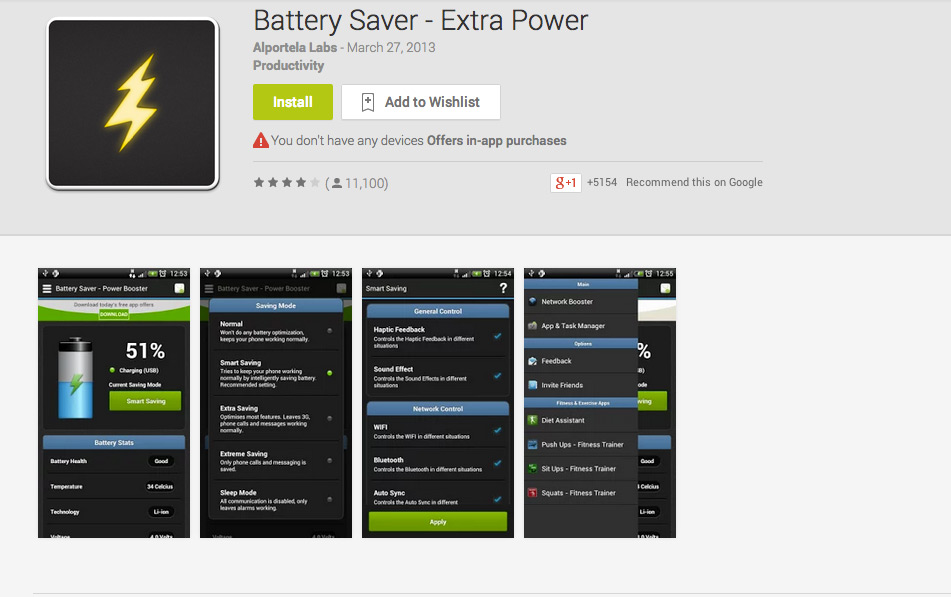 12. Battery Defender – 1 Tap Saver
Now you can increase your battery life with just 1 tap by using Battery Defender – 1 Tap Saver. It disables data connections and WiFi automatically after the screen of your Android device is turned off. It also allows apps to sync every 15 minutes in order to extend the battery life. The 'quiet sleeping feature' disables data network and WiFi when the user is sleeping, which is something that can come in quite useful if you want a good night's sleep. [Get it here]