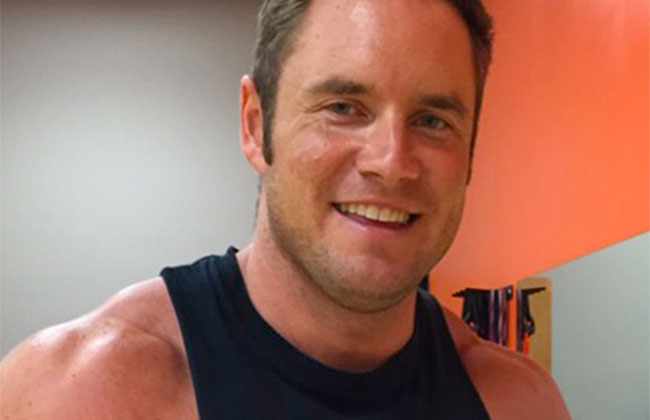 When Tim Boniface was 6 years old, he took a field trip with his classmates to a fire station. He was mesmerized by the ambulances, the trucks, and the men and women who shared stories of saving lives.
"This is what I want to do when I grow up," he thought. The childhood dream did come true many years later, but only after a detour in finance–and the shock of September 11.
In the late 1990s, Boniface logged time working at a bank in New York City. Each day on his walk to work, he grabbed coffee across the street from a fire station near his Brooklyn apartment.
"I would talk with the firefighters every morning," he says. "When I came home after work, I'd chitchat with them again. They were really nice guys, and they were into fitness like me."
In August 2001, Boniface relocated to Virginia for a job at a bank across the water from the Pentagon. One month later, he watched the destruction of 9/11 in disbelief–and thought of his friends back in Brooklyn.
"When I heard how many firefighters died and lost their lives, it got me rethinking my whole life strategy," says Boniface, who lost two friends in the World Trade Center attacks. "That renewed in me the desire to serve."
(What inspires you to live a more fulfilling life? Find tons of motivation in The Better Man Project, the brand-new book from the Editor in Chief of Men's Health.)
So he quit his job and set his sights on Lexington, Kentucky, home to an ultra-competitive fire department with a great reputation. He even moved to the city before being hired.
In his third application and final interview with the department, Boniface won the board members over. "I said, 'Hey, look. You all know me by now. You know my face. You know this is what I want to do. If you don't hire me this time, I'll be back the next time–and the next–until I get in.'"
The pitch worked. Now 36, Boniface is a paramedic with the Lexington Fire Department. He spends his days in Emergency Care #4 (EC4), one of 11 ambulances that respond to 85 percent of all calls.
Earlier this year, Boniface's team responded to an emergency call concerning a baby who had been in an accident, and transported the child to a nearby pediatric trauma unit. Months later, the family showed up to the station–with healthy baby in tow–to thank Boniface and his crew. "One of the other guys who responded and I got a little emotional," he says. "It's nice to see a good outcome."
Boniface lives for those kinds of happy endings. "Our job finds people in the worst situations–and often, the worst day of their life–and we are there to respond and help," he says. "That makes me feel accomplished and fulfilled. I sleep better knowing I'm helping people."
That gives Boniface all the satisfaction he needs. Being named one of the top 10 semifinalists in the 2015 Ultimate Men's Health Guy Search is an added bonus.
"It's an honor and a privilege," he says. "I'm humbled. I feel like I'm getting hired by the fire department again."