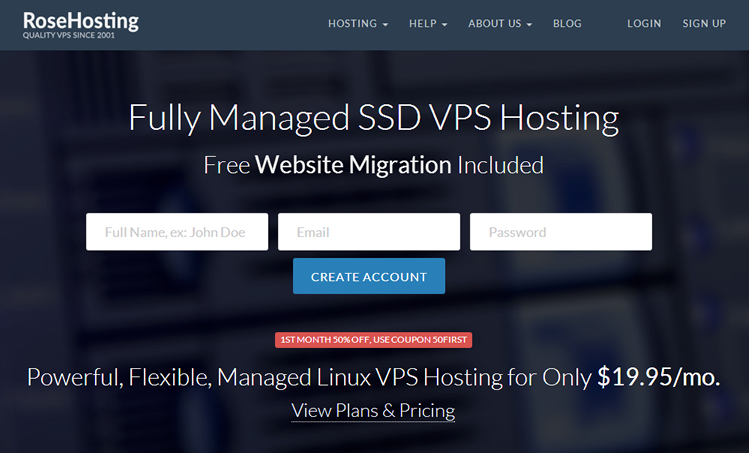 There are plenty of hosting providers out there to choose from, but it's not easy to find one with a longer history than that of Rose Hosting. Founded in 2001, this hosting provider is located in St. Louis Missouri in the United States where it also runs its own data center. The company claims that RoseHosting.com was the first and only web hosting company in the world to offer commercial Linux virtual servers back in 2001 (under Rose Web Services LLC) and encourages its customers to verify the fact on Archive.org.
Notably, Rose Hosting is a Linux-only hosting organization specialized in VPS hosting (though the company also offers both shared and dedicated hosting plans now).
Additionally, this hosting provider has a strict no overselling policy – a policy of great value in the shared space arena. Some of its more notable clients include the Altarum Institute, UPF.org, and Voice IP Solutions.
Introduction
Hello Ruzinov, thanks for being with us today. As always, let's start with some introduction. Please tell us more about yourself and your role at RoseHosting.com.
I've spent more than 20 years in software development and web hosting management.
I founded Rose Web Services LLC in 2001 with a vision of making my new company the ultimate provider of user-friendly, reliable, fully managed Linux VPS hosting services. I'm proud to say that more than a decade later we are succeeding on our mission and I'm still the owner and CEO, as I have been from day one.
Company History in Hosting Business
15 years is quite a long time – can we learn more about the company's history?
At the basic level, Rose Hosting is a Missouri-based LLC that I founded back in 2001. RoseHosting.com is the main brand and it quickly became a leader in the Linux VPS hosting space. Some of our other brands include linuxcloudvps.com and virtual-server.org, though there are others. RoseHosting.com owns all of it's own equipment – all top of the line – at our data center in suburban St. Louis, less than 50 miles from the population center of the United States.
Back in 2001, the company was the only one to offer commercial Linux VPS hosting services. That's certainly changed in the past 14 years, but even now, our history in the VPS space is unparalleled… try to find any of our competitors with our experience. Looking back to 2001 when I launched RoseHosting, our competitors either didn't exist or they were selling only shared hosting and dedicated servers. www.archive.org is a great site for researching hosting provider history and longevity.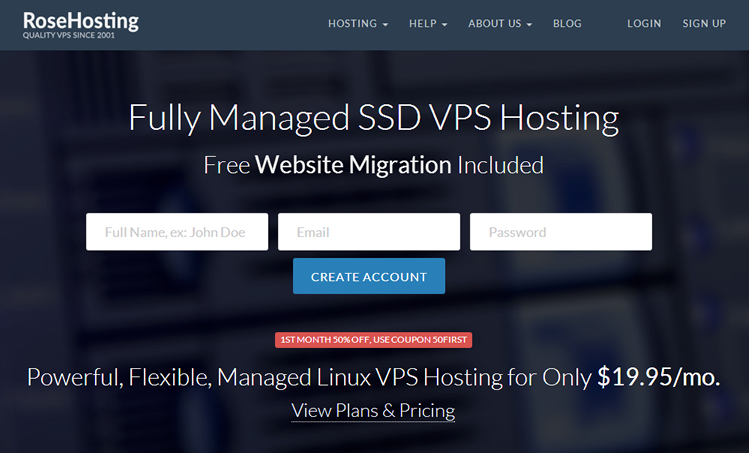 What is the size of RoseHosting's business? Can we have some rough figures on number of domains the company currently holding; and the size of the company?
The number of permanent employees and consultants is in constant flux, but currently around 40. Somewhere in that count is the team of highly experienced Linux gurus that provide 24/7 support to our clients – they really can help with any problem that might come up at any time.
Looking beyond our internal team, I'm not sure exactly how many domains our virtual servers host – since they are private, even we do not have access to most of them. That said, based on what we hear from our clients, some of our customers host several hundred domains – while others host no domains at all on their VPS. We do know that we have served more than 300,000 Linux virtual servers to date, including current and past clients.
RoseHosting Hosting Services
Why should I host my sites at RoseHosting? I mean – what makes you guys better than others?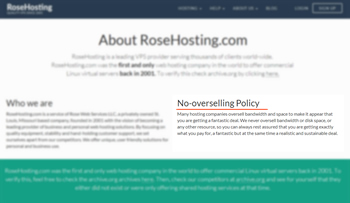 No Overselling Policy – Screen Captured from RoseHosting.com
Well there are, of course, lots of reasons, but I'll try to keep it short… for starters, we don't oversell – at all. It's a common industry practice, but one that we are strictly opposed to. Our customer is our number one priority – which is why we don't oversell anything and invest heavily in our equipment and customer support.
Our 24/7 EPIC US-based technical support center is staffed by Linux gurus who know the system and technology inside and out. Our customers tell us that the level of support we offer is unprecedented and that, when they were initially shopping for hosting, they had a hard time believing that it could be bundled in our service plans without any additional cost. It really is outstanding – you'd have to experience it to really understand or believe it.
In the support arena, our typical ticket response time is just one to two minutes – any hour of the day or night. Within our chat support, our typical response time is immediate – no waiting, 24/7.
Beyond that, we offer free migration from your current host and SSD storage and gigabit network connectivity throughout.
We've put a lot of thought and effort into creating a solid hosting service that also truly provides a premier customer experience – I'm very proud of what we've done and how we deliver.
Overselling and SSD Hosting
Bobi, I would like to talk a little more on overselling policy. Personally I do not think overselling is pure evil; it does cause more unhappy customers in the long run. What's your view in this?
Well, for starters, overselling is pure evil, plain and simple – we've avoided it since day one and will continue to do so.
Our plans might not be the cheapest ones on the market – and, frankly, we don't want them to be – but in return, you get exactly what you are paying for and more… but never less.
Okay. Help us choose between SSD (Solid State Drives) and normal VPS hosting. In your opinion, what kind of sites should make use of your SSD VPS hosting plans?
That's an easy one – all sites. The speed difference between the two is astonishing. In fact, we no longer even have what you call "normal" VPS hosting – it's SSD throughout.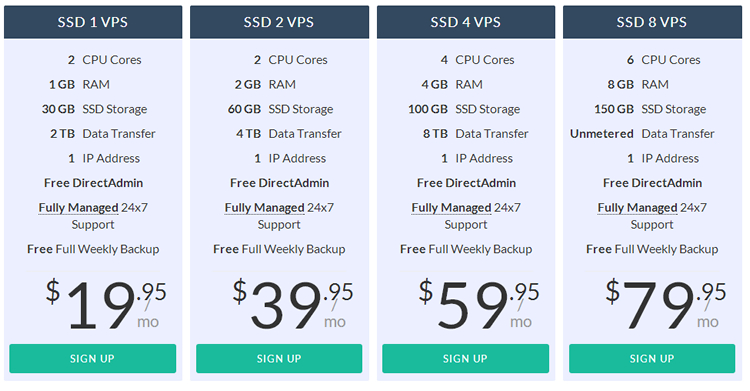 RoseHosting VPS Price (July 2014)
RoseHosting Discounts and Learn More
Well that's all for my interview. If you'd like to learn more about Rose – here's my detail review. Alternatively, you can visit RoseHosting online at http://www.rosehosting.com or follow the web host on Twitter and Facebook.
RoseHosting Special Discount
RoseHosting offers exclusive discount to some of their partners and WHSR is proudly one of them. Sign up using promo code WHSR and receive a 25% discount on shared and VPS hosting plans for life (Read! Not just for your first term – but forever).
RoseHosting Uptime
I have been tracking RoseHosting uptime since November 2013 using Uptime Robot. To wrap up, here are two recent screenshots I've got. Y
RoseHosting Past 30 Days Uptime (August 2014)

Rose Hosting Uptime Score (March – April 2014): 99.97%