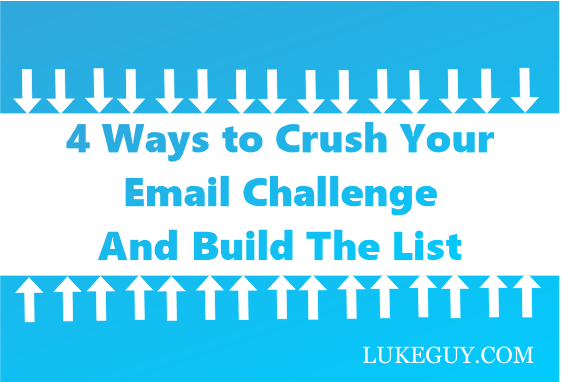 This is a guest contribution from Luke Guy.
I support building your email list more than any other thing. It's the building block to any platform-building. You should be collecting emails before you even build the blog or write the book. I Wish I did it this way to begin with.
Why?
Collecting emails has got to be the fastest, easiest, cheapest way to build a community. You can approach someone and more likely get their email than a "like" on Facebook. Email is about discovery. Facebook is about liking what we already like.
You know this though. You know that email is the way to build your online presence. You know the benefits and have heard it plenty of times. But like anything though, everything has it challenges.
Challenges With Email
1. Collecting the Emails
2. Providing Content For Those Emails
3. Keeping Your Email Open Rates High
4. Keeping Unsubscribe Rates Low
You've probably read the "8 Reasons Why Your Email Open Rate is Nosediving" that I wrote for Problogger a while back. These points listed within that post will give you insight on how to format those emails. It was mostly about format, and how Google sees your email campaign.
Either as spammy or as friend, you're one or the other with Google.
Today isn't about the technical side of things though, it's about your performance in content. You can do all the things mentioned in the previous post, as formatting goes, and still miss potential readers and customers because the content was horrible.
How To Crush Email Challenges
Okay, so you have these challenges looking at you like a ban of ugly monsters and not sure how to tackle them. You've tried everything and no one wants to join your email list, your open rates are low, and the few that have joined are unsubscribing just weeks after joining.
I want to solve this for you. If you focus on this one thing, it will make your email list explode, Connecting with Quality Information.
Here's four ways to Make This Happen:
1. Making your list a secret club
Let's think about this for a second. What's in it for them when they join your list? If you think they're joining so you can punch them every week with a pitch, you're wrong.
You've got to offer benefits. Make them feel part of a secret club. People love feeling like they're "in", you know? To feel connected with someone they look up to is one reason why they join.
Here are some other things you could be offering to your list:
Offer instant contact when they join your list
Give your list exclusive opportunities like when your product launches
Let your list be the "beta testers" with any new software, program, app. Get their feedback and make them feel like they created the product with you.
Skype with them individually. Pick out five a month and just email with them back and forth. Do it as a surprise though. This makes things exciting.
Offer free courses on the email list, get their feedback, improve the course based on that feedback, and then sell it on your site. They feel special because they got it free, and they just made it huge because of the amazing feedback. Then on top of that, you're making money on a product that was formed by a community. Isn't that cool?
2. Only send emails that are useful
Make sure every time you send out an email it gives them a feeling. A good feeling. A feeling of hope, inspiration, and success. An email, that when they're done, makes them feel like they've walked away with something valuable. Don't just send an email that reminds them you're still alive. It should never be like that. Send an email that is worth a lot and makes that reader a raving fan. If that means one email instead of two a week, then let it be. How To Find CONTENT For You To Write About is a great post if you're stuck on how to create more valuable content.
3. Offer something of value to push them over (like a contest).
You remember all those benefits I mentioned in the first section? List it on the signup page. Make it feel like a free membership with benefits, because if there is no benefits, you're not getting many subscribers. Advertise the benefits on that page creatively.
But on top of that offer something that is enticing to new people who haven't experienced those other things yet. Offer a product, service, ebook etc, that you know is something they would crave. Something that would make them sign up today! Make sure it's relative to what you do. Offering an iPad is not a good idea by the way.
Then start a contest and offer this prize. Your list will grow quickly, but understand it takes a lot of energy and can't be done too often. You'll lose the buzz.
4. Don't be like other bloggers. Be available
Make your email list about connectivity. Offer your list more availability than anywhere else. I don't care if you have 100k readers on your list, answer every email in a timely manner. This is a major problem in the blogging world. You can email most bloggers, and you're lucky to get a reply. The ones making the money though, many of those will.
Is there a connection? Yes.
I'm not saying all millionaire bloggers respond to email, because they don't, but more of them will. It's why they're making money, they respond to every question or at least most.
Why? You never know where this conversation could be going.
Besides, you should want to reply. It's exciting! To think, someone is reaching out to you and wanting to hear from you. It should thrill you. When you get to the point that you feel like your readers are a nuisance though… You won't be in business for long. So make it #1 priority and answer every email.
Apply these and your list will grow within time. Hope you have walked away with some fresh ideas and spark some more creativity within your tribe.
Did I forget something? Comment below with your ideas on how to build your list and beat the email challenges.
Luke Guy blogs at Lukeguy.com. He researches email marketing and how to grow businesses doing it. He talks about other things but usually it involves emailing. If you need further help with your email challenges, you can join him here!
Originally at: Blog Tips at ProBlogger

Four Ways to Crush Your Email Challenge and Build the List