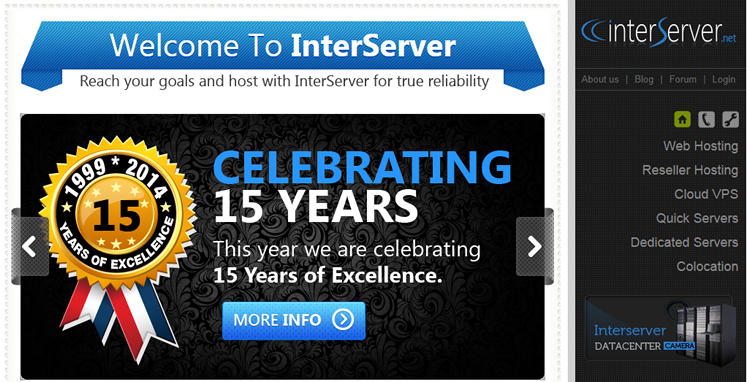 Today we are honored to have Michael Lavrik, Director of Business Development of Interserver, as our interview guest. Interserver is a VPS/dedicated hosting provider that need no further introduction – the company has been around for one-and-half decade (and still going very strong in business today). Without further delay, here goes my Q&A session with Mr. Lavrik.
Personal Introduction
Hi Michael, I am honored to have you as our interview guest today. Shall we start with some introduction? Please tell us about yourself and your role at InterServer.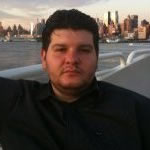 Michael Lavrik of Interserver
Thanks for having me. My name is Michael Lavrik and I'm an operating partner at Interserver, but my official title is Director of Business Development.
My colleagues and I work out of our office/datacenter in Secaucus, NJ. We started this business in 1999 -when I was only 15 years old- by reselling virtual hosting accounts for another provider. Then we bought our first dedicated server, switched to colocation, then a rack, then multiple racks. Fifteen years later we operate two datacenters in Secaucus NJ and are expanding rapidly into other locations like Los Angeles, CA.
Impressive. What is the #1 thing that motivates you to get up to work at Interserver in the morning?
My motivation is to continuing to grow the business while maintaining excellent customer service. One of the largest challenges with a rapidly expanding customer base is alienating your customers and I think we've been doing a great job at providing quality service while maintaining a budget-friendly price point. I hope we can continue to offer the same great service for another fifteen years.
Could you tell us one thing that most people do not know about yourself?
After sitting in front of the computer at the office all day, I love to get dirty! In addition to the various maintenance and repair at the office, in my free time, I'm restoring a 1969 Pontiac GTO Convertible.
Interserver Web Hosting Services
What can we know more about Interserver?
Interserver is a Secaucus, NJ based company that's been providing budget-friendly hosting service since 1999. We offer shared hosting, dedicated servers, VPS and colocation. Our support department operates 24/7, so you can call us anytime.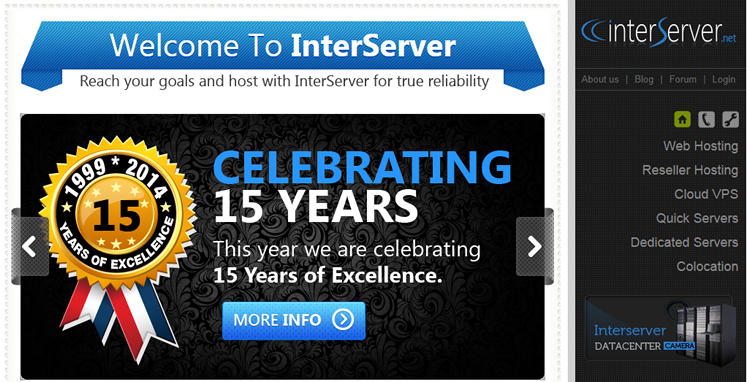 Interserver homepage
Very well. As you mentioned, the company offers almost everything in hosting – Shared, Cloud, Reseller, Dedicated. What's your best selling package?
The core of our business has always been dedicated servers, but with changes in technology we're seeing a big shift to Virtual Private Servers and Cloud. Our current focus is to continue to expand our Virtual Server client base as rapidly as possible.
InterServer handles every aspect (data center, server network, Linux Kernel, etc) in web hosting. How is that better than other hosting companies that outsource part of their operations?
I think the difference is experience; we've been doing this for 15 years.
We've made all our mistakes already. We follow a proven model for every aspect of the operation from running an Ethernet cable to installing software.
I was setting up my VPS hosting at Interserver earlier* and I like how we can customize (almost) everything. What are some of other advantages with Interserver's Cloud VPS Plans? Why should customers switch over to InterServer's VPS?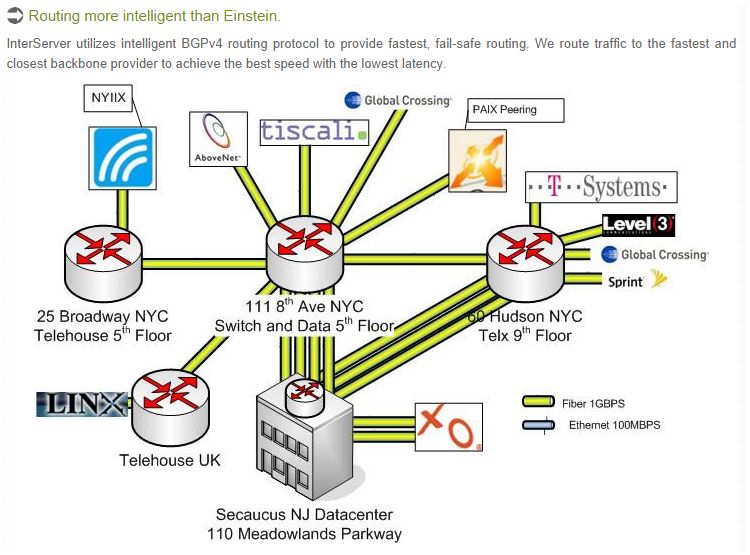 Interserver routing protocol (source: http://www.interserver.net/facility.html)
Our platform is like no other because we built it!
All provisioning is integrated into my.interserver.net. You can order web hosting, domain names, VPS, dedicated servers, SSL, software licenses (cpanel, plesk, fantastico, Softaculous, Cloud linux, Light speed), and Quick Servers all from the same location. It also has additional features like server monitoring and DNS hosting available and you don't need to be a customer to use it.
On the operations side of this platform we're able to manage every part of our infrastructure. Even though we deal with 1000's of servers, every single cable, device, server, and switch is inventoried and monitored on our platform. With our powerful tools and proven experience we are able to deliver a service unmatched by our competition.
* Note: Thanks for Michael – I have got a free VPS account at InterServer. Testing is in progress right now and you'll see a detail review on InterServer very soon.
On Business & Hosting Advice
It's already September in 2014 . How is Interserver doing in business this year? Will there be any major changes in the company's services?
This year we successfully launched our affiliate platform and currently pay $100 per sale to our affiliates. Some unique features such as custom landing pages for our affiliates have drawn a lot of attention and extra revenues to our partners.
By the end of the year we hope to launch a new location in Texas. Other than that we're still providing the same quality service we've always offered.
In your opinion, what makes a good dedicated web host? What are some of the key points to look into when we are choosing a dedicated hosting?
Know who you're buying from and where the server will end up. Try to avoid resellers; the company should preferably own the datacenter.
If it's collocated, how quickly can a tech have physical contact with it? For example, before we built a datacenter we rented office space inside the same building as our colocation provider to have instant access to hardware. Is the provider able to pick up the phone 24/7? Try calling at 3am. And -of course- check the reviews online!
That's all for my questions, thanks again for your time. Anything you would like to add?
It's been a pleasure speaking with you. Being a part of this industry for the last 15 years has been an extremely rewarding experience. I look forward to seeing the industry evolve for many years to come and hope Interserver continues to be a trusted choice for everyone's hosting needs.
More
Visit Interserver online: http://www.interserver.net/
Helps are everywhere on Interserver. The web host runs an active blog and community forum.
You can follow Interserver on both Facebook and Twitter.
For shared hosting, Interserver offers 30 day money back guarantee. The company also offers 99.5% uptime guarantee, 100% power guarantee in the form of Server Level Agreement (SLA).