RSS reader apps are essential to anyone who wants to keep up with all the news and happenings that are going on all across the world. Whatever sort of news you're interested in, an RSS reader is a great way to collate and read through news from all your favourite sources.
Feedly is one of the most popular web-based RSS readers of this type, but it's far from the only one out there. Feedly isn't perfect, either, and there are some problems with it, like a poor Android app and having to pay for something as basic as search.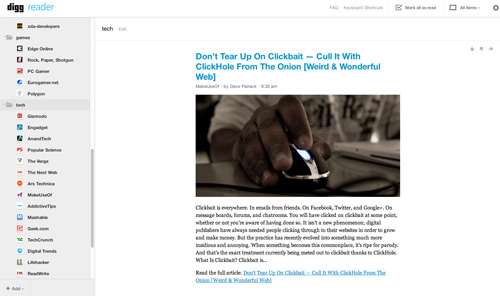 Another reason to consider an alternative RSS reader service has less to do with any weaknesses on Feedly's part and has more to do with the fact that it's actually better to not rely on just one reader, lest it goes down and leaves you without access to your feeds, as is the case of when Feedly was the target of a DDoS attack recently.
While normal service resumed soon enough, it's a reminder that it's always good to have an alternate reader, just in case. Here's a list of the five best.
Recommended Reading: Useful Keyboard Shortcuts, Tips & Tricks For Using Feedly
1. InoReader
InoReader is easy to use, clean, uncluttered and puts your content front and center. It also comes with a number of different views and themes to tailor the reading experience to your tastes. Like Feedly, InoReader has premium accounts; unlike Feedly, it doesn't require you to pay for something as basic as search.
InoReader also has a lot of keyboard shortcuts, including a lot of global shortcuts that let you change views, subscribe to feeds and access preferences. The InoReader side panel will also highlight and automatically update unread counts whenever new items are available in any of your feeds.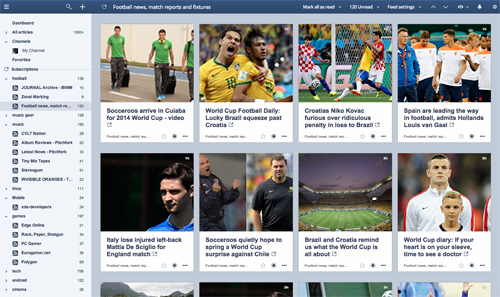 In terms of its Android app, InoReader wins against Feedly due to it being optimized for tablet. Plus, it is also available as an extension for Google Chrome and many other third parties. InoReader also supports desktop notifications if you need it, alongside Instapaper, Evernote and Pocket integration.
2. AOL Reader
Yes, this might seem surprising, but AOL – formerly known as America Online – has its own RSS reader application, AOL Reader. And it works! AOL Reader follows in the footsteps of most RSS readers, with a sidebar list of feeds and 5 different view options, including a handy Pane View.
Keyboard shortcuts are, of course, supported, including site-wide shortcuts like InoReader. AOL Reader also automatically updates unread counts in the sidebar and has a pretty robust search feature, allowing you to conduct a web search directly from the reader itself.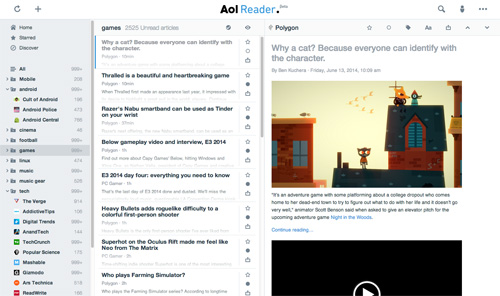 AOL Reader is currently completely free to use and has an iOS and Android app on the way. It trumps Feedly in terms of the services it can integrate with: most importantly, you won't have to pay for Pocket or Evernote integration. AOL Reader also has an option to enable HTTPS, if that's something that concerns you.
3. Digg Reader
Yes, Digg Reader. The site everyone loves to hate has its own RSS reader, and it's quite a capable one. Like most of the other RSS readers on this list, Digg Reader doesn't stray too far from the Google Reader template. It does lack a bit in terms of viewing modes, offering only a condensed title-only view and an expanded view, but it makes up for it with a pleasing and fluid interface.
Despite the lack of options, but it does have integration with social media networks and all the common read-later services without requiring a subscription. It doesn't automatically refresh unread counts, but it does prompt you to refresh when there are new items.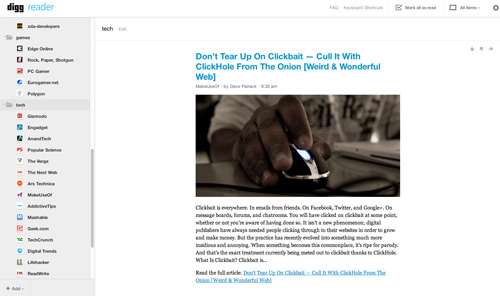 Digg Reader is also a bit lacking in terms of settings, but it does have Digg integration if you're still active on the service. There's also a daily digest feature that emails you the most popular stories on Digg, as well as a handy Popular feature that lists the 1,000 most recent items across all of your feeds and ranks them by popularity on the Internet.
Digg Reader's keyboard shortcuts are similar to Feedly's, with no site-wide or global shortcuts to be had and if you are wondering, yes, it does have a Chrome extension.
4. Feedspot
Feedspot is a freemium RSS reader app that's got quite a few things going for it. It offers a few different view modes and colour themes, as well as a minimalistic display that hides some menu bars and interface elements for a slightly sleeker reading experience.
Like Feedly, some of its features – such as search – are premium-only, but at the time of writing Feedspot seem to be automatically giving new users a Complimentary Gold account that gives you access to most of Feedspot's premium features, which is quite handy since it lets you decide whether a subscription is worth paying for.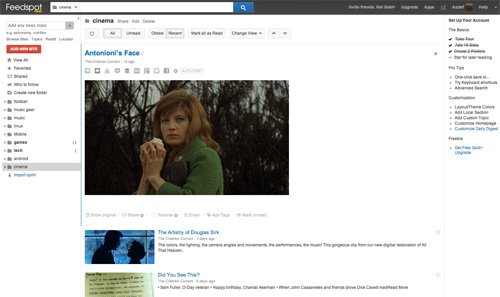 Feedspot has pretty advanced sharing capabilities, letting you automatically post any shared and favorited items to a number of services, including Facebook, Twitter, Pocket, Buffer and Evernote.
Feedspot also has a Daily Digest feature that you can customize, as well as the ability to add a news topic – which can be anything from a celebrity to a sports team to an organization – to follow via Feedspot. There's also a local news feature, although this is only available in the United States.
5. Commafeed
Commafeed is a free, open source RSS reader that's a great choice if you want to host your own RSS reader, since it offers you a choice between using the web-hosted RSS reader or downloading the software from GitHub and setting it up on your own server.
If you take the latter route, you'll probably be pleased to know that Commafeed also supports RedHat's OpenShift cloud platform, and that Commafeed can be installed on both Windows and Linux. The big appeal of the latter, of course, is that your RSS reader will never suddenly shut down.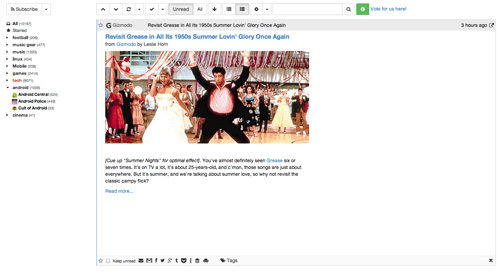 Either way, Commafeed is a reader with a very minimalist interface that focuses first and foremost on the reading experience, without any bloat or extraneous bells and whistles – it also has a free search function. You get a choice of two views, with none of the fancy magazine-like views of other readers.
However, Commafeed does have a selection of themes, and lets you tweak the appearance even further with support for custom CSS. Commafeed has Chrome, Firefox and Opera extensions as well as a subscription bookmarklet, and a set of Feedly-like keyboard shortcuts.