Having removed author photos from the SERPs in June, Google has now gone the whole hog and removed authorship altogether.
Under the authorship scheme, writers could add the rel=author markup to their bylines, linking them to Google+ pages.
Indeed, this is probably the only reason why some people joined Google+, as the carrot of improved CTR and perhaps rankings was dangled in front of them.
Google's John Mueller gives the reason that this author information wasn't so useful for users, and even distracted from those results (?).
So, what do SEOs think about this decision? Read on to find out…
This screenshot, from a few days ago, shows the author name next to results:
Now, the same results, with Chris Lake's name removed: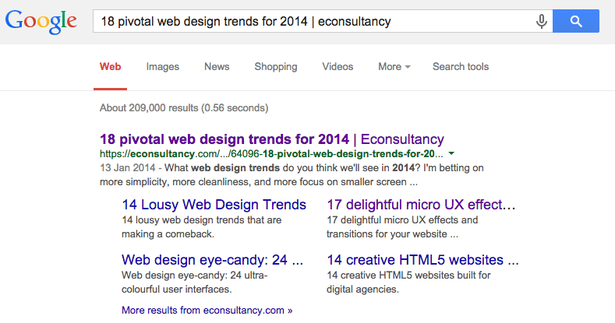 Thank you to the following panel of experts for their input:
Why do you think Google has decided to drop authorship?
Mags Sikora:
It looks like there might be quite a few reasons behind the removal. In the past Google said that they decided to take the Google Authorship off to clean up the SERP in order to improve mobile experience (what is understanding having in mind their "mobile first" approach). Yesterday John Mueller stated in his Google+ post that the reasons behind Google Authorship removal are its low adoption rate by webmasters as well as the feedback received that the information isn't that useful to the users and it can even distract from those results.
However, there might be also some other motives behind the authorship drop. Rand Fishkin from MOz tweeted his own theory- that the profile pics distracted too much from ads and lowered amount of clicks on the PPC listings. The truth is, if the CTR increases in SERP on some listing, the CTR somewhere else has to go down. If it harmed the ads, the profile pics had to go down.
Kevin Gibbons:
I think the official reason that "it wasn't as useful as we'd hoped" is probably correct from a user/search experience perspective but I suspect that authorship was very useful to Google from an algorithmic perspective to learn about the people behind content, and begin ranking based on author reputation as opposed to brand trust and domain authority.
Interestingly we found was that Google had often got to the point where you didn't need to have authorship markup setup in order to for it to identify the author of a specific post. Perhaps one reason why Google pulled authorship was because they were at the stage where it no longer needed our help in order to make the link as to who the person was behind the content.
Andrew Girdwood:
I think there are a few reasons why Google dropped authorship. The headline speculation is certainly around whether the program had a detrimental effect on clicks for paid ads.
There are other reasons. Google noted that the program was not adopted widely enough. That may be true but one of the reasons I encountered for brands and authors not implementing the program was their expectation that Google would eventually drop it.
These authors often cited Google Reader and other discontinued projects as evidence to Google's lack of commitment. This could become an interesting challenge for Google.
Finally, I think the authorship representation in results was a significant challenge for mobile interfaces. When space is an absolute premium such as small screen mobile or Android Wear then the addition of supplemental information is rarely worth it.
Julia Logan:
I suspect it has become apparent to Google what has been pretty obvious to at least some of us all the way since it was introduced: that only a small niche will ever see widespead use of authorship.
Namely, the online marketing industry and maybe some part of the more 'techy' news publications. For the rest of commercially viable verticals, it's as if authorship never existed.
It was either completely ignored or spammed in hopes of getting a ranking benefit, should Google consider it a ranking factor, or just to make a site stand out in the SERPs, much like ratings and other microdata formats.
For some 'uncomfortable' verticals that people are reluctant to talk about, it would be safe to say that 100% of implemented authorship was authorship spam with fake personas used for it.
Google accounts, Google+ and inherently authorship have been conceived as an identity market, with Google attempting to learn more about content attribution.
It might even have been an experiment to try and see how much it can learn about content creators and what they can do with this data – either Google has collected all the data they wanted to collect, or the costs of fighting incorrect implementations (think publisher vs author, etc.) and authorship spam have outweighed the benefits from the experiment.
Was it a useful feature or, as Google has said, did it distract attention from results?
Mags Sikora:
There were quite a few tests done proving that the listings with authorship results had higher CTR than the ones without authorship snippets. Google also confirmed that on several occasions. I personally found it very useful when searching for posts supporting some of SEO statements- seeing Danny Sullivan's listing in SERP, of course made me click on it straight away.
From the other hand again, I can understand that that feature could be slightly distracting on mobile search and since mobile searches takes over desktop, it makes sense for Google to reprioritize and focus more on mobile SERP.
Kevin Gibbons:
I think it was useful in theory, and I can certainly see the logic behind it, but we ran some tests on the impact of Google+ last year and found that the average CTR for authorship results was much lower than expected vs standard organic listings.
This was surprising at the time, but does make sense as Google were often inflating authorship results into a position where they didn't really deserve to be, and were not as relevant as they should have been to a given query.
Of course some people will assume authorship must have correlated with a negative impact to paid ad clicks, which may or may not be true, but I don't think that would be the defining factor here vs the overall search experience.
Tom Anthony:
It seems that it was not performing as a UI change, and Google is historically very data driven with making such decisions, so that makes a lot of sense.
However, there is the other side of the equation to consider. It seems that Google was definitely looking to use it as a ranking factor for how it selected and ordered results for users.
It filed a patent in 2007 for 'Agent Rank', which discussed how authorship 'can be used to influence the ranking of web search results by indicating the agent responsible for a particular content piece'. Secondly, Eric Schmidt said in his book published early last year that 'information tied to verified online profiles will be ranked higher than content without such verification'.
So what went wrong? Why did this not happen like Google evidently expected?
I think it probably was working, but only for a small fraction of the web. Consider that authorship was a ranking factor was about improving the trust that Google could have in certain links, but that the pages that had authorship markup were likely often those which were easier to verify from other signals; in these instances authorship was not adding a lot of value.
Teddie Cowell:
Personally I've never been as much of a fan of 'authorship' social annotations in search results, mostly because I'm primarily working on very large corporate brand websites where personal ownership of content had much less value and, was even potentially a bit of a legal liability for our clients in some scenarios.
Andrew Girdwood:
As a blogger I found this a useful feature. When the authorship program was in full swing and it was relatively straight forward scoring an image in the search results the system was a great way to stand out. It was especially useful against slow moving and large publishers.
As a digital marketer I found the program useful. It helped track down multi-site bloggers, helped calculate influence and made all sorts of research easier.
As a searcher… hmm. I'm not sure. Previously, I had done some unscientific study into this by asking non-digital marketers in conferences whether they liked the feature. They did. It was "nice", they said but no one ever could suggest what they would use it for.
On small screens the author photos certainly distracted attention.
Julia Logan:
I don't think it really distracted attention from the results but maybe it distracted attention from the ads, and that's where Google is hurt financially, and it might have been another reason for discontinuing authorship.
Within verticals like SEO, online marketing or similar, it could be useful to people regularly consuming the content as it showed them whose content they would want to read first of all and trust. For the rest of the internet, I think it hardly mattered though.
Do you see it being used a ranking factor? Will Google bring it back in some form?
Kevin Gibbons:
Yes – I would expect Google to have learned a great deal from authorship (both good and bad) and I only see the web as a whole becoming more social and personalised – ranking content based on who wrote it, rather than where it was written will still be very important trust factor moving forward.
As tweeted by Dejan SEO earlier, the original authorship is still very much alive:
The original authorship is still very much alive. Here's an example: http://t.co/XDfS08oUgV pic.twitter.com/hDxyohIJ9M

— Dejan SEO (@dejanseo) August 29, 2014
This may be less emphasised in the search results now, but no one is saying that Google has removed the data and information they learned have on authors and personal connections/social relationships.
Let's face it, if you think you've been wasting your time building author authority and trust, you've been doing it wrong all along! Google authorship may have gone, but the value in building a real author profile, reputation and trust was never about that.
Tom Anthony:
I don't think the principle of using data about authors as a ranking factor is dead. I think Google realised that the Authorship Program of requiring very specific (and fiddly) markup to be in place was not the way to achieve the end goal.

Since authorship snippets appeared, we've seen that Google has inferred the author of a page without explicit markup in place, and so we know it is capable of doing so. It has been three years since they started their authorship program and in that time they have likely got a lot better at working out the authorship of a page.

Bear in mind that the explicit authorship markup being in place for a large number of pages gave them a great data set to work from whereby they could use other signals to deduce the author of a page and compare it against the explicit markup. It is a great training set for them to learn from.
Teddie Cowell:
So I'm confident that behind the scenes Google is going to continue to use some sort of inferred authorship as a ranking factor. Whether it decides to reflect that in the front end remains to be seen.
Apparently 'author' markup is not being used at all by Google, so even adding the authorship markup to your website won't provide any additional esoteric value, as Google isn't looking for it.
In the future I would not be surprised if this comes back again in a better form when Google can find a better mechanism for maintain authorship data and make the cost/benefit stack up. That aside Google still does some really interesting stuff with authors and citations in the Scholars realm.
Note: 'publisher' markup is still being used though.
Andrew Girdwood:
Authorship as schema still exists. I won't be stripping that from my blogs and nor will I be encouraging clients to do so.
As Knowledge Base grows it makes sense to ensure you bake in every possible signal and credit you can.
There are a number of quality signals you could derive from the "idea of authorship" and Googlers have certainly talked about cases in which it would be theoretically useful for ranking. It seems foolish to dismiss all aspects of authorship as a ranking signal.