London Fashion Week is over for another year, and what a week it's been.
The Econsultancy content team have been to exactly zero catwalk shows and no glitzy parties, and quite frankly we're exhausted.
Thankfully our friends in the world of fashion were kind enough to share all the glamour via social media, so we have a fair idea of what went on at the major fashion shows.
Data from Hotwire PR shows that Burberry managed to drive the most conversations around its show with 21,958 tweets, while Topshop came a distant second with 9,108.
This is likely because they're two of Britain's most recognised fashion brands, but both have also engaged in some interesting social activity around London Fashion Week.
Here's a quick run through of what they've been up to, and for a look back at previous years read our posts from LFW 2013 and 2012…
Burberry
Burberry has long been at the forefront of digital innovation, so we've come to expect it to lead the pack when it comes to online buzz.
We've previously written about Burberry's excellent social strategy and use of digital technology in-store, and it trialled several cool ways of engaging with fans at this year's London Fashion Week.
Firstly I'd like to draw your attention to this GIF that's currently pinned to the top of Burberry's Twitter feed – both quirky and shareable.
Capturing the moment – @CaraDelevingne on the front row of the @Burberry Prorsum S/S15 Show #LFW http://t.co/6QKAiUZyiX

— Burberry (@Burberry) September 16, 2014
As we've come to expect, Burberry's LFW show was streamed on Twitter, Facebook and on its own website, so fans had no excuse not to tune in.
Focusing on Twitter, the brand published a huge number of photos showing the catwalk, behind the scenes, and the celebrity guests.
It made use of Vines, GIFs, Hyperlapse and YouTube videos to give fans intimate access to the show.
Monogrammed for the @Burberry S/S15 runway – The Mini Bee bag in Horseferry check #LFW pic.twitter.com/njN1Y6BsW3

— Burberry (@Burberry) September 16, 2014
Burberry also trialled Twitter's new 'buy' button, however it was only available to a select number of users in the US via Promoted Tweets.
It basically allows users to buy products directly from the tweets. This video explains more:
Over on Facebook things were a little less innovative. Alongside the live stream Burberry published a number of photo galleries from the fashion show.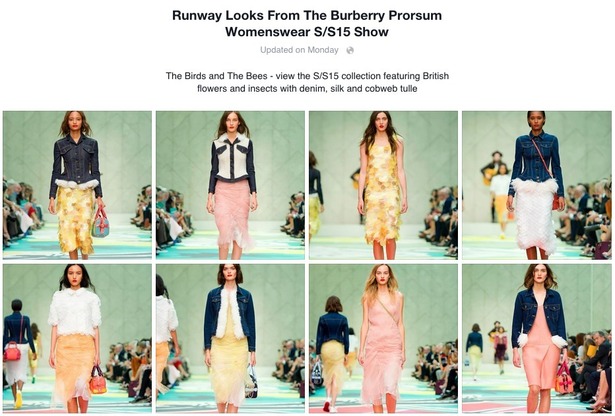 Topshop
Topshop's social channels have also been working overtime this week, posting images, videos and blog posts to promote the retailer's various fashion shows.
This included the usual photos from the catwalk and of celebrities attending the shows, all using the hashtag #TopshopUnique.
The most noteworthy activity actually took place on Facebook and Instagram, where Topshop created a 'social catwalk'.
On Sunday model Hailey Baldwin debuted three outfits in a video on Facebook before they appeared on the catwalk.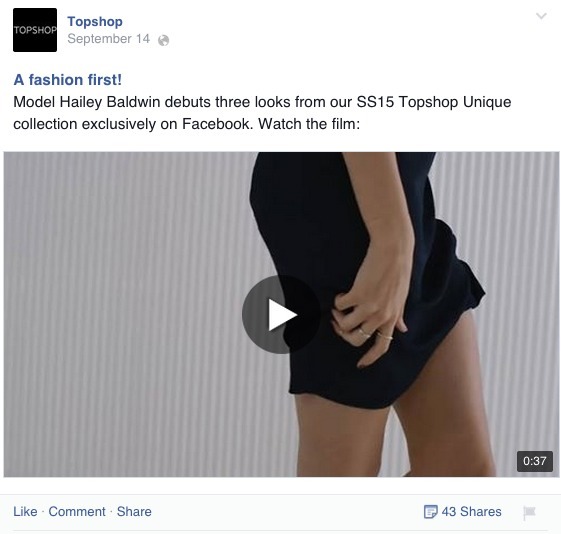 In another neat initiative, Topshop gave five prominent fashion Instagrammers access to its shows.
This is a clever idea as it extends Topshop's reach among the bloggers' followers in what appears to be a natural tie up.
The Instagrammers' photos were shared across Topshop's social accounts and also appeared in the window of its flagship store in London's Oxford Circus.
Topshop's fans also had the opportunity to appear in the window display by posting images on Instagram using the hashtag #topshopwindow.
This video explains it all: