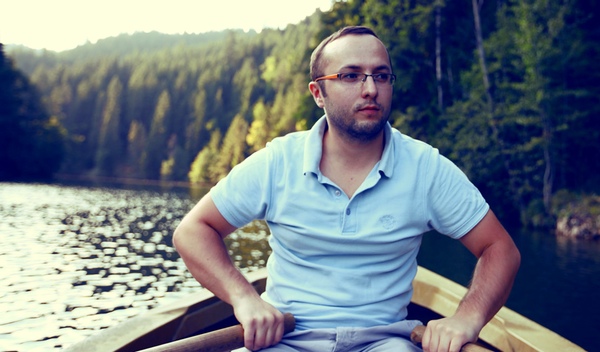 Photo courtesy of Dumitru BrinzanDumitru Brinzan, founder of Hermes Themes, rowing during a vacation in Romania.
$35, $75, $40, and $200. One of these doesn't sound like the others.
Dumitru Brinzan, who has a long history in WordPress themes at WPZOOM, has started a new theme project called Hermes Themes. The shop offers strictly hotel themes, in contrast to WPZOOM's more varied selection.
Interestingly, Brinzan is pricing his hotel themes at $200, well above the average cost of themes at the moment. It's a bold decision, and not one that you see many theme shops making at the moment. I sat down with him to talk a bit about what motivated him to start Hermes Themes, and in particular to price his themes that high.
The pricing is very deliberate on Brinzan's part. "To be honest, I thought about pricing for a very long time," he told WPCandy. "I considered making it cheaper, or even more expensive." His decision to sell themes for $200 wasn't a simple one, and took his entire history selling WordPress themes into account.
Start by serving a real need
While the pricing is an intriguing aspect of Hermes Themes, it's not why Brinzan started the new shop. He saw a need.
"Other options that hotels have right now are really expensive," he told WPCandy. "This is why we still have hotel websites developed in 2002 and 2003." Anyone who has ever booked a hotel stay can attest to that, no doubt.
Just a couple of days before our interview, Brinzan described seeing a luxury four star hotel with a website that hadn't changed a bit since 2001. Well, aside from the addition of Facebook links last year. "Imagine that!" Brinzan said.
Many solutions for hotel websites are hosted and subscription based. This can cost hotel business owners anywhere from hundreds to four or five thousand dollars every year. That's a good deal for a website, but even worse if and when they decide to move on they are left with nothing. No website to adapt and no content to work with (aside from scraping their own) leaves them needing to start over from scratch.
"Just imagine sinking in thousands in two or three years, and then you realize you have nothing, no website at all," Brinzan said. "It's a trap!"
"That," he explained," is the problem with using proprietary content management systems." WordPress, Brinzan believes, is a much better long-term solution for hotels, and he has tried to emphasize this by sticking to standard content types and a focus on portability.
Photo by Ryan ImelHermes Themes is a solo project by Dumitru Brinzan that sells hotel themes for $200.
Hermes Themes currently offers four different $200 themes, with live demonstrations of each as you might expect. My instinct, particularly with a $200 price tag but also with hotel themes in general, is that the themes themselves would be fairly complex. I expected complex sections where availability would be reflected in booking forms and choosing the size of room desired would weigh in too. But that's not the case — Hermes Themes seem very simple, with basic contact information and assuming booking forms that don't suggest the need for these more involved features.
"Just imagine sinking in thousands in two or three years, and then you realize you have nothing, no website at all. It's a trap!"
Instead, he puts an emphasis on local attractions, photo galleries, testimonials, and layouts featuring large photos of the rooms available. Brinzan seems to suggest, both in the features offered in his themes and the marketing within Hermes Themes itself, that the problems hotels face has nothing to do with advanced website features, but the basics. In a blog post Brinzan wrote last month he runs down the most common mistakes he finds hotel websites making. The list includes sites that aren't mobile-friendly, flash navigation and slide shows, missing contact information and (yikes) background music that plays when the page loads.
Perhaps simple, attractive, and focused is what hotel websites need more than complex booking forms. I'll be curious to see how this approach works for hotels, and more specifically what types of hotels it attracts.
Brinzan isn't the only one to determine a new WordPress option is a smart bet for hotel businesses. Others, like Brian Casel, have come to similar conclusions. Casel's Hotel Propeller service takes a different approach, which is to offer a hosted service for $29 per month. The service is still built on top of the WordPress platform, though, and offers a handful of different themes for use by subscribed members.
There are also occasional hotel theme offerings from known theme shops, and at the moment a search for "hotel" on ThemeForest pulls up more than 60 WordPress themes. This doesn't make hotel themes as popular a subgenre as certain others — business and portfolio themes, anyone? – it's certainly a growing one.
Customer trends and selecting your own clients
Competition in this space may demand more time and focus from Brinzan over time, as any success Hermes Themes sees will most certainly lead to others jumping at the chance to compete with hotel themes at his prices. Right now, along with his Hermes Themes project, Brinzan is the co-founder and lead developer of WPZOOM. WPZOOM began as a popular WordPress blog in 2008, and grew into a theme shop in 2009 when it released its first theme.
Balancing the needs of two projects can be difficult, as anyone who has tried it can tell you. Brinzan admits to taking this into consideration with Hermes Themes.
"I'm trying to better manage my time," he said. "But at the moment WPZOOM takes more time of course. Hermes still needs to take off," he said with a smile.
His time spent with WPZOOM is in part what inspired him to make the pricing decisions he has with Hermes Themes so far — specifically, the time spent working with clients WPZOOM worked with.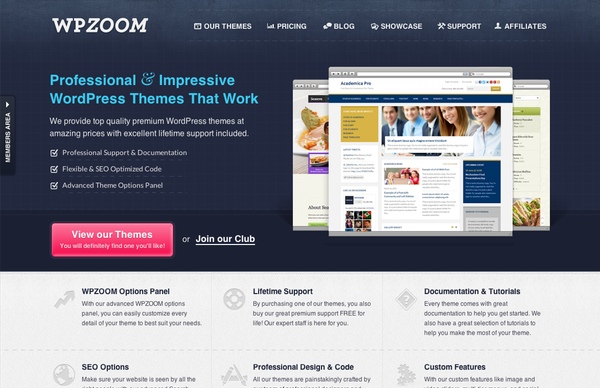 Brinzan is still co-founder and lead developer of WPZOOM, and currently splits his time between it and his new project Hermes Themes.
"I sometimes provide customization services to our customers," he told WPCandy, and said that in doing so he has worked with quite a few people. Brinzan explained that customers would regularly not mind paying $69 for a theme — the current standard package price at WPZOOM — and then an additional $200 for customization work.
"This made me think they wouldn't mind paying $200 from the start, for a product that is very close to their needs."
But it's not all about pricing at what the customer will pay — though that plays big into the thinking here — Brinzan is attempting to select his clients too. "Again, from my experience with WPZOOM, we have discovered something very peculiar: clients that pay more are somewhat less needy, if I may say so."
He explained that clients utilizing coupons and discounts are more likely to also utilize WPZOOM's support system, sometimes firing off ten support questions in as many minutes. These customers also tended to ignore instructions, documentation, and video tutorials more often.
"So I am thinking that such a price would attract mostly people that really need a theme, and really like what they see," Brinzan said. "No impulse shopping."
Theme pricing comes up yet again
I've heard the idea of a thousand dollar theme discussed a couple of times in the WordPress community the last year or two. Usually it's a heck of a conversation starter. What makes a theme worth that much money? Will we ever see that sort of thing available in the current theme marketplace?
Theme pricing, do's and don't's, and the direction of the theme market is a topic that comes up often in the WordPress community. The earliest pricing milestone I can remember probably came in early 2008, when designer Tung Do — who at the time ran WPDesigner.com — announced a $5 theme club.
"This made me think they wouldn't mind paying $200 from the start, for a product that is very close to their needs."
Now, at that point in time, theme clubs were a bit of a new idea. Themes more often cost around ten times that price or even higher, and no membership system even approached a price that low. The themes Do was producing were of a solid quality. It was a mis-match of price and quality that was bound to stir pricing discussions.
A couple of years later, in 2011, Mike McAlister started a heck of a discussion around his analysis of the $35 theme, a standard price point on ThemeForest at the time. His essay was great, but the more than two hundred comments following it were even more interesting.
Last year Jake Caputo's ThemeThrift project brought up theme pricing again, but this time with the onus on the customer. ThemeThrift customers could choose which price to pay, with even the option to pay nothing in the beginning. Caputo later adjusted the pricing options, removing the zero dollar amount, and adding higher tiers that offered a bundled plugin along with it.
We've seen prices on themes go low to test the waters and draw attention, but not nearly as often have we seen prices go high. Is it about time for a thousand dollar theme?
The evolution of the value of WordPress themes
What exactly does the future of theme prices hold?
I tend to think we'll see even more pricing toward the middle amongst marketplaces and your average theme shops, with up selling to developer packages in many cases. Smaller shops and individuals are likely to get a bit more bold, maybe not quite to the extreme of a $5 theme club or a $200 theme, but daring nonetheless. We'll also see more specialty shops like Hermes Themes pop up, I think, to cater toward the growing need for WordPress themes geared more specifically toward certain needs.
Another way to ask the question is: what is the true value of a theme? Serious people are using WordPress and looking for professional themes to make it shine. Seeing theme developers and business owners take on that challenge is exciting to watch.
The post The true value of a WordPress theme: Hermes Themes and a $200 price tag appeared first on WPCandy.