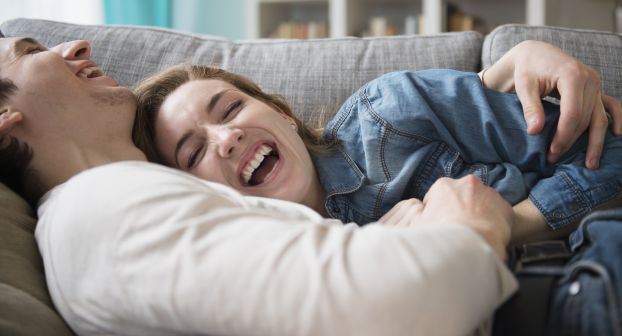 Having sex after pregnancy can have its own set of complications and may not be the same as before. It might take weeks or even months for a woman's body to recover and be sex-ready. The best thing is not to rush into it. More than the mother, the partner needs to be understanding and accepting of this condition. It is important even for the father to curtail his expectations about sex after the birth of the baby. Here are tips you can use to get your woman back in the mood for sex after pregnancy. 
Give her ample time to reconnect with herself
Even if she doesn't mention it, the new-found identity of being a mother takes a toll on her. For most women, the initial months after birth make them feel disillusioned, what with all the stress of pregnancy and labour pains. This is when she needs support, love and affection, especially from her partner. With hormonal changes still surging and with low energy levels, add to it the demands of the newborn, sex is the last thing on her mind. However, have faith that things will change. All she needs is time for herself, to reconnect and reflect on her needs and be reciprocating towards other's emotions, including the partner.
What you can do: Ensure that she regains her energy fast. To do so, help her in whatever little you can do – doing the dishes, making the breakfast, babysitting, helping baby to sleep or just sitting beside her throughnthose long nights. Remember allowing her to gain some vigour will help her recover soon from the post baby blues and probably help her get in the mood for lovemaking sooner then you expect.
Remind her how beautiful she is
While a woman's sex drive takes a dip right after childbirth, her sensuality can still be revived. In fact, gentle touches and physical comforts can go a long way in helping her gain some energy and think of the world beyond her baby. Moreover with all those changes in her body – stretch marks, sagging skin, scars – it lowers her confidence to open up again. So sex even when she has the urge for it, takes a backseat.
What you can do: Try to make her feel sensual with your touch and actions. This won't ensure sex right at the onset but can help you build her sex drive step by step. To arouse her sensually, tell her often that you love her and admire her for who she is, be honest here. Flattery will lead you nowhere. If you aren't good with words find some practical ways to tell her that. Give her gentle massages and ensure lots of hugs and cuddles. Don't expect anything in return. These little actions won't ensure your immediate payoff but will help you get your woman in the mood soon.
Respect her needs and keep your sexual desires in-check
Taking care of her while keeping your own sexual desires in-check isn't easy. Keep in mind that sex under pressure or due to any obligation will not serve the purpose of love and affection. Instead, it would definitely spell doom for your relationship.
What you can do: Masturbate. Even if this sounds odd, this is your best resort, at least for the time being. This will help you stay in tune with your desires while giving her space and time to get back into the mood.
Make her feel special 
This might sound odd but if you want your sex life to be back on track after your baby's arrival, it is important to regain her confidence and love again. This will help your woman to look forward to couple time despite the demands of the baby.
What you can do: Start going on dates when you get time. Surprise her with cute gestures such as flowers, gifts, chocolates, etc. These will help build the desire for sex as soon as her body recovers from the stress and strain she's undergone.
Go slow
When she is finally in the mood for it, don't rush into things. This might just kill the appetite for sex once again. Instead remember that the thumb rule to resume sex after pregnancy is to go slow.
What you can do: Be slow, gentle and affectionate in bed. Hugs and kisses will work in your favour to help your woman relax. Try and arouse her sensually. Allow her to take the lead in bed. You can also do things she likes to please her and set the mood right for the rest of the night.
Image courtesy: Getty Images
Source – TheHealthSite