Marketers and retailers have been quick to begin trials with iBeacons after the technology was added to iOS7 last year.
We've seen a number of interesting experiments, such as automated messaging in airports, cinemas and baseball stadiums.
The speed with which these trials have been expanded for general consumer use is in stark contrast to the years spent covertly trying to find a use case for NFC.
While NFC technology is unlikely to disappear altogether, it appears that iBeacons are a more attractive proposition.
Another area that iBeacons might be extremely useful for is at events and conferences, such as our own Festival of Marketing.
I've come across several intriguing trials in recent months, though it faces stiffer competition from other technologies in this space, namely RFID.
To explain how RFID works, I'll turn to my esteemed colleague Ben Davis:
Radio frequency identification (RFID) has been around for yonks, the tags only transmit information, to an RFID reader (an NFC enabled phone or tablet such as an Android can be used as a reader, but for an iPhone a separate reader is required).
In contrast, iBeacons allow two-way communication between the beacons and the smartphone app, so it allows for more complex forms of messaging and functionality.
The system isn't perfect, however, as it requires users to have downloaded an event-specific app and also to have enabled Bluetooth on their phone (for more on how iBeacons work read this article).
But the purpose of this article isn't to argue either for or against either technology, it's just to showcase a few decent examples so you can make up your own mind which is most effective and relevant for your particular event.
So, without further ado, here are several examples of how iBeacons and RFID can be used at events and festivals…
iBeacon examples
Northside Festival
What better place to trial iBeacons then among a load of early-adopter hipsters at a Brooklyn arts and innovation festival.
At Northside Festival iBeacons were used to push out alerts about backstage passes, the ability to queue jump, surprise tickets and food vouchers.
The trial was carried out by MasterCard, which said it would be tracking metrics such as app downloads, alerts seen and actions taken, alongside conversations on social.
We surprised 300 @MasterCard cardholders with tickets to our sold-out headlining show! #PricelessSurprises pic.twitter.com/0Spf22I8Ol

— Northside Media (@NorthsideFest) June 16, 2014
Ladies' Night
This example veers dangerously into being a plain old retail trial, but as it was for one-night-only I'm willing to include it here.
A shopping centre in Sheffield hosted a Ladies' Night event in May this year that used iBeacons to deliver special offers and discounts.
Massive pink graphics were installed around Meadowlands shopping centre to highlight the position of the iBeacons.
Each one delivered a different offer redeemable at various retailers, including Krispy Kreme, Hotel Chocolat, Cath Kidston and House of Fraser.
Further events are due to take place throughout the year.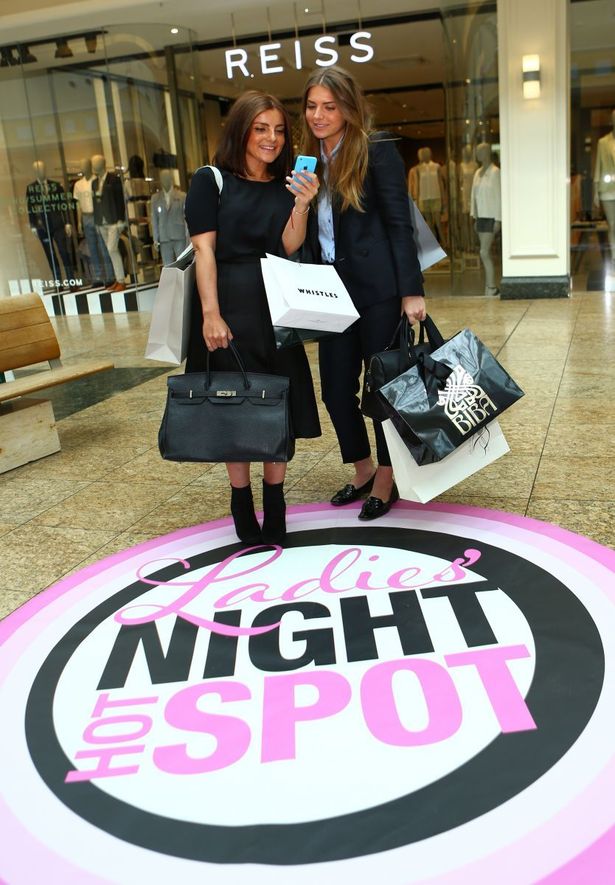 Bonnaroo Festival 2014
The organisers of Bonnaroo used around 100 beacons to send festivalgoers proximity-based messages around the event.
Using Aloompa's app technology, festival organisers were able to track the most popular stage, the average length people spent in specific areas of the festival, how many users went inside VIP, and other metrics such as the average number of notifications each device received.
The organisers released the following data:
'What Stage' was the most popular venue.
1,980 users went into the VIP section.
The average time spent in the VIP section was 102 minutes.
On average each device received 12.6 notifications.
The total number of app downloads wasn't revealed, but 20% of app users opted-in for push notifications.
Over the four days of the festival the app delivered 97,270 messages.
SXSW
SXSW is all about showing off new tech and innovative ideas, so of course they trialled iBeacons there earlier this year.
Organisers used the technology to help attendees pick up their badges faster and get more involved in the talks and sessions.
In several conference venues attendees would receive a prompt through the app to 'Join the Conversation', and would then be able to contact other attendees, participate in a discussion forum and vote in live audience polls.
Push notification from Lego event at SXSW (taken form Mashable)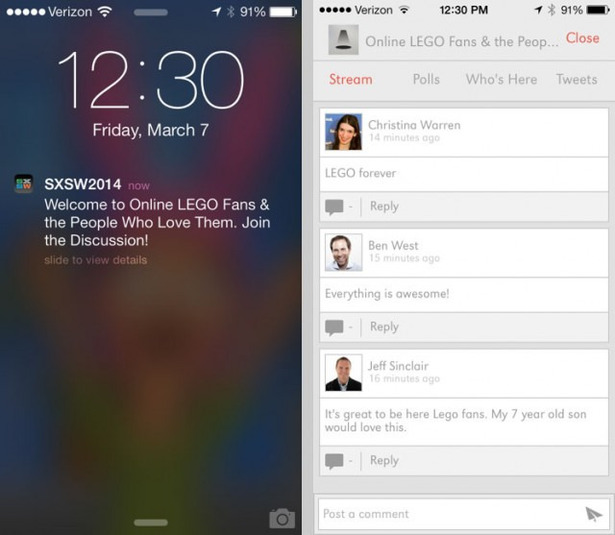 Cannes Lions
At the Cannes Lions Festival iBeacons were used to allow attendees to network with people in their proximity. Think of it like a professional version of Tinder.
The 'Around Me' feature was integrated with LinkedIn profiles so attendees could connect online and send messages.
Organisers also sent push notifications at different locations around the event.
The Cannes Lions iPhone app (image from Urban Airship)
Tribeca
New York's Tribeca Film Festival used beacons at venues and busy areas around the city to keep attendees up-to-date with what was going on.
This included alerts, surveys and general information about the events.
For example, movie-goers were asked for feedback after certain screenings, or offered merchandise discounts while in line for a film.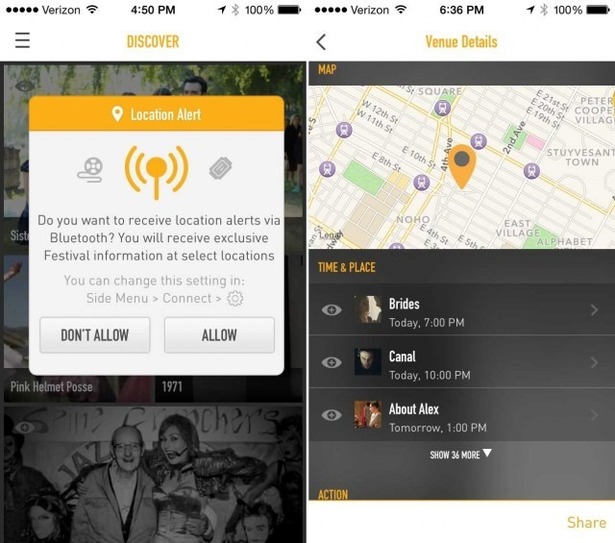 RFID examples
Bonnaroo 2012
I'm aware that juxtaposing Bonnaroo's use of RFID in 2012 with it's more recent iBeacons trial might make the former look like an antiquated technology, but I still feel this is a convincing example of how the technology can be used.
Festivalgoers were able to personalise their RFID wristband online by linking it to their Facebook account.
They could then gain swift access to the festival simply by touching their wristband on the gate, and also check-in to 22 different stages and areas around the site.
'Live Click' photo stations also enabled people to take a photo and immediately upload it to their Facebook account, though due to a tie up with Ford these photos were badged with the car maker's logo.
UEFA Champions Festival
UEFA used RFID at a four-day fan event near London's Olympic Park in 2013.
30,000 fans were given an RFID card on arrival, which they then had to register online (admittedly, this is a fairly major barrier to entry). Registration could also be carried out using an HTC NFC smartphone app.
By touching the card on camera units around the park users could post photos to social networks or send them via email.
As this is UEFA, all photos obviously included various sponsor logos.
There were also 11 'skill stations' where fans could take part in different challenges and collect points on their RFID card.
Those who amassed the most points throughout the day could climb up a virtual leader board and win prizes.
Fans could also access a digital brochure for the UEFA museum, vote for their favourite players and predict the score in the Champions League Final.
The results were as follows:
13,000 RFID cards were registered.
7,000 photos taken.
40,000 emails triggered.
85,000 RFID interactions around the fan park.
45m+ page impressions online.
Over the four-day festival there were around 250,000 check-ins and 20,000 photos posted.
The activity also generated 1.9m Facebook 'likes' and 1.4m comments.