Consumer reviews are effective sales drivers, and a trusted source of information for users, but very few hotel brands seem to make use of them.
Here, I've looked at some of the UK's hotel chains to see who is using reviews and, if so, are they doing it well.
Why do hotels need reviews?
It may seem obvious, as the case for reviews on ecommerce sites is beyond doubt, but it seems hotels are reticent about this.
Perhaps anxiety around TripAdvisor is partly to blame. There are enough cases of fake and malicious reviews to make many hoteliers think twice.
However, as a study published by Tnooz shows, reviews actually encourage people to spend more.
If prices are the same, users are 3.9 times more likely to choose a hotel with higher review scores.
When hotel prices are increased for those hotels with higher review scores, people are still likely to book.
The study found that 76% of customers were willing to pay more for a hotel with higher review scores.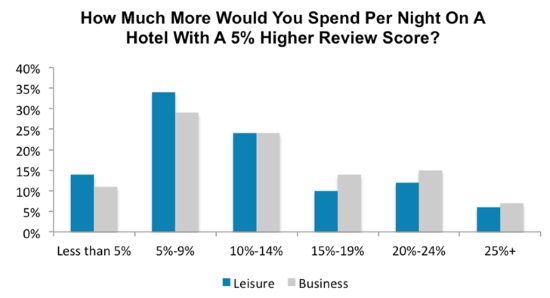 How do the UK's hotel brands use reviews? Do they use reviews?
I've tried the sites of seven of the UK's top hotel chains. If I've missed a good example, let me know.
Travelodge
There are no reviews to be found on Travelodge's website, maybe it thinks the prices alone are enough.
However, judging by reviews on TripAdvisor like the one below, the hotel chain may be missing a trick here. This is valuable social proof.

Premier Inn
It's the same story for Premier Inn. No reviews on site, but some very good average review scores, as shown in Google snippets. It does use reviews in its PPC ads though.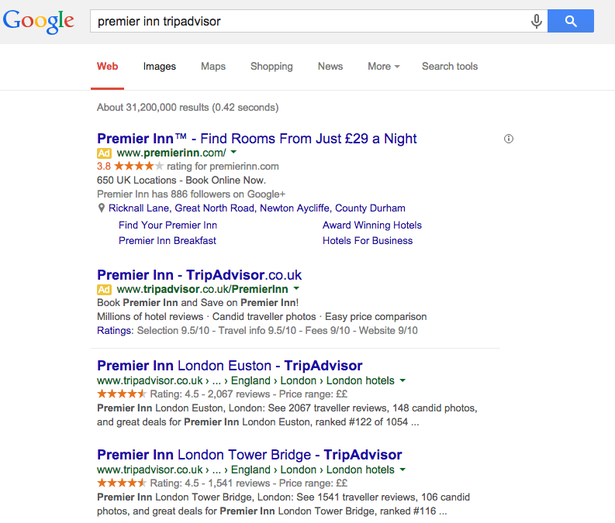 Malmaison
I've found a hotel chain using customer reviews, but the manner of display is a little strange.
For a start, it's easily missed, in the top left corner when my attention is on the booking process further down the page, and it's unclear what this review score actually means.
I'm booking a room (well, pretending to) at the Newcastle Malmasion, so does this review refer to the hotel, or Malmaison in general? Is 82% good or bad?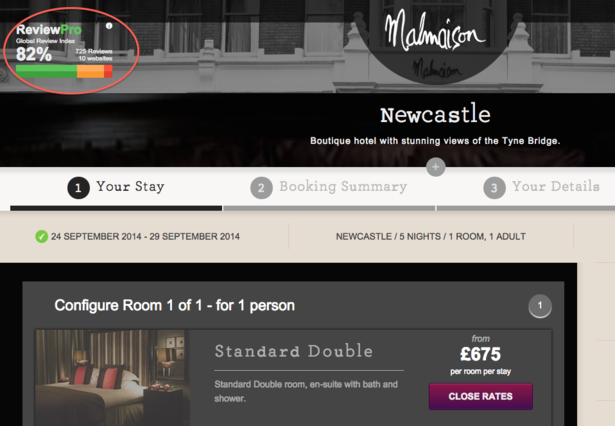 Upon further inspection, the review score refers to the Newcastle hotel and is based on an assessment of review scores places on various sites around the web.
It's a good idea in principle, but the way it's applied on the Malmaison website is very odd. It only seems to appear when I'm in the process of booking a room.
It doesn't show up when I view details about the Newcastle hotel, and it provides no detail at all, or the ability to read reall reviews by real people.

Also, unless you click the little 'i' next to the score, you'll have no idea what it means. Perhaps it works for Malmaison, but the application seems odd to me and, when you can't read the actual reviews, it doesn't really come across as authentic.
I wonder what users make of it. Perhaps it works, but it seems to be a slightly half-hearted attempt at incorporating reviews.
Q Hotels
There's an AA rating here, complete with a percentage score and some stars. However, there's no contextual information to explain what this actually means.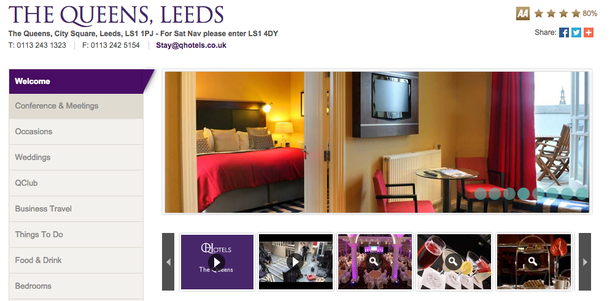 Further down the page, we have an average TripAdvisor review score, which links to the relevant reviews page on the site.
This is more useful, and people will recognise the TripAdvisor brand, though unfortunately it does take people away from the site.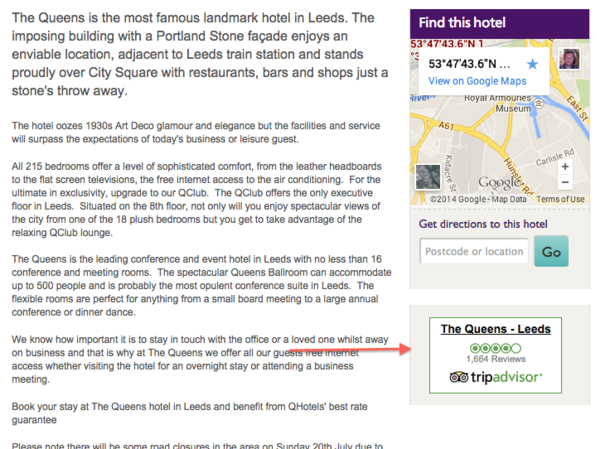 Britannia Hotels
A quick look suggests this site may be in need of a revamp. It looks very dated and it's no surprise that reviews don't feature at all.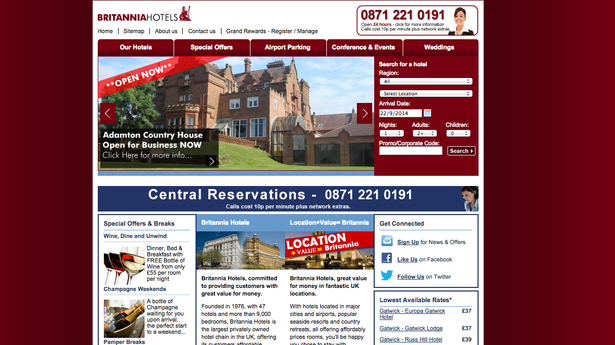 Thistle
A nice looking website, but no reviews.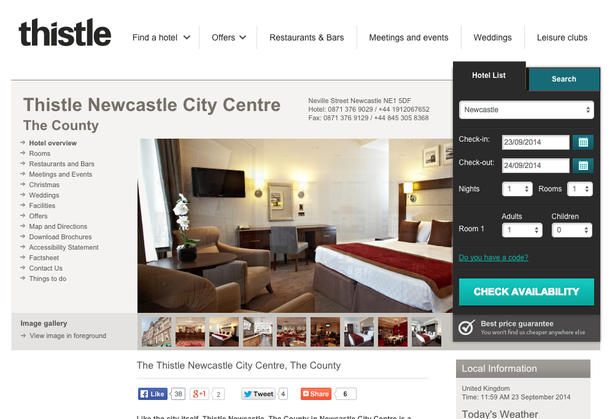 Best Western
Best Western uses TripAdvisor reviews, with an average rating and a link to read reviews.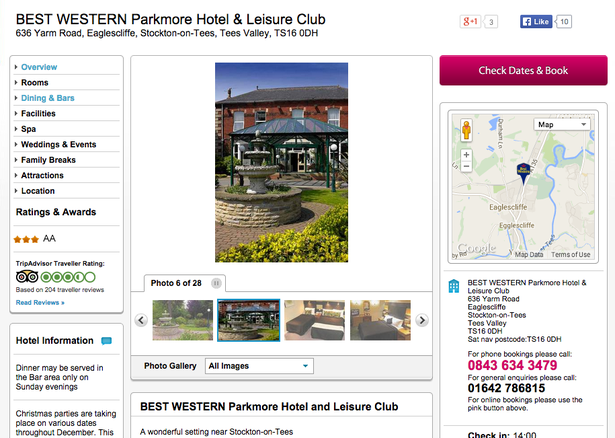 Unlike the Q Hotels implementation which takes users away from its site these reviews are shown further down the page. A much better idea.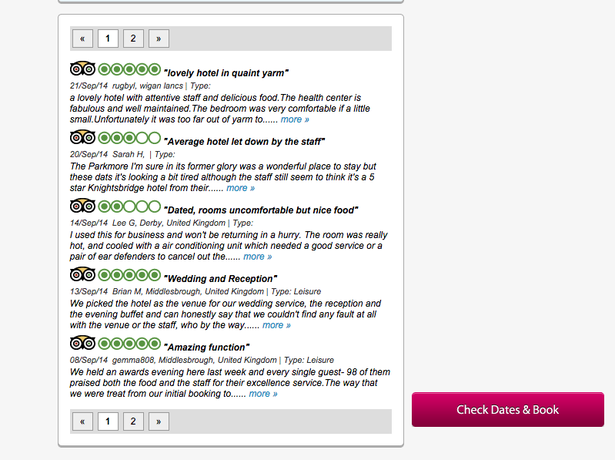 How should reviews be used?
Let's look at Hotels.com for some good examples.
OK, it's an aggregator and is perhaps less concerned about negative reviews than the chains, but this is no excuse anyway. People know TripAdvisor exists and, if sites don't have reviews, they'll find them there anyway.
Hotels should provide this information on site for those that want it and use reviews to drive sales.
Here, Hotels.com is using review scores on the homepage:
It makes even better use of reviews on search results pages. Star ratings are displayed within each result, backed up by the 'speech bubble' and links to the text of reviews.
Even better, reviews are part of the filters so customers can search for hotels by star rating.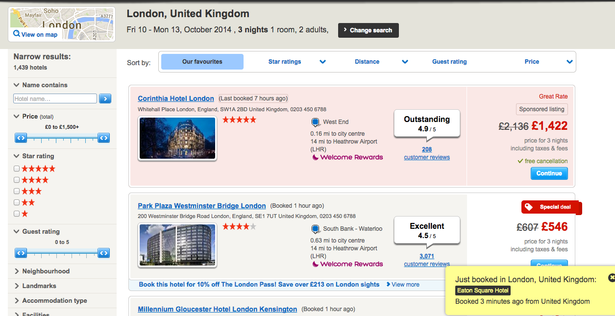 This is all reinforced on the product page, with the average review score, some extracts from reviews, and a display showing TripAdvisor scores. All bases covered.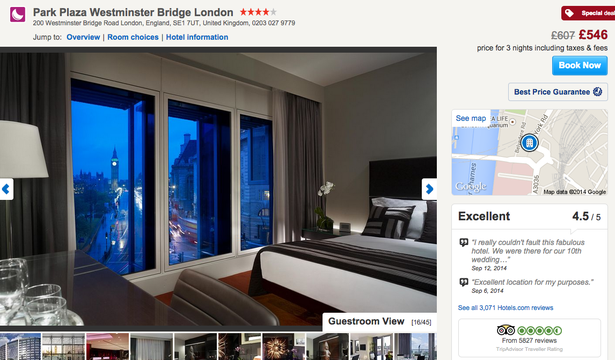 In summary
Hotel sites have been slow to catch on to the potential of reviews, and as we can see, very few are using them.
At least some are using the TripAdvisor scores, but a look through sites like Hotels.com should demonstrate how effectively reviews can be used.