The earth has spun around seven times since the last stats roundup, which means it's time for another edition of this ever-popular blog post.
This week it includes Twitter analytics, the pursuit of a single customer view, YouTube, content marketing, social customer service, Facebook ads and Google's ever-increasing ad revenues.
For more delicious stats, download the Econsultancy Internet Statistics Compendium…
Twitter's new analytics
Twitter unveiled a new set of ad tools this week, giving marketers some shiny new charts to play with.
Econsultancy's head of social Matt Owen thinks it's good news for data driven marketers. Read his review here.
What are the main advantages of achieving a single customer view?
Econsultancy and Tealium's new report, The Path to Unified Marketing, examines the benefits of unified marketing by comparing the expectations of those who haven't tied their data together with the experience of those who have achieved some degree of a single customer view.
Respondents were asked to identify what they perceive to be the top three benefits of integrating their marketing applications and data.
Interestingly, the rankings of the benefits are largely in line with one another, so the perceived advantages of unified marketing turn out to be true in practice.
What are the primary advantages of unifying digital marketing applications and data?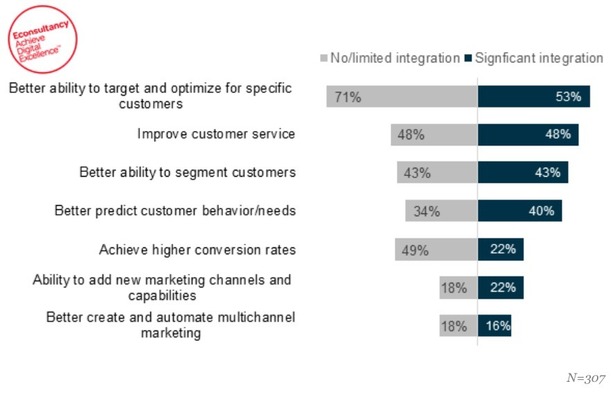 Luxury brands a big hit on YouTube
New data reveals that luxury brands are among the most popular fashion labels on YouTube.
According to data from Socialbakers, luxury brands account for four of the top six most-popular fashion labels on YouTube.
Victoria's Secret is far and away the most popular (453,000 subscribers), followed by Chanel (250,000), Dior (124,000), Quiksilver (117,000), Burberry (110,000) and Louis Vuitton (74,000).
Read my blog post to see if they deserve to be so popular.
Which KPIs for content marketing?
What metrics should be used to measure content marketing success? Engagement or revenue? Conversion or visits?
Econsultancy's new report Where Content and Commerce Collide includes interviews with leading ecommerce professionals in B2B and B2C organisations that explore how leading brands are integrating content into ecommerce journeys and what the future strategy of the business looks like, with the output being qualitative data and indicative charts based on the responses of interviewees.
Focusing on KPIs, this chart shows that there's an even split between revenue and engagement.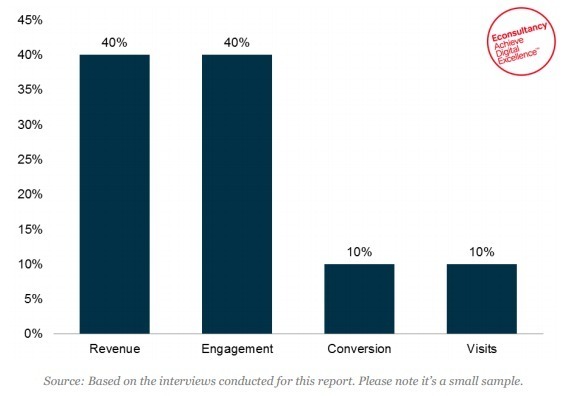 Relevancy and trust key to becoming a 'best friend brand'
New research from Silverpop claims that consumers only have five 'Best Friend Brand' companies from which they will repeatedly open emails and buy products.
The research examined the online shopping habits and communications preferences of nearly 4,000 consumers across the UK, the US and Germany.
More than 70% of respondents indicated they would be more likely to make a purchase if a brand's initial email outreach was tailored to their likes and preferences, while 64% said they would be more inclined to open an email because they already trusted the brand sending the email.
The importance of trust was even higher in the US – with 70% of respondents influenced by it, nearly 10% higher than the UK and 5% more than Germany.
Consumers demand more from brands via social
Consumers are demanding better customer service from brands via social media channels than ever before, according to new research from Axonn Media.
The survey of 1,000 consumers found three quarters of people (78%) would contact a brand through social media should they have a complaint.
Facebook was the most popular method of contact (68%), with just under a quarter (23%) using Twitter.
Nearly all of those who had contacted a brand through social media expected a reply from the company involved (98%), with more than half (58%) expecting a response within a day.
Global spend on Facebook ads increase 50% year-on-year
Social ad budgets are on the increase according to new data from Kenshoo.
Quarterly spend on Facebook advertising increased 51% year-on-year in Q2 2014, while spend on search engine advertising increased 25% on 2013.
The 25% increase in search spend is accompanied by an all-time high CTR of 2.17% – a 26% increase on 2013.
The volume of clicks on search ads have increased 15% YoY, with 9% fewer impressions, indicating that search campaigns are getting more efficient.
Google gets even bigger
New data from Adobe shows that the UK and Germany saw 10% and 6% year-on-year (YoY) overall search spend growth.
In Q2, Google continued to dominate search ad spend with a 78% share of search advertiser spend, while Yahoo/Bing accounted for 22%.
Desktops now represent 70% of paid search (compared to 77% in August 2013) while mobile/smartphones account for 30%.
CTRs have risen across the board, especially for mobile/tablets due to Google's new ad formats including Enhanced Campaigns and PLAs.
PLAs have now stabilised to around 20% of retail spend in the UK.