The Rafflecopter dashboard to set up an exceptional giveaway.
Running a giveaway is a great way to attract attention to a brand, bring recognition to a great product and get some traffic landing on your site, but there are rules and etiquette to follow and strategies to use to make it more successful.
Here are a few things you should know before running your next giveaway.
Following For Entries Will Disappear
Traditionally, bloggers use giveaway entries as a way to build up followers on social media. However, on November 5th, 2014, Facebook will disallow you to use any "likes" on a page as an entry for a giveaway. You already cannot use Google+ follower as an entry. Pins are a bit more questionable as an ethical entry tactic. In fact, I recently heard a rumor that this may be the first of many outlets to ban this practice.
So is the future of blog giveaways dead? Giveaways have always been a successful advertising tactic, but bloggers need to think about new ways to run them to benefit both our blogs and the brands we represent, rather than relying on these contests to drive social media followers. Here are some ways to run a giveaway campaign to create excitement and earn followers without requiring this as an entry.
Create A Meaningful Post Around Your Giveaway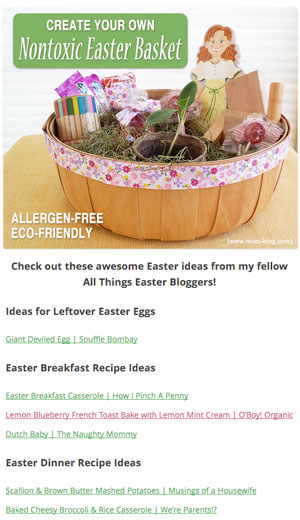 Originally a giveaway, this evergreen post links up with all kinds of great ideas for Easter and still gives props to the brands who sponsored the original post.
Please don't just do a standard review and then give away the item.
Generate an interesting, pinnable post that has a chance to go viral. In "Must-Have Tech for Traveling with Kids," I created a post about a topic on a problem that most parents have: how to travel with kids and not lose your mind. My giveaway item was part of the solution. In the future, I can remove the giveaway portion of the post while still giving "no follow" credit to the brand sponsor, and re-share it every travel season. That will please the brand, creating goodwill and traffic for them long after the contest has ended. In addition, visitors who drop by for the prize that are in my target market can see that I have useful, quality content to share and may choose to follow me.
Group With A Band Of Bloggers Around A Theme
Earlier this year, a group of bloggers and I joined together to do an Easter themed giveaway. It was so successful that we now join together every few months to do another. This also allows us to hook up and connect with more sponsors that we can pitch, allowing us to offer a more valuable prize with multiple winners.
For "All Things Easter," I wrote about "Creating an Allergy Friendly Non-Toxic Easter Basket." The post links to the other bloggers' posts for every topic you can think of covering Easter, from decorating to food to gifts. Organized by category, it gives readers a bookmarkable page to refer to every Easter for holiday ideas.
Choose Giveaway Vendors Carefully And Have A Backup Plan
For one of my giveaways, a brand did not provide the prize they had offered.
The vendor never responded to my emails. A few weeks later, I won a Target card for the value of the prize and so I mailed that to my winner. I'd rather be out $30 than have an angry reader! You can also put a contract in place to ensure that a prize is provided. Choose your brands carefully and always have a backup plan if you need so that your winner doesn't go without a prize.
Choose Your Giveaway Prizes Carefully
This may take some experimentation on your part.
I've learned that CDs and books just don't move well on my blog, whereas skin care products and toys do.
I suggest you pick prizes that complement your blog in some way. For example, a green and eco-friendly blogger probably shouldn't be doing giveaways of chemical cleaning products, but organic products are a perfect fit. Lifestyle and non-niched bloggers can spread out more, but staying closer to a trendy niche will help target your giveaway promotions well as long as it's a topic you cover.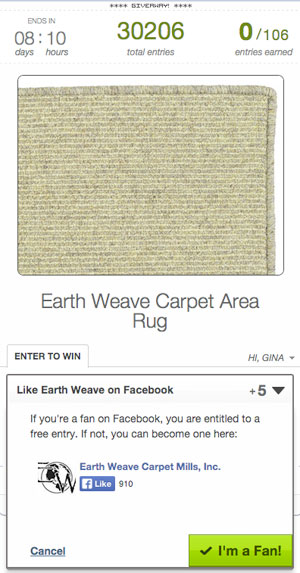 Active Rafflecopter giveaway
Know The Laws That Affect Your Giveaway
Brands may or may not know the legalities involved so be responsible and keep your blog safe. I personally recommend using Rafflecopter, who are staying abreast of changes at Facebook to manage a giveaway. I only run giveaways to U.S. residents, only do sweepstakes (a random selection giveaway), and only to winners over the age of 18. That keeps me legal and free from tax headaches here in the U.S.
Find out what tax regulations are where you live and avoid giveaways to minors.
Primp Your Giveaway Page To Draw Traffic
Link your post to blogs you've written on a similar topic.
If you are doing a giveaway that is compatible with your niche, you will probably gather followers – especially if it's a beneficial post. If it's a monetary giveaway, you will naturally get more entries (as long as you promote properly) and then readers in your niche will be a percentage. I recommend customizing your sidebar to showcase your top posts with an attractive image. (You should be using a custom sidebar plugin.)
By "top posts," I mean either the ones that draw traffic for you or the ones you want to be the traffic draw (a must-do if you are repositioning your blog.) Make sure you have a way that they can like on Facebook or follow on G+ without leaving your site prominently displayed, as well as your RSS and email subscription. Finally, have a prominent giveaway link or page (I recommend setting it up as a category) to attract other visitors to your giveaway.
List It On Giveaway Sites With Dollar Value Or Benefit
There are a number of places you should list your giveaway – from blog linky's to giveaway submittal sites. Most of the best ones are listed at "List Your Blog Giveaway" (some of these linky's may be defunct).
If I had to pick only submission site, I'd choose Contest Girl.
Your time will be well invested if you submit to at least a few of the more active ones daily. You must do this first thing in the morning in EASTERN standard time – if not earlier. That will give you a position at the top, which makes it more likely to be clicked. Not only that, but once a linky has a lot of links (50 or so), it's probably not worth the time or effort to list it unless the dollar value of your giveaway is very high – and preferably cash or a popular gift certificate. Most of the linky's and submittal sites will give you anywhere from 25 to 300 characters to explain your giveaway, including country applicable and end date. Learn to be succinct: What keywords will trigger people to click that giveaway? What is enticing or remarkable about this prize? Use the words "LOW ENTRY" for contests with less than 100 or 200 entries, and add when it expires and what country applicants must reside in. Finally, read the directions on the linky and follow those guidelines as well.
Promote, Promote, Promote!
Share it in all your blogger groups. Many will have a giveaway thread, so make sure you participate in their giveaways as well. Some bloggers in a group will host a giveaway linky so sign up. Be sure to use the hashtags "#giveaway" and "#win" when promoting on social media and tweet it frequently. Also use hashtags for the appropriate target audience, such as #organic for a giveaway of an eco-friendly product. Finally, be sure to tag the brand that provided the prize and tag people who would be interested in the prize as well.
Another way to generate excitement is to step up promotions on the last few days by sharing the last week: 2 days, 1 day, all the way down to the last hour and 15 minutes. This works best on Twitter.
In The Meantime…
You can still generate blog traffic by having readers sign up or subscribe to your blog or newsletter as an entry – that won't go a way. Meanwhile, there's still time to get in a Facebook entry but hurry before it all goes away!