Looking for a break on a mobile? Gosh your commute must be especially arduous today.
Here's some help: a guide to the most convenient features available on mobile travel sites, which could possibly help you find your way to pleasant pastures a lot quicker and also highlight some great design for other mobile commerce designers.
Ben Davis gives excellent advice on features needed for great mobile commerce design in general, which I'll be using here, but skewing it towards features more suited to travel sites.
For this feature I'll be taking a look at a range of travel sites all optimised for mobiles: EasyJet, Ryanair, Booking.com, TripAdvisor, Secret Escapes, Voyage Prive, Expedia, Mr & Mrs Smith, Laterooms and Skyscanner.
Customer reviews
Laterooms shows the aggregated score for guest ratings clearly in the search results. This is a quick way to check the quality of a room when on the move with limited time.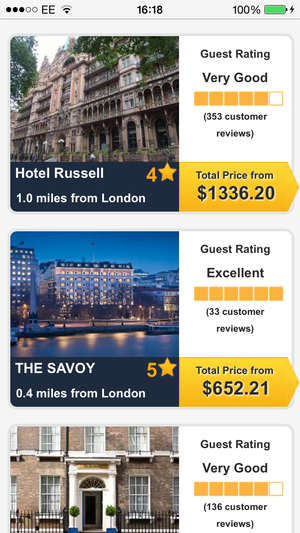 Reviews are then easily accessible from the tab across the top of each hotel's page.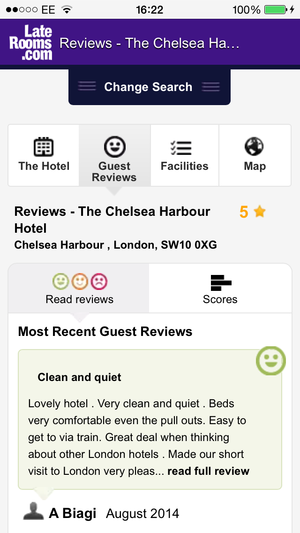 Favourites list
When you want to get away but haven't settled on a destination yet, a favourites list is a massively helpful tool which allows you to remember the many places that briefly took your fancy earlier in your search.
Secret Escapes has a link at the top of each break's page, as it recognises that a great deal of its customers are browsers without a set destination in mind.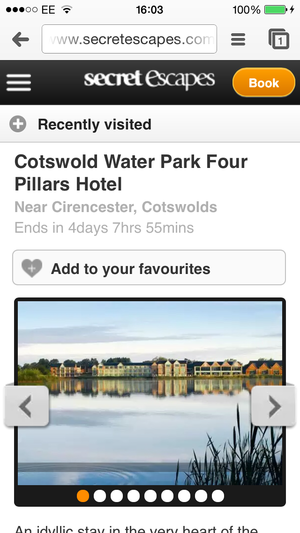 Favourites are then easily accessed from the menu.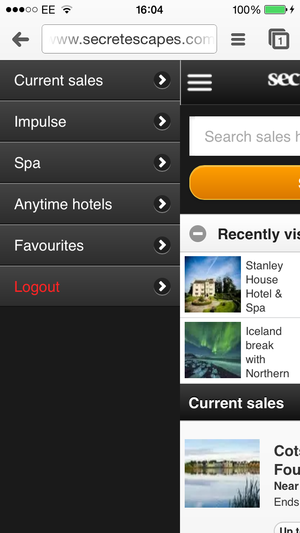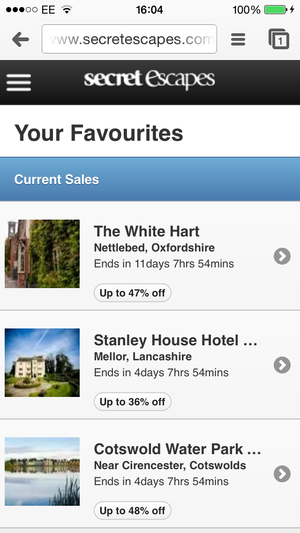 Simple calendars
Skyscanner has an intuitive and above all else easy to view calendar for arrival and departure dates, with clear buttons for today, tomorrow etc. Hosting this on the same screen as search is a must.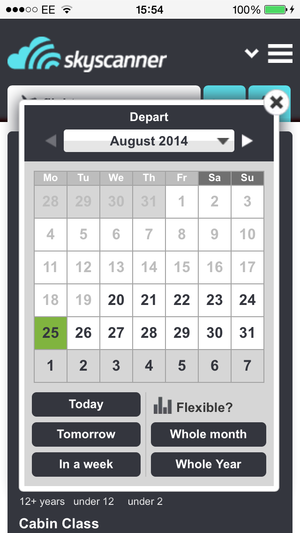 Predictive search
Mr and Mrs Smith uses this perfectly with results for location and hotel name appearing as you type. Lower Slaughter Manor anybody?
Prepopulated forms
Expedia prepopulates information for all visitors using the site, with the date already set to today and the number people set to two respectively. These are easily changed with a tap of the screen.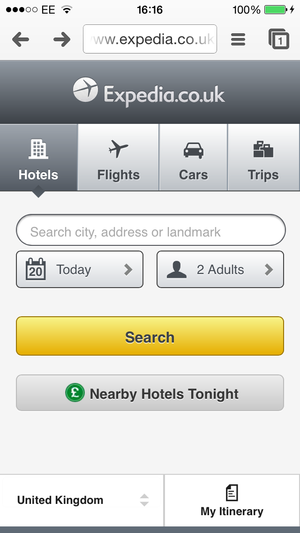 Autofill
Voyage Prive has used my log-in information to automatically fill in the booking form for me. Saves on lots of time and fiddly typing.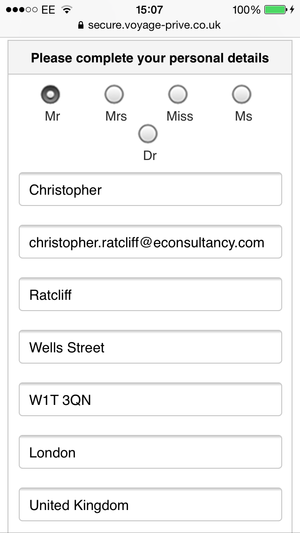 GPS or location based services
TripAdvisor has this as its priority feature.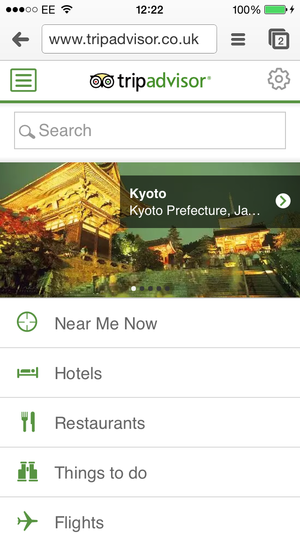 It also remembers where I was when I last used TripAdvisor. This tool allows you to not only search for hotels and restaurants, but also ones that are specifically available now.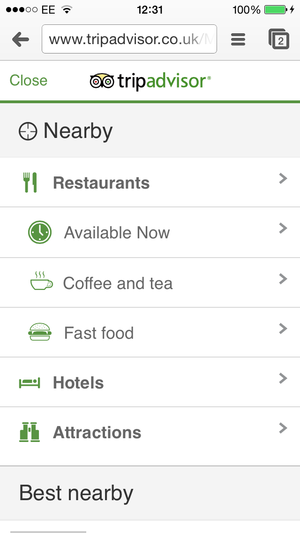 Ryanair also uses this to automatically find your nearest airport when searching for flights.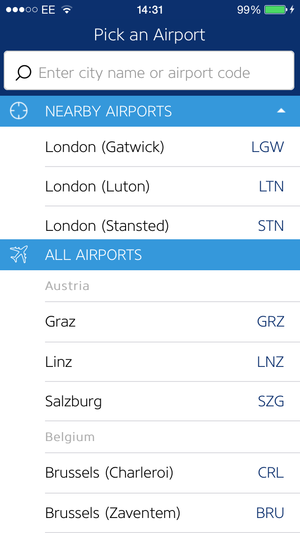 Speed
Most of the sites I've looked are mobile specific or adaptive, and as a result generally have pretty good site-speeds and page load times. Although as a caveat my WiFi connection here is good as is the 4G signal.
If you're in a location where this isn't necessarily so, then it's important for all mobile variations of desktops sites to offer the quickest possible loading times by focusing on the most important features for mobile users – search, location based services, simple forms – and junk anything possibly considered unnecessary – vast collections of images, lengthy descriptions, complicated animation.
That being said, I quite like the little animated plane that circles around when waiting for a page to load on the Ryanair site.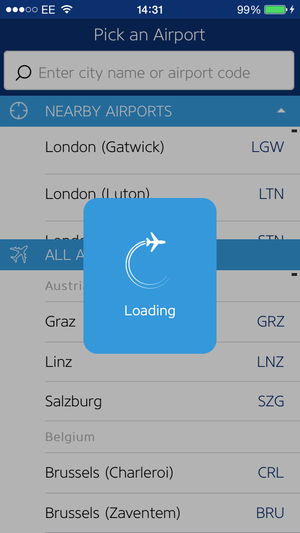 Flight tracker
EasyJet hosts flight checker link directly on the brighter than bright homepage along with some of the clearest menu options seen so far.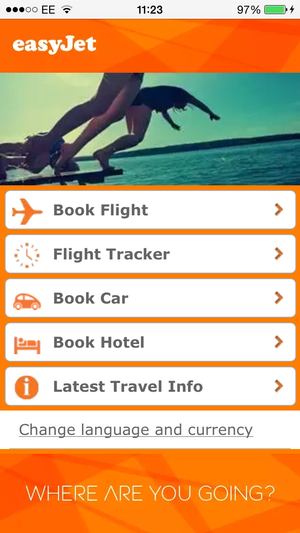 The flight checker is easy to use and allows you to search by your flight number or other various less-specific details.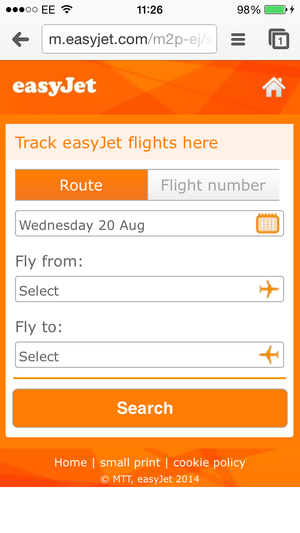 Brilliant for when you're using your hotel's WiFi in a foreign country and need to know how long you might be stranded for.
Multiple and fast payment methods
To help customers trust your checkout, especially if they've taken the trouble to get all the way to purchase, offering multiple payment methods should allow them to choose one they trust.
Secret Escapes has many options here, including the even more convenient option of PayPal which helps to save some extra form filling in.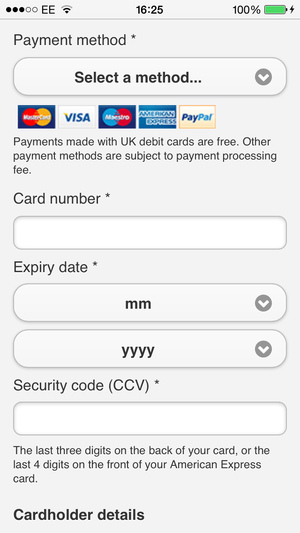 You'll also notice that all of the details that Secret Escapes requires is done so on a single screen, saving additional loading time.
For more guidance, check out the Mobile Web Design Best Practice Guide featuring more than 200 pages of insight into planning, design and delivery.
Ryanair's chief marketing officer Kenny Jacobs will be speaking at our Festival of Marketing event in November. It's a two day celebration of the modern marketing industry, featuring other speakers from brands including LEGO, Tesco, Barclays, FT.com and more.