This year has seen the emergence of a new trend in charity fundraising – viral, nomination campaigns.
The most recent example was the ice bucket challenge phenomenon that swept round the globe fuelled by celebrity endorsements, eventually raising more than $90m for the Amyotrophic Lateral Sclerosis (ALS) Association.
But earlier in the year Cancer Research benefited from its own spontaneous viral campaign when women began posting photos and donating with the hashtag #NoMakeupSelfie.
Cancer Research was in a position to make the most of this opportunity because it has already adopted agile working practices within its digital team.
To find out more about this process I spoke to senior digital services manager James Gadsby Peet, who will also be speaking at Econsultancy's Festival of Marketing in November.
The two-day conference is a celebration of the modern marketing industry, featuring speakers from brands including LEGO, Tesco, Barclays, FT.com and more.
Please describe your role at Cancer Research?
I am the digital services manager within the digital team, which supports the whole of the charity.
And my team in particular looks after our various digital capabilities across services such as analytics, user experience, design, content strategy, taxonomy, reporting and search, as well as supporting our wider product teams with their digital marketing activities.
What sort of model do you operate?
Digital is a centralised service – we drive forward the digital capabilities across all our different products and services.
So we would help support and develop, for example, the Race For Life and our Shine products, as well as the huge amount of cancer information that we provide to the public with the health marketing team in terms of early diagnosis.
The £8 million you've raised with your #nomakeupselfie pics will help fund 10 clinical trials. pic.twitter.com/qG3K2KMkUZ

— Cancer Research UK (@CR_UK) March 25, 2014
When did digital become a priority within Cancer Research?
We've always been near the forefront, however we've seen a real marked shift in the last year-and-a-half where we've been really driving forward the agenda across the entire organisation.
CRUK recently had a director of digital appointed and the digital team itself has undergone a bit of a restructure in order to make it as effective as possible.
Who's driving the change?
We have a really forward-thinking and innovative leadership team at CRUK, so we're always thinking about the future and how things should develop moving forward.
I think what we are really making ground with now is what that might actually mean for digital, and for the organisation with digital at its core.
Now that we have that digital director position he's able to really illustrate that to the other members of the leadership team.
Do you think within the charity sector there's been a slower adoption of digital, or do you feel it's keeping up with other industries?
I think with any charity and with any new area of development there's a natural inclination to wait and see what works.
We have a responsibility to ensure we are spending our supporters' money in the right way, so I think sometimes that can lead to people not necessarily taking things forward in quite the speed that we would see in other organisations.
At CRUK I think we're in a very fortunate position in terms of what we get to do in these new and exciting areas.
I think we're moving at pace and have opportunities that other industries just don't see.
Social media is obviously a great example. With the charity sector we obviously see the success of #NoMakeupSelfie and the ice bucket challenge, but where we've seen incredible engagement is actually our brand content.

This is where we're creating stories that tell our supporters about the work we do and the impact we've had.
Commercial organisations really struggle to tell that kind of engaging story and we just have that content in spades.
Has digital impacted the type of content you produce, or has it just altered the way you disseminate your content?
So the aim is absolutely that all our content is created with digital in mind.
We're still on that journey and I've no doubt we'll be doing more exciting things, but we're already doing a lot of stuff which is created absolutely primarily for digital.
Regarding #NoMakeupSelfie, did you learn anything off the back of that and have you implemented any new processes as a result?
The agility we have in our communications and digital teams to respond to something like #NoMakeupSelfie was what set us apart from other organisations with our ability to spot and make the most of that opportunity.
I think within those teams not an enormous amount has changed, it was how we were setup before and we will continue to be.
In other teams across the building we've kind of shown we can be moving at this pace and we can be making these decisions at speed but still have that incredibly high quality output.
So that has really shown people that we might be able to replicate that in other parts of the business.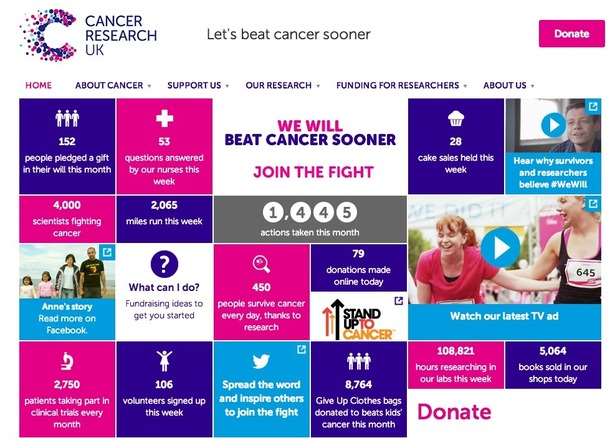 What have been your biggest digital successes?
The work we've done around our website in the last 18 months hasn't had the 'big bang' excitement of other initiatives, but we've restructured two-thirds to three-quarters of our website in a way that we've never done before.
And it's not just about the end product, which is incredibly high quality, but it's about the way that we've worked in that space.
We've been far more agile and looking for on-going optimisations as opposed to big projects.
We're than also able to see the results of that in terms of our search engine rankings and the amount of traffic that's coming to the site.
From the date we made those changes, you can see the graphs going up from that point.
Do you do a lot of user testing?
Yes, one of the teams that I manage is user experience services, so we have weekly user testing sessions and we're looking at how we can make that even more regular at the moment.
We want to make it part of everyone's role to spend time with our users on a regular basis.
I guess if we were to talk about user-centricity, the digital strategy that we're just finishing at the moment is really not about technology.
Our strategy is about our customers and the users, that's what we're putting at the heart of everything we're designing.
And the ability to get close to our users and our supporters is the opportunity that we really see moving forward, and that's the biggest shift that we'll see coming forward.
So it won't be about us creating things we think our supporters want, but actually making products that we know they want and need, and thus being more successful because of that.