Are you unhappy with the lack of clients you are getting as a freelance web designer?
We know, we asked, and we understood the need for a great place that connects freelancers with clients but we couldn't find a good solution to recommend.
Existing job boards, crowd sourcing sites and freelance marketplaces all seem to undervalue designers and serve clients with cheap solutions.
Then we spoke with a few of our entrepreneur friends and guess what? The hardest part for them is finding talented designers and developers!
The world needs a better way to find the perfect designer or developer. And freelancers need a better way to get more and better clients. We believe we've created that better way.
It's called AwesomeWeb!
To kick it off with a boom, we invited 12 of the best designers and developers on the Internet to help mentor you!
…and these are the best designers and developers that you could find from around the globe!
The Problem with Finding More Clients
After climbing through every job board, crowd sourcing site, and freelance marketplace we could find, they all had one thing in common- they all catered to the client while putting up a barrier between you and them.
Job boards allow clients to post projects that generally go to the lowest bidder.
Crowd sourcing sites attract the low-end clients who expect hundreds of designers to work for free.
The big freelance marketplaces are flooded with agencies who have worked for thousands of clients.
How are you supposed to compete?
Maybe they're right. Maybe there's a reason they all appeal to the client. Maybe that's the best way to maximize profits and build out their companies.
But we believe there is a large and growing group of under-served entrepreneurs, designers, and developers who value quality over cost, people who want to make the web more awesome.
The Feedback from Beta Testers
Earlier this month we started beta testing the site. People loved it! We had over 300 applications for 20-30 spots. They couldn't wait to get in, create their accounts and showcase their work.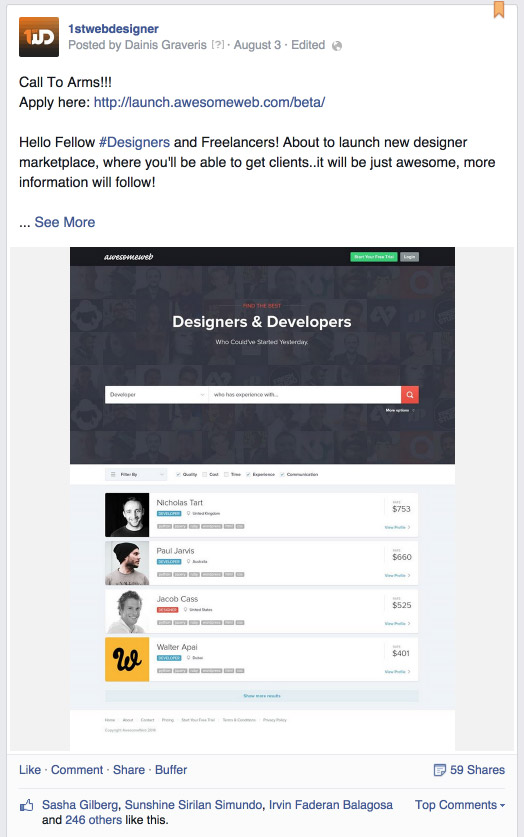 …and here's the launching of a marketplace to search for awesome web designers and developers!
Email after email started rolling in.
"That is an awesome idea, honestly. Your work should have a fair chance in the market and the client should come to you, rather than being pressured into hiring the big dog. I feel that is one of the major areas that Elance and Freelancer went wrong. They made it to where companies came in and basically took over the market (having employees posing as freelancers) because they were able to approach the client, rather than the other way around. Sure, they had to be invited in the end, after presenting a proposal…but when they dress up their proposal with less than minimum wage rates and 'thousands of websites built to date', how is a single freelancer supposed to compete with that?" ~ Andrew R., designer
"Right now, I believe that the bar is set pretty low on popular sites like oDesk, Freelancer, etc. I get the feeling that your project wants to change that." ~ Liviu M., designer

"I am all for helping expand opportunities for designers and clients to meet in a forum that is fair to both. I was a Codeable vendor and resigned due to policies that only favored the client and not the designer." ~ Jonathan F., designer

"Too many companies are conned into using services like PeoplePerHour or Fiverr and end up with substandard work." ~ Simon P., designer

"I am all for better way to connect the right web designers to the right clients. It shouldn't take scouring Google, Craigslist, oDesk, or Freelancer for days just to find a good web designer. Let's make it fast, simple, and easy" ~ Charley L., designer

Talented designers from around the world are clamoring for a better solution.
We're Like You. We've been there…
Before we tell you what we have built, we want to share our partner Nicholas Tart's story because it is important for you to know where we're coming from and why we created this project:
"As a freelance web designer and front-end developer, it took me two years to build up a modest client base. I started at $15 per hour, built a few sites, increased my rate, built a few more sites, and increased my rate again. The cycle continued but it could've happened much faster. I was nowhere near capacity. So I started looking into my options.

I hated the concept of crowdsourcing. I'd rather focus on my side projects than work for a 1-in-100 chance at getting paid. Then I looked through the freelance marketplaces and found nothing but a sea of $100 projects. I'm sure these sites work for some people, but it wasn't for me.

Without finding anything that could help, I continued to take on a few clients per year while managing my existing clients. I was able to pay my bills but my days were never full with billable work. I could only imagine what it'd be like working at $50-100 per hour, 40 hours per week. And to have enough work coming in that I could start turning clients away. It'd be a dream!

There was nowhere for a freelancer like me. Someone who has several years of experience building $3K – $10K websites, who was only a few $10K projects away from opening up an agency or being able to focus on my side projects part time.

That's when I started working with Michael and Dainis on this project called AwesomeWeb!

~ Nicholas Tart
The Beginnings of AwesomeWeb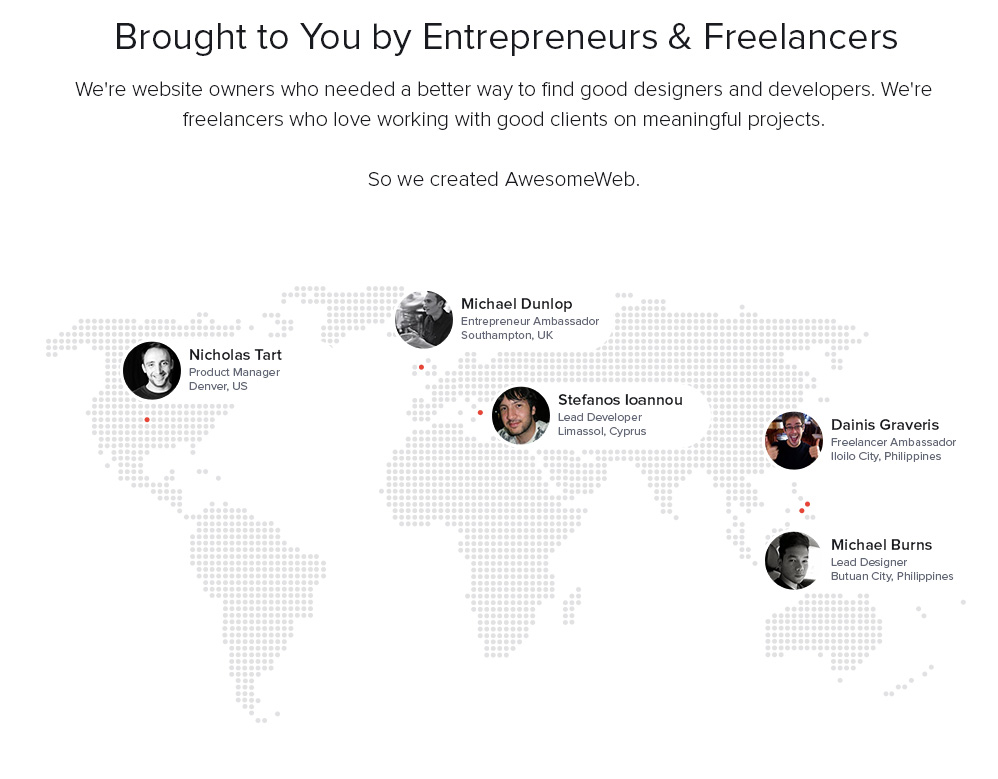 …these are the faces of the amazing and brilliant people who designed and created AwesomeWeb.
In January of this year I met with Nick and Michael Dunlop at a cabin in New Forest, England to establish the foundation of what is now AwesomeWeb.
Michael Dunlop (founder of IncomeDiary and PopupDomination) is well-known in the Internet marketing community. His software has been viewed over a billion times. The number one question he receives is "Can you recommend a good designer?"
We set out to build a simple freelance marketplace for people who do and need awesome work. The concept is built on three principles:
If you're a website owner, it should be simple to find talent and choose who you work with.
If you're a freelancer, you should be hired based on the merits of your work.
The purpose of a freelance marketplace is to connect clients and freelancers with the perfect clients and freelancers.
…without barriers.
Our developer, Stefanos Ioannou, happened to be in the UK at the time, so he joined us for a weekend. Then I told them about my designer, Michael Burns, who we brought into the project just a few hours later.
We had our team. We had our foundation. It was just a matter of building it. Easy right?
How Does AwesomeWeb Work?
How would you like to focus on building awesome websites without worrying about finding new clients? Not only that, how would you like to choose your clients rather than begging them to choose you?
…different design styles brought by the awesomeness of AwesomeWeb developers.
AwesomeWeb is a subscription-based freelance marketplace. For a flat $17 per month, you'll be able to create an account, choose your skills, upload a few projects, request endorsements and sit back as clients sell themselves to you.
No more percentage of project fees. No more waiting for a Big Brother marketplace to hand you a measly project. If you have the skills that clients are looking for, and you have the portfolio to back it up, clients will contact you. If they don't, leave within 90 days and we'll give you your money back.
One good client will pay for your account for life.
In a few short weeks, we'll be opening AwesomeWeb to a limited number of freelancers.
In the meantime, make sure you enter to win an AwesomeWeb Scholarship below.
Back to Our Launch Contest
To commemorate our launch and give back to you, we've asked 12 of the world's most talented designers and developers to mentor 12 lucky winners!
It's called the AwesomeWeb Scholarship!
These designers have stepped up in a big way to give you an hour of their time:
Those were just the first four, care to check out more of them in here!
…AwesomeWeb just gets more awesome every minute; you can gain a scholarship slot here from the world's best mentors!
When Michael, Nick, and I were on a walk out in New Forest back in January, we brainstormed on how to launch AwesomeWeb.
We considered an iPad giveaway, but that would've been gimmicky and overdone. Then we thought about giving away 100 of the best design and development books.
It would've been better, but what if we could give people the chance to talk directly to the authors of those books? Nothing is more valuable than the time and wisdom of a mentor.
So that's what we went with. It took a lot of work to get these people onboard, but they're ready and excited to help.
Click here to enter the AwesomeWeb Scholarship!

Let's make the web more awesome!