Exploring Jasper National Park by motorcycle
Let me start by saying that I'm terrified of motorcycles. When I'm driving on the highway and a motorcycle rides next to me, I can't help but think that person must be crazy to be riding so fast with virtually nothing protecting them.
Okay, I'll also admit that I've sometimes thought about what it would be like to ride a motorcycle on a remote mountain road (away from traffic and surrounded by nature), but the effort required to learn is more than I'm willing to commit. I just assumed riding a motorcycle was not in the cards for me, so I never gave it much thought.
Now, I'm fully aware that one can sit on the back of a bike and hold on for dear life, but that type of experience doesn't interest me. I'd likely spend most of my time with muscles clenched and eyes shut. Yes, I'm a wuss. Don't judge me.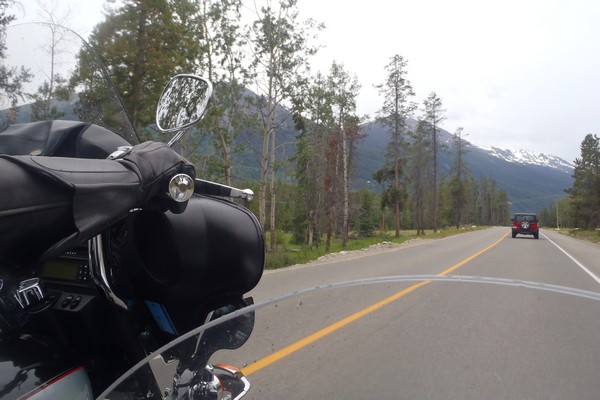 When I first learned that I was going on a motorcycle tour in Jasper, my fears of falling off the bike and crashing into a ditch began to set in. What the heck did I just sign up for?
I quickly jumped online to research the tour and was pleasantly surprised to learn that I was going to ride in the sidecar – no experience required. My apprehension quickly turned to excitement. It's not every day you get to experience the natural beauty of a UNESCO World Heritage Site by motorcycle. And not just any motorcycle, a Harley Davidson!
The rain gods were happy that afternoon. The temperature cool, the skies overcast and gloomy.
Foolishly, I did not bring a warm coat on this road trip through Alberta, so I was concerned I might freeze on this tour. Fortunately, the fine people at Jasper Motorcycle Tours provide proper riding gear for their guests.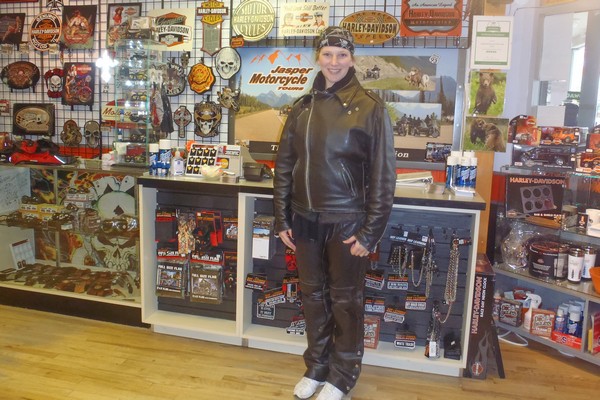 They give you every thing you need to look the part, including a leather jacket, chaps and a bad-ass bandana. I had to chuckle when I saw myself in the mirror. Who knew the day would come that I'd became a biker chick?
To address the cooler weather conditions, I was fitted with a heat pad that plugged into the sidecar for extra warmth. All I had to do was sit back, relax and soak up my insanely beautiful surroundings.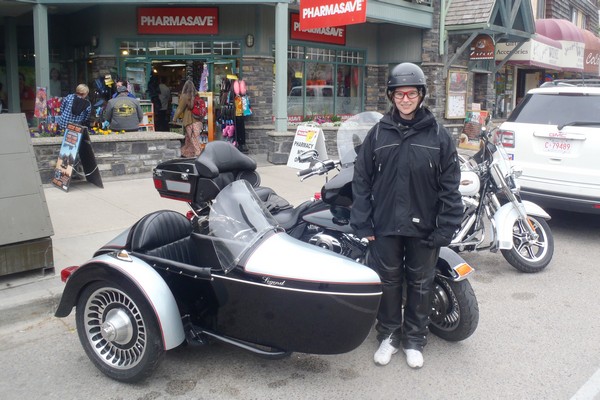 I had the option to choose a 1, 2, or 3 hour tour around Jasper. You can also do a 6 hour tour up the Icefields Parkway. We had just returned from a boat cruise of Maligne Lake, so I opted for the 1 hour tour.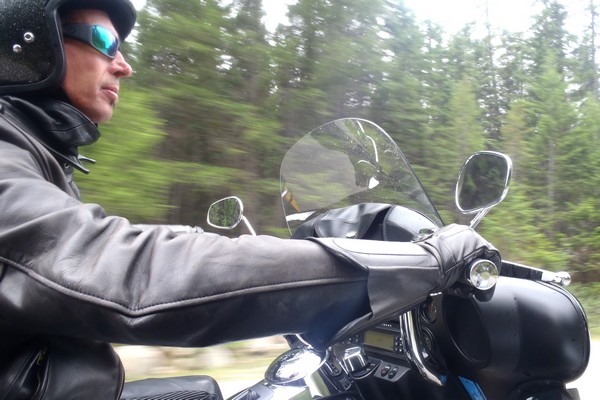 After speaking with Brian, my tour guide, we decided to drive up the windy mountain road to Marmot Basin, Jasper's world-class ski resort.
Brian mentioned there had been a number of bear sightings, so I was hopeful we might see one on the tour. Unfortunately we were unlucky that afternoon.
I was surprised I wasn't scared when we picked up speed on the highway. The sidecar was quite comfortable and I felt quite safe, considering there was very little between me and the fast moving asphalt beneath me.
As we drove up the mountain, I couldn't help but think that our toddler would love this kind of experience. My initial thought was that he must be too young but Brian mentioned they take kids as young as 2 years old – they even have little chaps for them!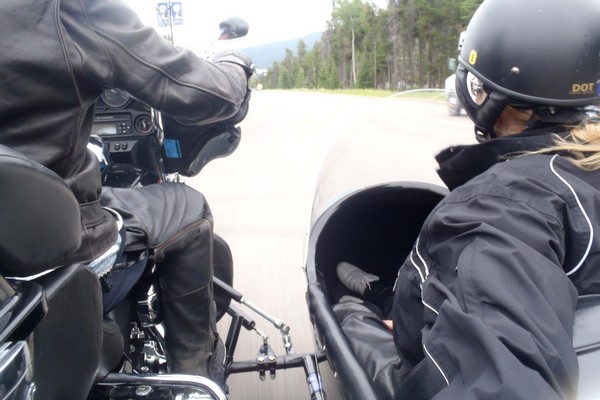 Brian was very knowledgeable about Jasper and the surrounding area. He shared stories about his wildlife encounters and the history of their motorcycle tour business. It's evident that he loves what he does.
I really enjoyed the motorcycle sidecar tour of Jasper National Park. It's one of those truly unique experiences that will surely leave a lasting impression. There are only a handful of companies around the world that offer sidecar motorcycle tours – so take advantage of this unique experience if you see one.
FYI – the Jasper motorcycle tours are currently ranked as the #2 activity in Jasper on TripAdvisor and, out of 75 reviews, Jasper Motorcycle Tours has a 5 star rating. I'm giving them 5 stars too.
The details
To learn more, visit Jasper Motorcycle Tours – http://www.jaspermotorcycletours.com/
Outerwear is provided but you should wear pants and sturdy footwear.
The 1 hour tour costs $89 per person.
All ages are welcome. They have taken guests

from 2 years old to 90 years young.

Tours are available from April to October.
More from our road trip through the Canadian Rockies
When in the Canadian Rockies, you MUST visit THIS place
Glacier Walking in the Canadian Rockies
Our favourite photos from our Alberta road trip
Riding the overnight train to the Canadian Rockies with VIA Rail
The Beauty of Bow Lake in the Canadian Rockies
Face to face with a Brown Bear in Banff
To the Rockies we go! Join us as we #ExploreAlberta
Is This The Most Beautiful Place On Earth?
Family road trip to the Canadian Rockies
~~~~~~~~
Many thanks to the good people at Travel Alberta for providing a complimentary tour with Jasper Motorcycle Tours. As always, expressed opinions are entirely our own.

That time I explored Jasper National Park on a motorcycle is a post from: Traveling Canucks