This is a guest contribution from Adam Connell.
Have you ever wanted your readers to take more notice of what you have to say?
You're not alone.
And have you ever wanted other bloggers, journalists and writers to reference you as an expert in top publications on the web?
Countless others have done this and you can too.
But HOW?
The answer is social proof.
With social proof comes authority, and all the benefits that it has to offer.
And authority is an awesome thing to have because most of us are inclined to trust authority figures implicitly.
In this post you will learn exactly what this social proof thing is, how to avoid negative social proof, and the specific steps you can take to leverage positive social proof – starting today.
What is this social proof thing all about?
Social proof is a psychological concept which highlights how people look to those around them in order to make decisions and decide on a course of action.
This is based on the assumption that those actions are indicative of the correct course of action.
A popular example of social proof is how nightclubs limit the number of people that can come in at a time. When others walk past, it appears that the night club is more popular than it actually is.
You can use this concept on your blog and it's easier to do than most people realise.
And there are different types of social proof that you can leverage, including a large number of email subscribers or even testimonials from industry influencers.
But, you have to be careful to avoid any negative social proof because there is the potential for social proof to hurt you, when you do it wrong (more on that in a moment).
The key to successfully leveraging social proof
Social proof can be positive or negative.
Negative social proof can have very damaging effects.
A good example would be going into a restaurant at peak time only to find that you and a few other people are the only ones there – this sends the message that nobody else enjoys going to the restaurant and usually prompts the thought of "is there something wrong with the food?"
The same can happen with your blog.
Telling people about your 165 email subscribers or drawing attention to a post of yours which has only had 15 tweets will send the wrong message to your readers.
So, if you don't have the numbers – leave them out.
On the other hand, if you do have something to really shout about then it's worth letting your readers know.
We'll talk about exactly how you can do this in a moment.
6 ways you can leverage social proof right now
It only takes around 1/10th of a second to form a first impression.
So, first impressions are a big deal and you need to take every step you can to ensure that the first impressions your blogs visitors get is a great one.
Social proof will make a difference (when it's done right).
#1 – Your home page is an opportunity that shouldn't be wasted
If you check your blogs analytics, chances are that your homepage will be one of the most visited pages.
Instead of a standard blog page, you could try something different, something that would place higher focus on social proof elements.
Try creating a landing page with key social proof elements.
The added benefit of this is that you can use this to funnel more subscribers into your email list.
It's a win win.
A great example of this in action is the home page of Noah Kagan's blog; OKDork.com: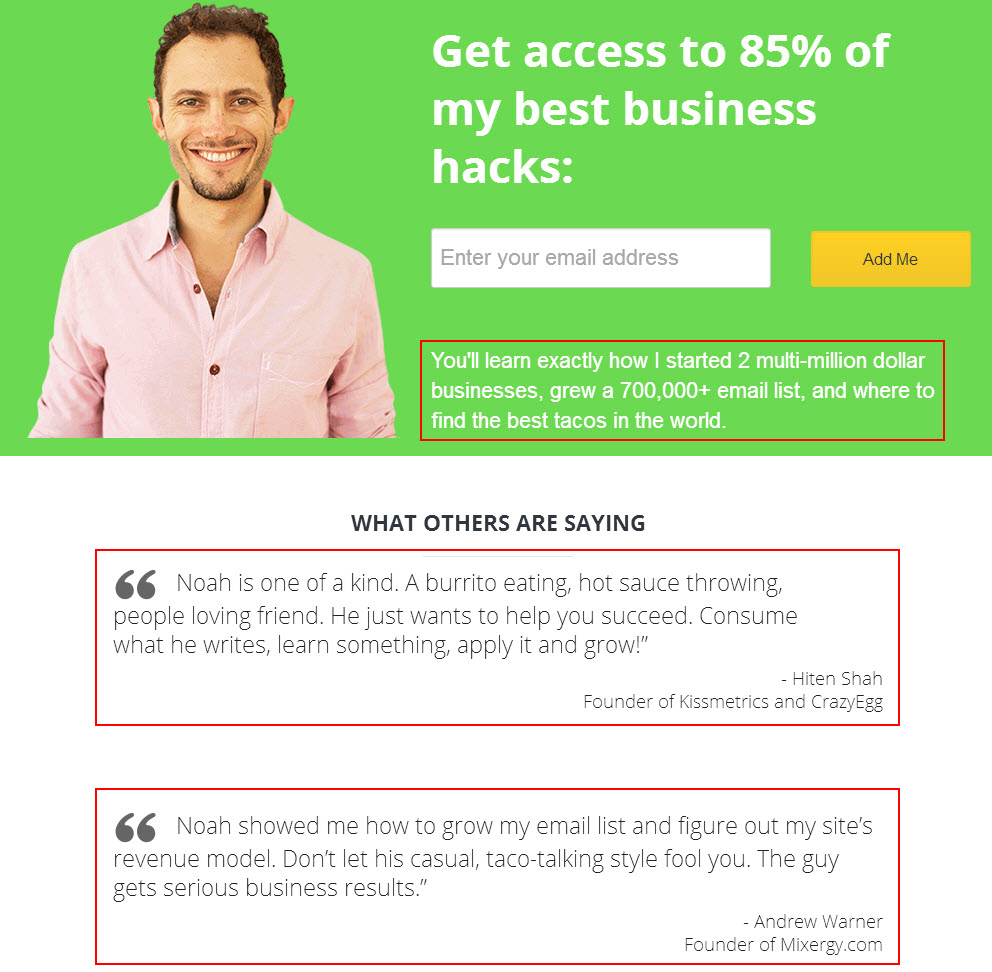 This page screams "I know what I'm doing and you should listen to what I have to say".
Here's why:
Noah highlights exactly how successful he has been (2 multi-million dollar businesses and growing a 700,000+ email list).
Noah has two fantastic testimonials from big names and these names are 100% relevant too.
Studies have shown that pictures increase trust, Noah includes a smart picture of himself so you can put a face to the text.
Another good example is Ian Brodie's homepage.
Here's why this works:
Ian includes logos of publications where he has been featured, they hyper relevant to his audience and big names in general.
Ian has incorporated two testimonials, these speak volumes about what Ian can do for his readers.
There is also a picture of Ian for added which increases trust.
How to implement this yourself:
You need to decide on how you want the page to look; the best thing to do here is to create a wireframe – just a rough example of how you want it to look.
You could do this with Microsoft Powerpoint, a free image editing tool like Canva or something similar.
Once you know what you want the page to look like there are two main options.
You could either hire a developer via a site like PeoplePerHour.com or Elance.com (for example).
If you're a WordPress user, there are plenty of plugins on the market that will allow you to create your own landing page.
Joe Fylan discusses some of the best plugins you can use in this post.
Hiring a developer is more expensive but will require less work on your part, although using a plugin to do this means you can tweak the page without having to go back to your developer.
#2 – Social share counts can be more than a vanity metric
If someone comes to your site and sees that your posts are being shared by lots of people, this acts as a very positive form of social proof.
On the flip side, it takes a few seconds to share a blog post, so if visitors see that your posts aren't getting shared then this is where negative social proof will come in.
A rising trend is to display a total share count rather than individual share counts. A great example of this in action is Mashable:
This is really powerful for several reasons, first of all there are a lot of social shares and secondly displaying the total social shares has a higher impact than showing individual social share counts.
How to implement this yourself:
For WordPress users, there are a number of social share plugins available that will allow you to accomplish something similar (most are free), you can find a few examples here.
If you don't use WordPress, AddThis have several solutions available. Aside from the free options, the most effective would be the "Jumbo Share Counter" however this requires a monthly payment.
#3 – Use your sidebar to create a positive first impression
Take a look at the sidebar on your blog and ask yourself this:
"Does everything in my sidebar really need to be here?"
The first step to using your sidebar to create a positive first impression is to remove anything that doesn't provide a function or doesn't help you achieve your goals.
What should you consider removing?
The answer is; it depends on your goals but there are a number of things to consider:
Adverts – If your site relies on adverts, keeping them is a must, but you have to ask yourself whether the money you receive is worth sending visitors away. If ads aren't performing, remove them.
Badges – If you have badges that mention article directories or web directories, these provide no benefit and just serve as a distraction. On the other hand, if you have won an award that would be difficult for other bloggers to attain, that is a keeper.
Facebook like boxes – I'm personally not a fan of these, but if you have a large following they can provide a significant level of social proof. Also Facebook displays pictures of your friends who are also fans which can be very powerful.
Twitter widgets – Again, if you have a large following these can be worth including but if you don't, they are worth removing.
Blog rolls – These will only distract your readers from your content and send them away from your blog.
How can you leverage social proof in your sidebar?
If you have the numbers, display them.
A great example of this is social widget Darren uses on Digital Photography School:
If you don't have those sorts of numbers, don't worry because there are more ways to display social proof.
You could display a testimonial from a big name in your industry like Derek Halpern does on Social Triggers:

Another option would be to display the logos of blogs you have written for or been featured on like Marya Jan does on WritingHappiness.com:
#4 – Highlight how many people comment on your posts – engagement matters
Blog comments are a great way of determining how engaged a blogs audience is.
If you get a lot of comments on your blog, its well worth drawing as much attention to that number as possible.
Pat Flynn does this by displaying the comment count in an eye-catching bubble:
How to implement this yourself:
If you use WordPress and your theme runs on Genesis, Josh Kotsay has a great tutorial which shows you how to do this (and style your bubble exactly how you want).
For other themes and platforms, you may need a developer to help you.
#5 – Leverage social proof to build your email list
One of the smartest things you can do as a blogger is to build your email list.
It will provide you with a method of selling products, courses or even your services at the click of a button while serving as a reliable way to get more eye balls on your latest blog posts.
Francisco Rosales does a good job of leveraging the number of subscribers he has in his sidebar on SocialMouths.com: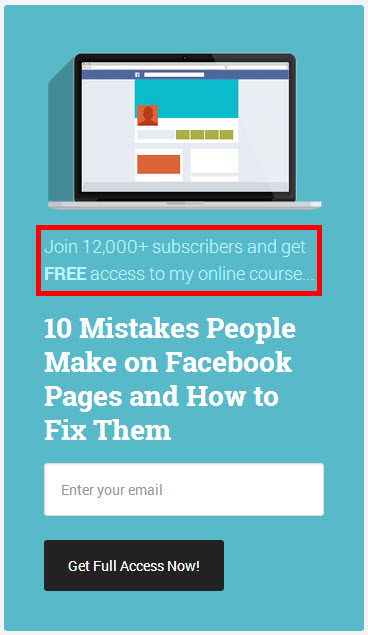 Brian Dean displays an incredible testimonial from Neil Patel on the homepage of Backlinko.com: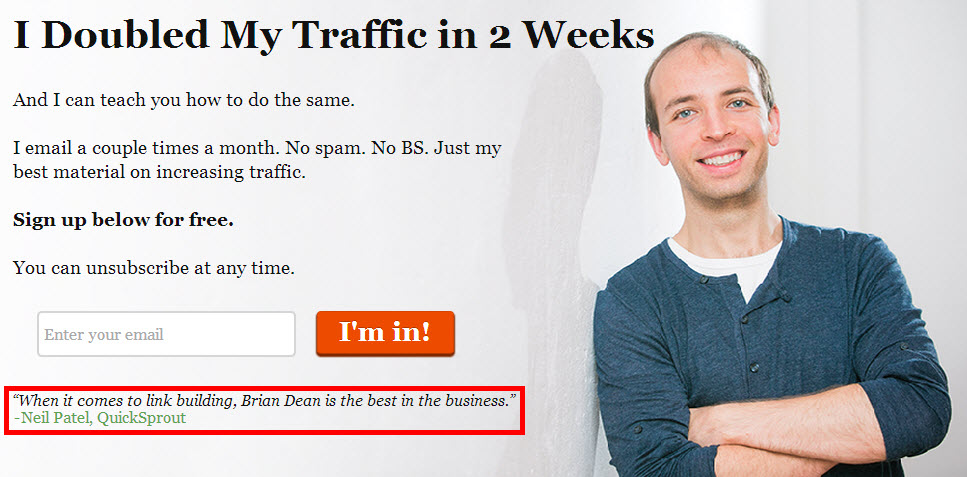 I especially like this because while it may be a testimonial from one person, it's from a relevant influencer and the testimonial itself is relevant to Brian's audience.
How to implement this yourself:
First you need to identify an element of social proof that you can use.
Here are some ideas to get you started:
Testimonial from an influencer.
Reader success story.
Number of subscribers.
Total number of followers (including email, RSS and social media).
Total number of monthly visitors.
Logos from other influential sites you have been featured on or written for.
Once you have identified an element of social proof you can use, it's time to add it to your opt-in forms or in close proximity to them.
#6 – Invite key bloggers in your niche to contribute to your blog
There are countless bloggers in your niche that already have an established audience.
If they were to contribute to your blog, they would not only expand your existing audience, the mere fact that they are contributing to your blog would act as a form of social proof.
Expanding your audience, increasing traffic and social proof – how could you say no?
The reality is that this does involve some leg work but the payoff is huge.
How can you try this for yourself?
Find out who the popular bloggers are in your niche, these tools will help.
Identify whether they are actively writing for other blogs.
Start engaging with them via blog comments and social networks.
Drop them an email and invite them to contribute – this is the most challenging step of all, you have to highlight the benefits while avoiding any negative social proof. This post by Kristi Hines includes a good selection of resources to get you started.
Over to you
When you do this right, you will eventually get to the point where your blog acts as its own social proof.
Your authority will increase and opportunities will appear, as if by magic.
And the biggest sign that things are moving in direction is when other bloggers start using your logo as an element of social proof.
What are you doing to leverage social proof on your blog?
I'd love to hear more in the comments below.
About the author: Adam Connell is the Founder of Blogging Wizard and spends most of his time helping bloggers to increase their traffic and email subscribers. If you want to blog smarter and not harder, download his free guide and learn how you can leverage the influencers of others to climb to the top.
Originally at: Blog Tips at ProBlogger

How to Use Your Blog to Leverage Social Proof and Increase Your Authority