When it comes to data more is always better; and thanks to advances in software big data is now manageable.
Imagine a room full of people who all have to answer your questions, anonymously. That's the sort of data that counts as "big." Examples of this data on the largest scale include the selfie that broke twitter by Ellen.
Let's break that particular selfie down a bit by what can be measured. Time of engagement, sentiment and of course reach. Measuring these things can help a community manager to adequately respond to the needs of his or her community.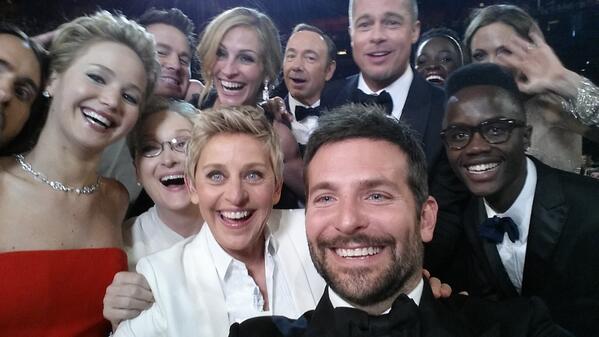 Time of Engagement
It would absolutely make sense if someone's audience engaged in concentric rings originating from the geographic point of origin like ripples in a pond, but insight itself requires us to suspend disbelief and look towards who has the first mover advantage.
What if a tweet that originated in California was only a hit in New York and Los Angeles but fell flat across the rest of the country?
If the defined audience of that particular outlet had been reached, then it would be considered a successes. If the readership happened to be either a larger number of people or a less centered group then it could be safely considered a failure. Knowing where the web hits come from and linking them with social engagement can help a brand tailor their social strategy towards the demographic they are going after in a way that is much more pinpointed than traditional website analytics allow.
Sentiment
So imagine this same tweet is a hit in New York and Los Angeles but everyone that engages with the content in those locations somehow hates it, makes fun of it, or finds it to be funny when it wasn't intended to be. This could also give insight that simply counting "hits" can't possibly measure.
Sentiment is based on words that are used within reposes and engagements by users that define how they feel about the content that they interact with.
Maybe your goal as a publisher is to put up content that people loathe, and thus, they share it across the web. Chances are, this is not the case at all. Sentiment proves feedback on the sharing activities of the end consumer that allow future content to hit the mark more accurately than ever before.
Reach
Is a post considered a "win" if it goes viral while people make fun of it?
The Prancercize video released on YouTube is a perfect example of content that probably missed the mark and ended up being viral anyway. The brand behind such a video must remain well in touch with the reality that the video is unintentionally funny and gets made fun of fairly openly on social media.
Brands can capitalize on reach by making sure that the content that their consumers care about is what performs well. Curating an online presence means getting attention for all of the right reasons. Gone are the days of the press, as are the days of, "Any press is good press."
A brand's identity is largely based on what they are most widely known for.
Perception Is Reality
Regardless of the reality of any brand, what it is most known for is their default identity.
PR and Data should be closely related with the marketing plan of any company. Monitoring social sentiment through social software tools allows a brand to take control of their image in a bigger way than simply publishing content that is on target. Knowing what narrative a consumer seeks to be told is the first step to any brand's identity, but knowing how to respond to the questions and replies that arise are what separate the mediocre brands from the great ones.
Reality Check
No news is not good news. In fact, bad news is much better news than no news. Every single piece of data and every interaction presents an opportunity for brands to learn their audience even better. Big data serves as a platform of objectivity in the social world, which increasingly plays favorites for singular users.
Trends regarding content lifecycle, content resonance among the core and fringe audiences, and content distribution among different groups should become apparent when a brand embraces big data. Without the big picture, micromanagement is the fate of every brand. Big data represents a ruler by which all content and the curation thereof can be measured.
Moving Forward
Suppose data says that a certain piece of content resonates extremely well with a paid Facebook audience, and a general Pinterest audience.
This post may be benefitting from the targeting of a paid campaign, but the related Twitter campaign might be falling flat as a result of a lapse in brand perception. Brands can never be all things to all people, but they can exploit what works well for their particular marketing funnel in order to drive traffic most effectively.
Small blog, Big Data
If knowledge is power, then it is also currency.
Using tools like Google analytics linked with Sprout Social can allow bloggers to track their audience from distribution on social networks directly to the pages on which they land. There's a function in Sprout specifically built to show the referral chain. If readership is lost in the conversion phase between social and content then digging deeper into what users respond to is the best solution.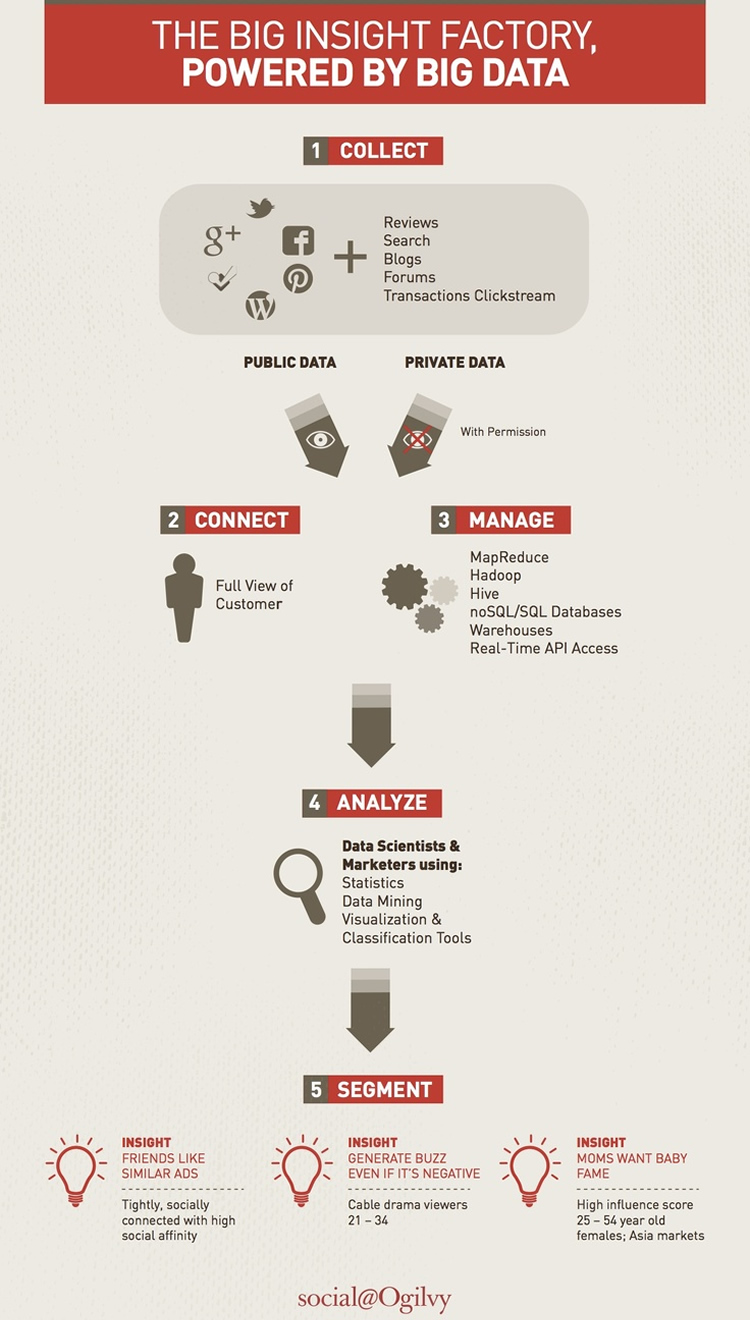 Infographic source: here. For a deeper analysis, check out Irfan Kamal's blog post on Harvard Business Review
So what should we change?
Keywords in social posts can draw users in. The perfect title can simultaneously provide SEO benefits as well as catch the attention of users in their newsfeed. Social listening tools as provided in Sprout will monitor keywords and brand phrases that are important to the brand.
For instance, if I were blogging about restaurants I would probably monitor the words: food, good, terrible, bad, location (wherever that may be), service, dinner, lunch, hungry and breakfast.
These keywords will not only help you tailor content for your audience's tastes, but can help you find new audience members to reach out to.