Sage has been quietly improving its content and SEO for a while now and its website gives a good indication of how the industry of accounting software has changed online.
Here's a roundup of what Sage's website does right when it comes to content. If you're a B2B company, it's all the inspiration you need to get on your own content marketing trip.
The days are long gone when companies can shy away from educating the market. It's all about search, transparency and added value.
Sage won a Digital in 2013. If you've been doing great stuff like this, why not enter this year's awards?
How far have we come? Comparing 2010 with 2014.
Below is a screenshot of the Sage homepage as of 27th August 2014. In purple I've boxed off anything arguably classifiable as content marketing. There's a couple of red boxes, too, which relate to content that's aimed at existing customers, but content marketing nonetheless.
The purple boxes easily dominate more than half of this homepage. Granted I have manipulated the carousel so it currently displays some content but hey, I'm making a point here.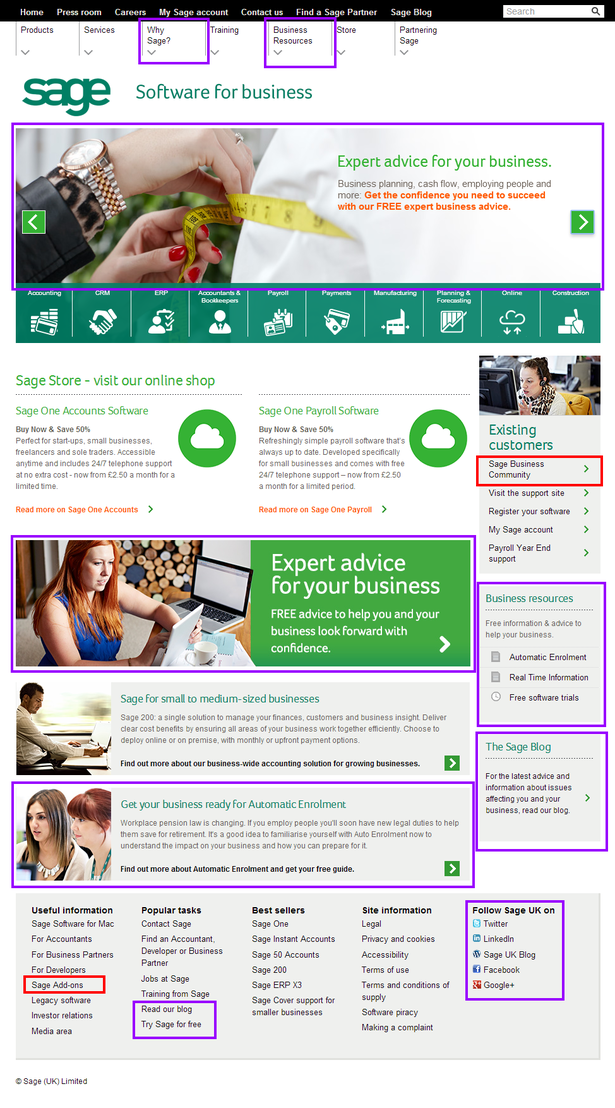 Below is the equivalent analysis from 2010. To be honest the comparison is not that unfavourable to the 2010 version. There's certainly a smaller amount of the homepage (which is itself smaller) dedicated to content marketing, but if I change the carousel of 2014 it may be a closer run thing.
One of the main points to note, however is that 'business advice' is here a small text link in 2010. In 2014 the emphasis is much stronger, with the lady using her laptop and tablet, a nice chock of green colour and 'FREE' unmissable. The business resources box is also missing in 2010 (though free trials are mentioned).
Overall I think this comparison is a nice way of showing what's required now from a homepage.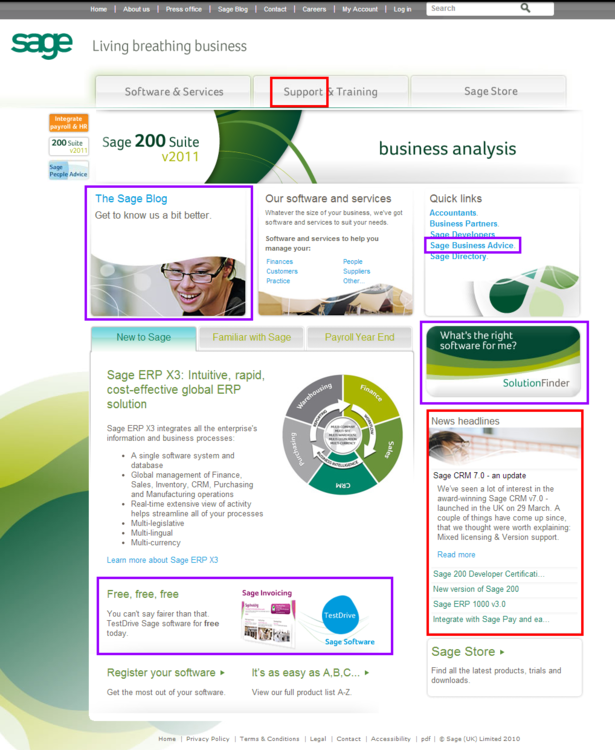 Rich, topical landing pages that do well in search
Sage really goes for topical issues in accounting and business. Check out the pages on Automatic Enrolment and Real Time Information.
I've reproduced the Automatic Enrolment page below. Look at how video is included, a great way to capture attention and get a message across quickly. There's also emphasis on getting in touch, getting support or downloading a free guide.
What sticks out the most though are the number of links to other informative subpages and the amount of informative but optimised copy on the page. It's obvious this is done for SEO benefit, but of course the content still has to be relevant.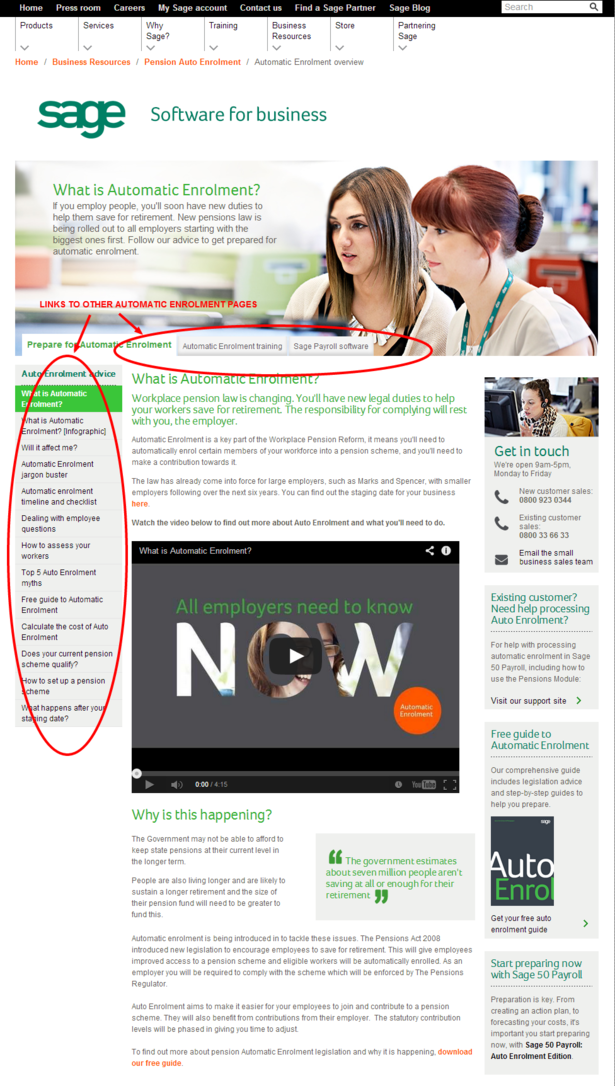 Below are a few shots of the SERPs for related terms. You can see Sage is intent on buying space here if it's not already well-ranked for the phrase in question (or indeed even if it is). Ad copy cleverly highlights free resources and this shows just how embedded content is into Sage's search heavy acquisition strategy.
Here's Sage doing well in natural search for a three word term around Automatic Enrolment. With only regulators ranking above them, it's clear Sage is doing well with these tactics.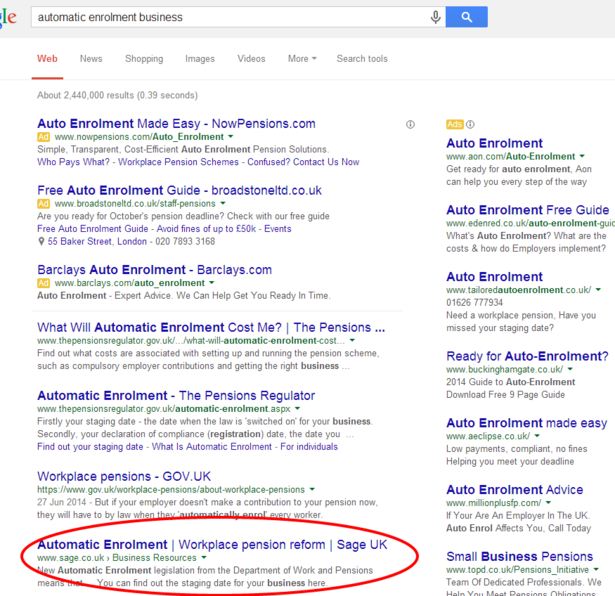 Look at the links here, they're content heavy and the company is bidding on its brand, to stop others getting a jump on them.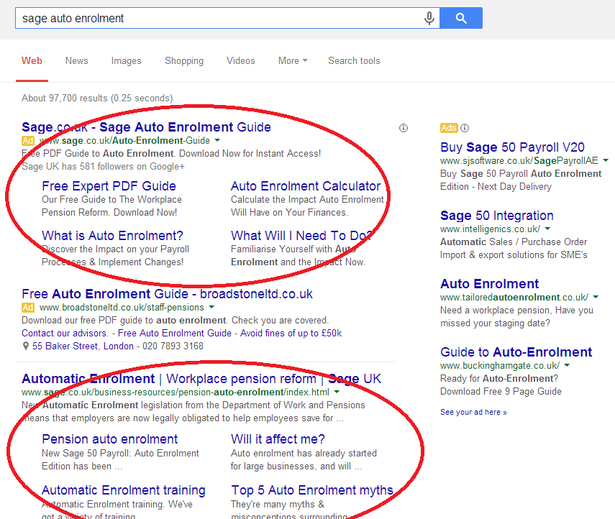 More paid ads, this time where Sage isn't necessarily ranking (off brand and a more competitive term).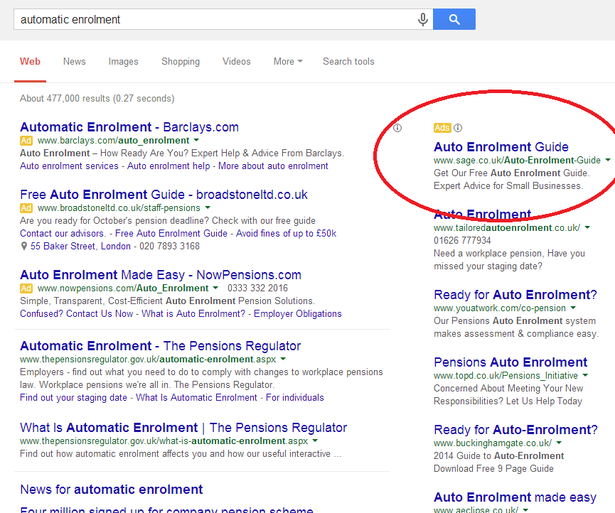 Making proper content
These resources that are central to Sage's content marketing are not measly by any stretch. Below you can check out the Sage startup guide. It's a whopping 100 pages long.
This isn't a trick for potential customers, every party wins (of course, you have to give your details for access).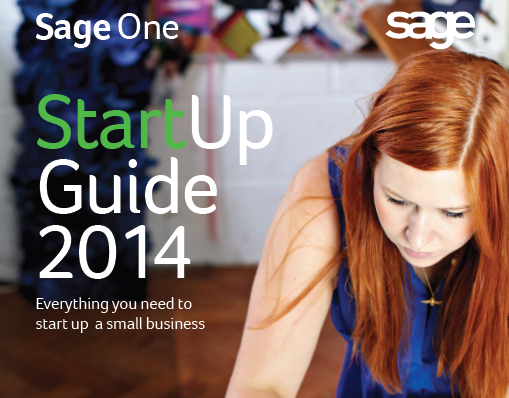 Social media has provided impetus for content marketing
The Sage Twitter account broadcasts advice for businesses and accountants pretty much exclusively. Of course, that's necessary with social media – traffic and awareness can only be driven with links and resources that are open to all. The account even tweets out the weekly newsletter, reminding existing customers to take a look and giving prospects a hint as to the ongoing support they can expect.
This sort of activity is traditionally difficult for some B2B subscription services that haven't begun looking at content marketing in earnest.
Do you think that #AutoEnrolment is a 'quiet revolution'? Here are some hints and tips: http://t.co/vGtbAXWPDk pic.twitter.com/CTkRd1HIlc

— Sage (UK) Limited (@sageuk) August 27, 2014
LinkedIn and Facebook are used to similar effect, though the post rate is a little low on Facebook (doesn't stray North of one post a day).
However, the resources are still spread here and the tone seems to be well adapted for each network. Too often the same posts are scheduled for each platform (140 characters being the tell tale).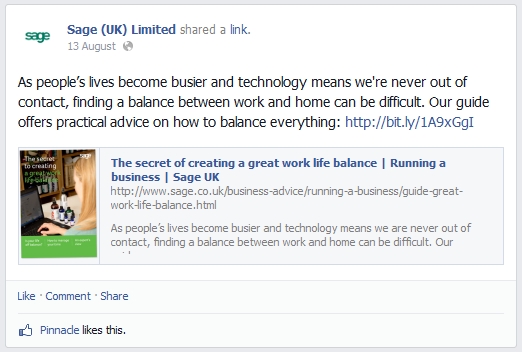 The Sage blog
Ok, some of the Sage blog posts don't see incredible interaction or sharing, but there's certainly a demand for the information shared.
What the blog affords is the ability to tackle a wide range of topics and not be afraid of hitting a relatively niche area. Look at the post below for an example of just how far ranging the remit for accountancy and business software companies can be. Responding to topical events and hitting different points of pain or interest for your audience is key.
Developing deeper site architecture, internal linking and simply many more routes into your website via search is a worthy goal for any blog. Widening the funnel shouldn't be forgotten, it's as important as closing the net in this competitive market.

Communities – the logical next step
Once you know where you're going with content marketing, why not have some of that content created by the community. FAQs and customer service issues, discussion of new products etc. might not sound like content. However, it still works well in long tail search, still backs up complex and well linked site architecture and is an area separate from the blog where customers can have a voice on a range of issues.
Hints and Tips is a perfect example.