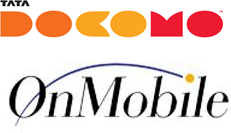 OnMobile Global has signed an agreement with Tata Teleservices to become its exclusive Caller Ring Back Tones (CRBT) partner.
The deal has been signed for an initial three years and as part of the deal, OnMobile will centrally manage Tata's content management systems across its GSM and CDMA networks.
Tata Docomo Marketing head Gurinder Singh Sandhu said that they will be deploying a single cross-platform content management system that will feature a repository of more than one million songs across various global languages.
This deal will apparently offer a slew of CRBT features to Tata's CDMA customers which were earlier available only to GSM customers. This includes song search and activation through SMS and Tata's website. Subscribers can also apparently copy each other's song by using OnMobile's 'Press * to copy' feature.
Caller Tunes Mobile App: OnMobile had previously tied up with Tata DOCOMO to launch a mobile app called 'My Call Me Tune' in October 2012. This app enabled Tata DOCOMO GSM subscribers to create, customize and activate their caller tunes. OnMobile claims that it has been offering its services over Tata's network since 2004.
Other developments
It's worth noting that RBT services currently dominate OnMobile Global's revenues, with the segment accounting for 62% of the company's revenues for the quarter ended June 30, 2014. OnMobile had posted net revenues of Rs 182 crore for the quarter, which translates to RBT revenues of around Rs 112.8 crore.
In July this year, OnMobile had also signed a similar non-exclusive agreement with Bangladesh telecom operator Robi Axiata to deploy various Interactive Voice Response solutions and RingBack Tones on Robi's network for a period of five years. OnMobile had claimed to have similar tie-ups with all operators in Bangladesh and with Robi's deployment, it had to be claimed to be powering more than 68% of the RBT base in the country.