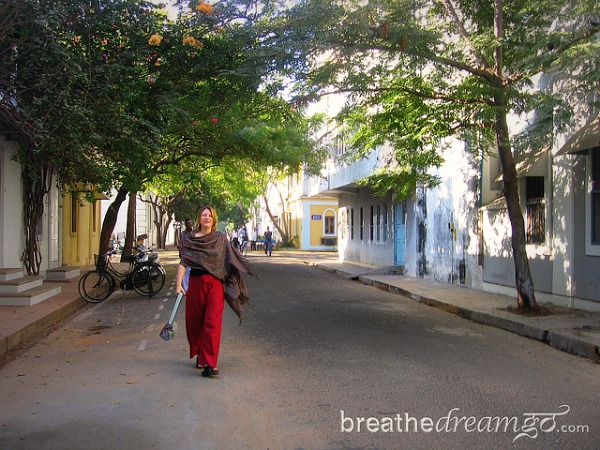 Me in Pondicherry 2006
Q&A about female solo travel for women in India
A HIT NEW film from India, Queen, is all about a young woman who gets jilted just before her wedding and decides to go on the European honeymoon by herself. While there, she makes mistakes, has fun and — guess what — discovers her inner strength and learns to value herself. In other words, she goes on a solo female travel adventure and gains priceless self-confidence.
The film is inspiring women in India to travel solo, and it inspired a journalist with the Deccan Herald to interview me about solo travel. Here is the entire transcript of the interview, most of which did not make it into the newspaper.
1. Do you think that if women from India or abroad make smart travel plans, they will be able to have a better and safer vacation?
Yes, definitely. There are so many resources available nowadays, especially on the Internet. You can read travel blogs, like this one or those written by other female solo travellers (there's a long list at the end of this blog post); check out reviews on sites like TripAdvisor; read articles on travel sites HappyTrips; and get on social media to ask for recommendations and advice. I always advise that women do research and get to know about cultural differences and safe places to stay.
2. Has the increase in publicized crime reports made women wary to visit India? Or, do you feel it is as safe or as unsafe as any other destination?
I don't know if there is an answer to the question "Is India safe for female travellers?" Bad things can happen anywhere, at anytime. I think the question should be: "How can women travel more safely in India … and elsewhere?" And I think the answer is to do research, be prepared, use common sense, don't take unnecessary risks.
I think all the media attention on the attacks against women in India has made some women wary of visiting India. However, there are still many, many women who have not taken India off their "bucket list," especially those who feel called to go to India, perhaps because they are yoga students; or those who have a bold, adventurous spirit. People who are natural born explorers know that the places they visit are not like "at home," they know there are risks involved, and they take adequate precautions.
All women everywhere (just about) are brought up to be a bit fearful, and taught to guard their safety. There is unfortunately nothing new in this. We are also responsible for our own safety, and I have mixed feelings about this. I wish men were brought up to universally respect honour and protect women so that we didn't have to fear the opposite gender.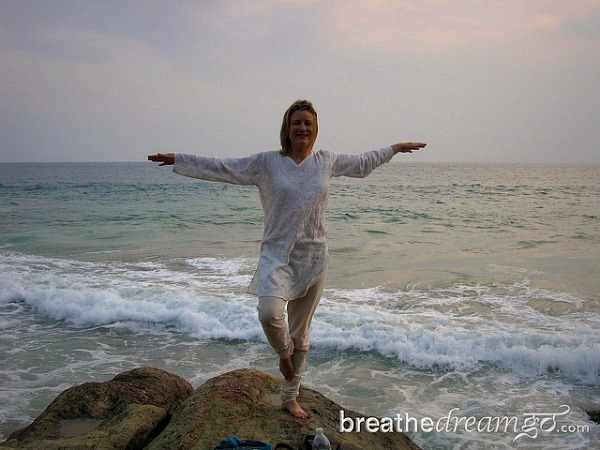 Me in Kerala 2006
3. In your solo journeys in India, do you come across more non-Indian women solo travellers than Indian women?
I have travelled in India for about 17 months in total, on six separate trips, most of it solo. And yes, there are lots of solo women travellers out there … in some ways, I think women are better solo travellers than men, in fact. There is a long tradition of solo female adventurers, women like Freya Stark, Alexandra David-Neel, and Dervla Murphy, among many others. Among Indian women, too, there are some great adventurers like Shivya Nath of The Shooting Star.
I have recently discovered that the poet Mirabai was a great traveller, who journeyed all across Rajasthan and Gujarat. I was recently awarded an Explorer's Grant to follow in her footsteps later this year. I am looking forward to discovering a 16th century Indian female explorer! I will be writing about this journey on Breathedreamgo so I hope Indian women (and men) will follow me, and perhaps even get involved.
4. In your opinion, what does a solo holiday or a vacation in India or anywhere else teach women?
Most of the solo female travellers I know, myself included, say the number one benefit is finding out that you can do it; that you are stronger and more capable than you think. It gives you a huge boost of confidence and pride, and makes you feel more alive than you have ever felt before.
5. Best places that you can recommend that are women friendly for going on solo vacations?
The best place is the place you feel either drawn to or comfortable with. To start, it could be a weekend jaunt to a nearby town. Somewhere close by, and known to you. Or perhaps going on a small group tour with people you don't know, for hiking or visiting a national park or historic site.
Come to Canada! Canada is a friendly place, and women here travel alone as a matter of course. I am running a series of articles about Canada over the next few months. I am very proud to come from such a beautiful country, with a vast, magnificent wilderness right at our fingertips. There is so much to see and do here.
6. You must have learned a thing or two during your travels in India. Can you share a few general tips for women to have a fun trip in India?
As a tall, blonde, foreign female, I will have a different experience of travel in India than a native Indian woman. But generally, I think the principles hold true: do your research and plan your trip based on an honest appraisal of yourself. If you love big cities and nice restaurants, don't go hiking in the remote Himalayas. If you're really nervous about travelling alone, go with a small group. Do what makes you happy. For some people, like me, a yoga ashram is the ideal vacation. Others may want to volunteer. Everyone is different.
Luckily, India has literally everything. Ashrams, beaches, mountains, deserts, bustling cities, fine dining, outdoor adventures, tiger reserves, national parks… you name it …
7. And lastly, please share a few tips for women to help keep them safe when on a solo holiday.
I published an article on called My top tips for women travelling in India that is very popular and worth reading.
The tips can be modified for travel anywhere. If you are on social media, I founded a community called WeGoSolo for female solo travellers. We chat on Twitter every Wednesday at 11 am EST / 4 pm BST / 8:30 pm IST using the hashtag #WeGoSolo and offer tips, advice and support one another. Do a Google search for "solo travel" and see what comes up.
I would say that my two most important pieces of advice are:
1. Do your research
2. Be honest about what you like and what you're comfortable with.
If you enjoyed this post, you can….
Get updates and read additional stories on the Breathedreamgo Facebook page.
Buy Song of India, a collection of 10 feature stories about my travels in India. E-book version is now only $1.99.
Subscribe to the free — and inspiring! — e-newsletter that helps you live your travel dreams.
Thank you for reading. Please visit Breathedreamgo or stop by my Facebook page at Breathedreamgo.