You are in the 21st century where the world has begun to emerge at a quicker pace and you manage it through your fingertips.Travel applications will provide most accurate information of travel and tourism and that saves your time. Not just travelling,travel planning is also a lot easier than before with the app. Here're the best travel apps that you can use to discover interesting things, guide your ways, plan trips, networking with solo travellers, book trains, flights and hotels, etc.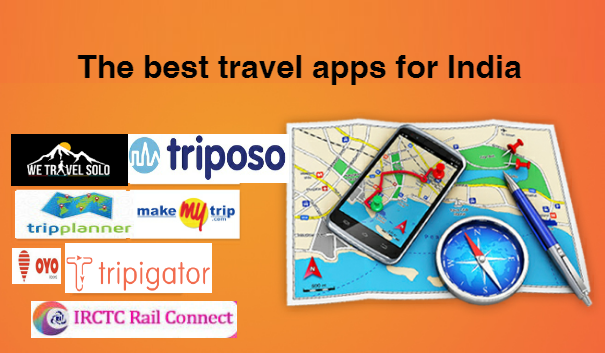 WeTravelSolo
WeTravelSolo is India's first Solo Travellers community, launched to provide a never before solo travelling experience with likeminded travellers. The app offers options like "take a trip", "find your soulmate" and "unique trip ideas".It is ideal for travel lovers who feel we held back because of lack of ideal partner for a trip. Solo travellers can find and meet likeminded travellers by using WeTraveSolo during their trips across the world.
Triposo
Triposohelps you find things to do across 50,000 destinations and 3 million points of interest. The app provides travel information even offline and it offers recommendations based on weather, time, and more. It covers categories such as food, nightlife, sights, attractions, hotels, transport and more.It is the best alternative for heavy guide books for travellers across India.
Oyo Rooms
Oyo is not exactly a travel app, but a helpful app for travellers who go for last minute hotel deals and travel deals.Oyo is an Indian hotel brand that owns and operates as well as aggregates standardised hotel rooms. It currently manages around 25000 hotels in more than 250 Indian cities.All rooms have air conditioning, TV, clean linen, complimentary breakfast, free Wi-Fi and hygienic washrooms, complete with a complimentary toiletries kit. This app was probably developed by the best mobile app development company Mumbai.
IRCTC Connect
Train travel network in India is the largest in the world and a train journey in the country is actually an integral part of a real travel experience.The Indian Railway Catering and Tourism Corporation Limited (IRCTC) has a fantastic app that allows you to book tickets easily, check schedules, PNR status and it makes train travel a lot easier in India.
Trip Planner
Trip Planner helps you find the most popular places and also lesser known tourist places across India. By using this app you will get information about Indian cities and you can also find out the best hotels and restaurants near that you want to visit. Trip Planner integrates GO station, stop, route and schedule information to make the trip planning quick and easy.
AudioCompass
AudioCompassis to help you avoid expensive tour guides as well as the expensive audio guides that you can rent at any locations across India. The best advantage of this travel app is that it functions offline as well. Once you have the app, you can use it to create virtual travel memories. The app has been developed in collaboration with the Archaeological Survey of India.
Make My Trip
Make My Trip is a leading player in online flight bookings in India. It offers great offers, some of the lowest airfares, as well as, exclusive hotel deals. Flights and hotels booking through this app is a delightful, user friendly experience.In few easy steps, you can complete your booking.
Tripigator
Tripigator is a Travel App by the Ministry of Tourism. It guides tourists to make their ways across India. The app also has integrated maps and geo-location based discovery of details which is can improves your in-destination experience. Through this app, you can discover destinations on your interests, region, and season etc. You can also find hotels, restaurants, ATMs and hospital near you.
RailYatri
RailYatri has been adding several features to simplify train travel across India since the first version of the app. Seat Availability Forecast feature suggests the best train to take depending on the time and day of travel. It has more features like Live Train Status, PNR status, platform locator, arrival and train departure details etc. It also provides information like availability of cab service from a particular railway station.
If You are Looking to Develop Any Travel App with Special Features, FuGenX will Help You.
FuGenX is the best mobile app development company in India. It is already a part of many travel apps' success. Some apps developed by FuGenX helped its customers attract customers as a magnetic tool.
You can send your app requirements to info@fugenx.com or visit fugenx.com.